How to DIY Cute Frog Shaped Hamburger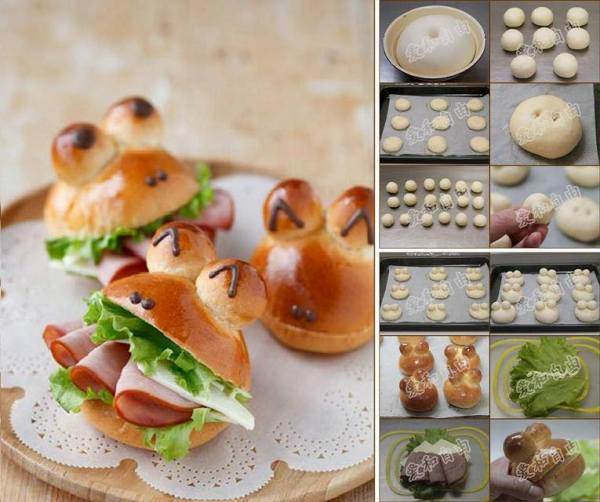 I love homemade bread because I like the fresh smell when the hot bread is just taken out of the oven. It's so soft and tasty! I love it even more when it has the cute frog shape in the above photos. It looks so cheerful. I can't help smiling when I look at it. It's very easy to make. Just do some little tricks on the dough and you will have this cute frog shaped bread. If your kids love hamburger, just place hams, lettuce, cheese, tomatoes, etc in the "mouth" of the frog. I am sure your kids will love it even more and this homemade hamburger is more healthy and fun! Let's get started.

Instructions:
Make the dough from your favorite flour and put it in a warm place for about 1 hour.
Divide it into 9 big dough for the frog face and 18 small dough for the frog eyes.
Use scissors poke two pits on the big dough and place the small dough in to form the eyes.
Place the dough in a warm place again for about 30 minutes and brush the surface with egg yolk.
Place he dough in oven preheated at 180 ℃ and bake for 15 minutes.
Use a knife to cut the mouth of the frog.
Use chocolate pen to make the eyes and nose.
Place hams, lettuce, cheese etc into the "mouth" of the frog. Here you go! 🙂
The followings are other creative ideas to make cute animal shaped bread. Enjoy!