How to DIY Pig Face Bread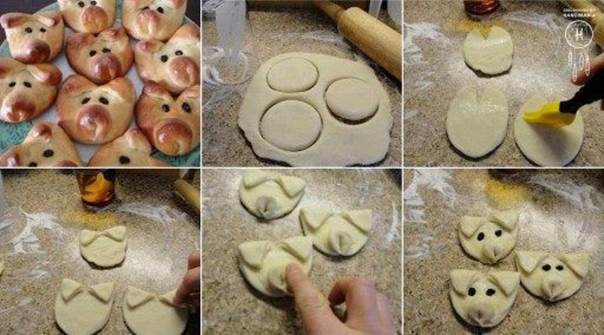 I love homemade bread because I like the fresh smell when the hot bread is just taken out of the oven. It's so soft and tasty. I love it even more when it looks like the lovely pig face in the above photo. It looks so cheerful. I can't help smiling when I look at it. It's very easy to make. Just do some little tricks on the dough and you will have this cute pig face bread. Let's try it!
Instructions:
1. Make the dough from your favorite flour and cover with wet paper towels and rest for 15 minutes.
2. When it's done, roll the dough flat and use a cup to cut out round shaped buns.
3. Make a small triangular cut on the buns and brush some egg yolk on them.
4. Flip the two sides of the triangular cut to form the ears of pig and make a small dough to form the nose.
5. Make the eyes with black beans.
6. Let the dough rise until about double in size
7.  Bake for about 10 mins at 400 degrees F or until brown.