How to DIY Beautiful 3 Tier Cake Shaped Gift Box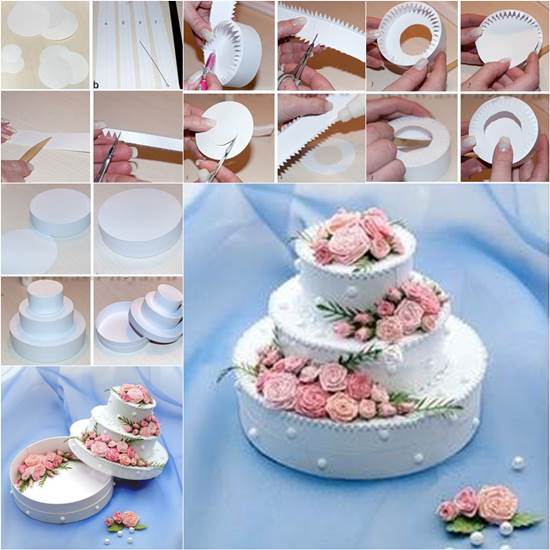 If you want to add a personal touch to the gifts for your friends and family, you can make a unique gift box by yourself. Here is a nice DIY tutorial to make a beautiful 3 tier cake shaped gift box. Isn't that cool? Pack your gift inside and give the receiver a pleasant surprise. I am sure they will love your gift box as well as the gift. They can keep this gift box to use as a pretty storage box. It's also nice decoration for parties, weddings, bridal showers etc. Happy crafting!
To make this beautiful gift box, you will need:
White card stock;
Glue;
Scissors;
Ruler;
Office knife;
Ornaments: beads, paper flowers, etc.
Instructions:
Cut out 9 pieces of circles, with 3 different sizes and 3 for each size.
Cut 3 strips with the widths being the height of each layer of the gift box, e.g. from 4 cm – 7 cm. Remember to leave 1 cm edge on both sides of the strips.
Use serrated scissors to cut the paper edges or you can cut manually by cutting diagonally.
Glue the serrated edges to the circles to make the layers of the gift box.
Decorate the box with your favorite ornaments.
Please click the link below for more photos and detailed instruction. The instruction was written in Russian, so you'll need Google Translate to translate it to your own language. Enjoy!
You may also like these creative Cake Shaped Gift Boxes. Click the link below for more details.