40+ Creative DIY Garden Containers and Planters from Recycled Materials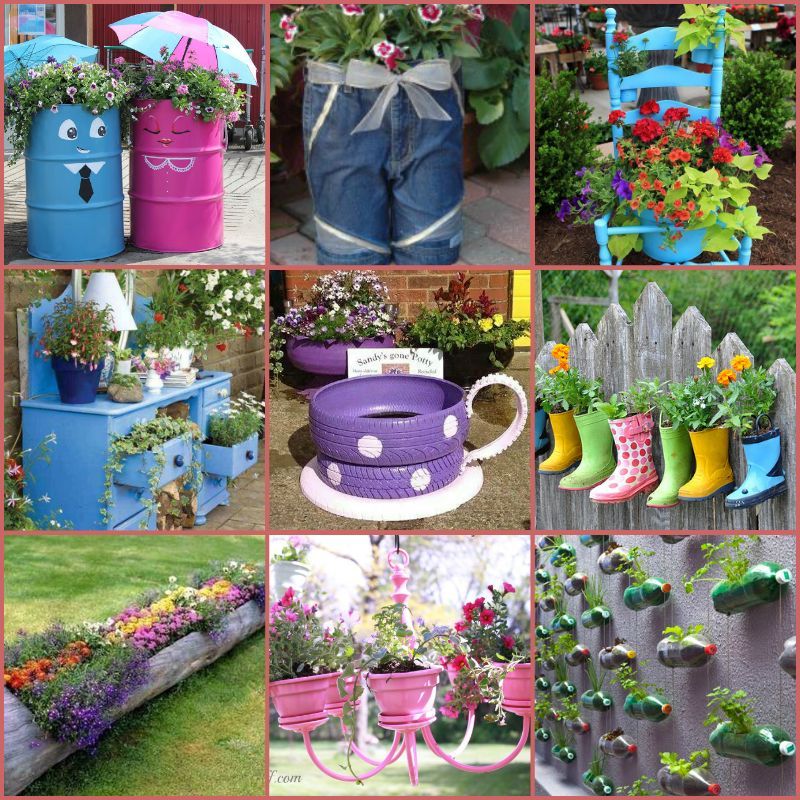 Greetings from i Creative Ideas! Relaxing and enjoying the beauty of my garden is one of my favorite leisure time during the spring and summer. So I am always on the look out for new and creative ideas to decorate my garden. Of course you can buy all kinds of fancy garden decors and planters, but for the DIY enthusiasts, they can always come up with creative ideas. It's awesome to recycle old stuffs in your home, something that you are going to discard, and turn them into fantastic garden planters. Here at i Creative Ideas, we have come up with a fabulous roundup of more than 40 Creative DIY garden containers and planters from recycled materials. They are great recycling projects to make low-cost and unique garden planters to decorate your home. Let's get started!
1. Turn Old Tires into Cute Shaped Planters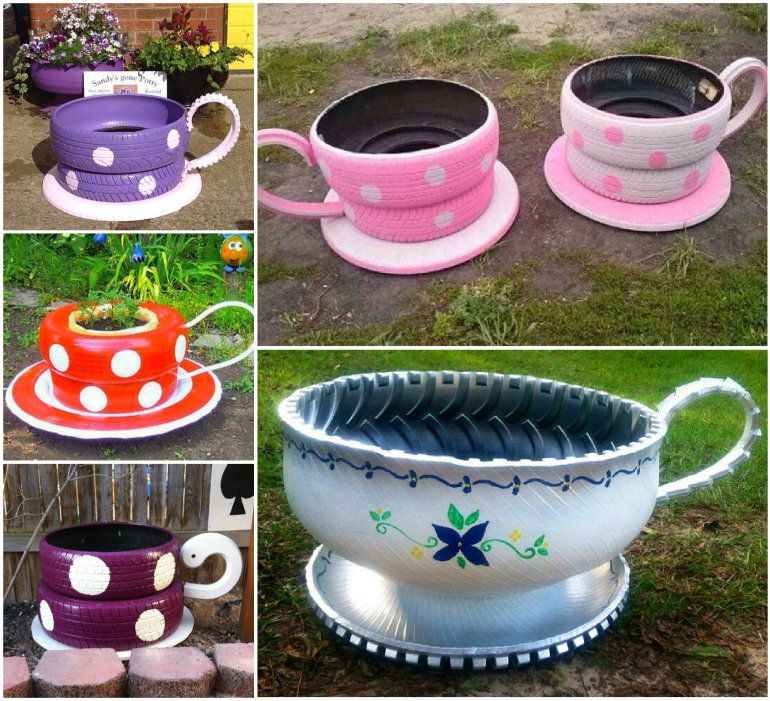 These teacup tire planters are so adorable and fun to make. They look fantastic in your garden! (Image source via Pinterest; Video tutorial via YouTube)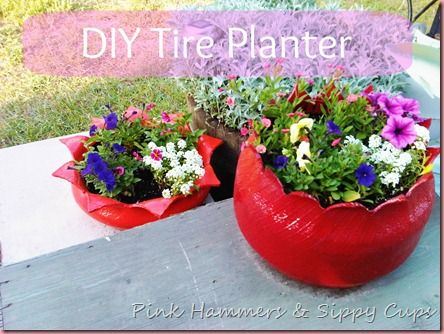 Flower shaped tire planter (Tutorial via Pink Hammers & Sippy Cups)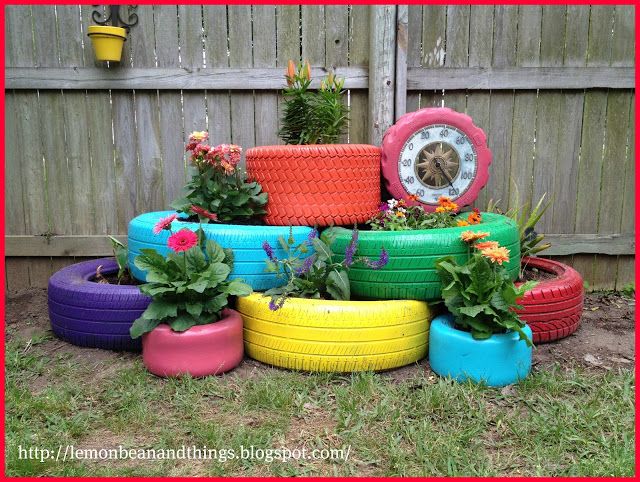 These bright tire planters will add a colorful touch to your garden! (Tutorial via Lemon, Bean and Things)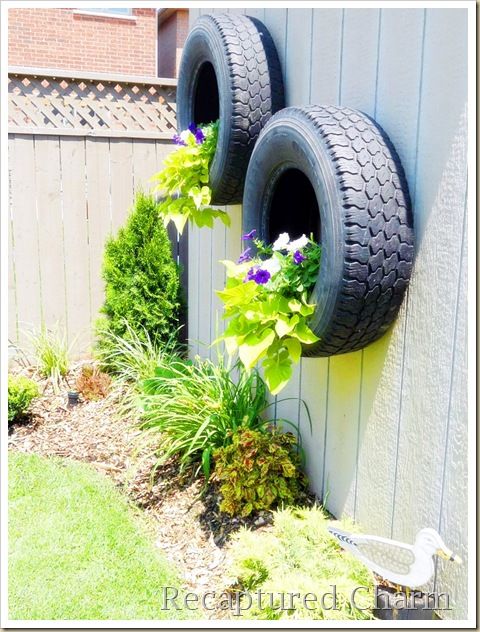 (Tutorial via Recaptured Charm)
2. Upcycle Old Jeans into Fun Garden Planters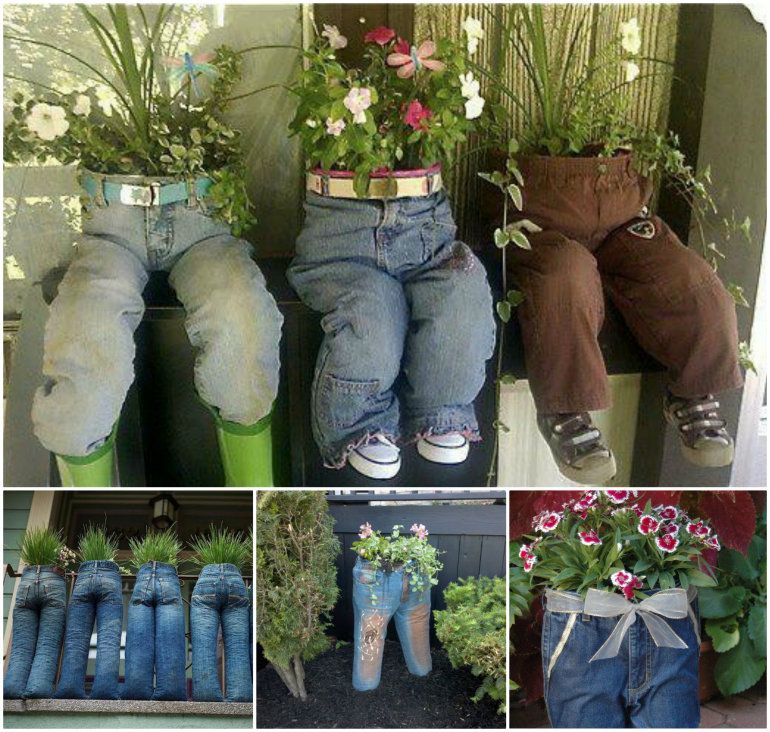 Don't throw your old jeans! Save them for these fun garden decors. (Tutorial via New Girl on the Blog, Buffawhat)
3. Build a Vertical Garden From Recycled Soda Bottles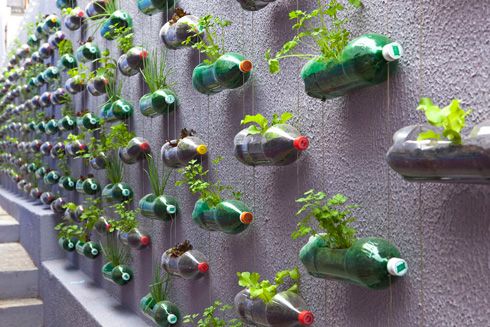 This is an amazing vertical garden which involves hanging hundreds of recycled soda bottles on the wall. Check out the tutorial via Rosenbaum (or English version).
4. DIY Kerosene Drum Planters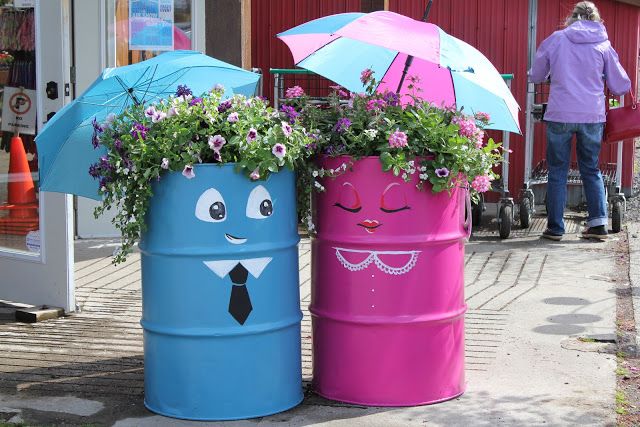 Turn old kerosene drums into cute planters. Love the idea of painting them like lady and gentleman, and decorating them with the umbrellas. They will add real personality to your garden! (Tutorial via The Greenhouse Diaries)
5. DIY Chandelier Planter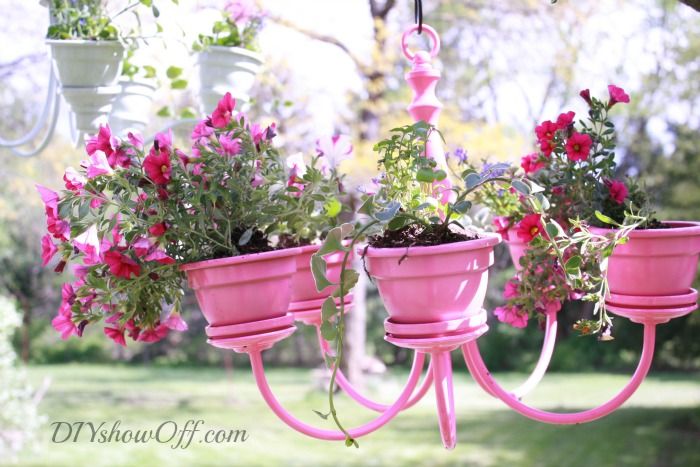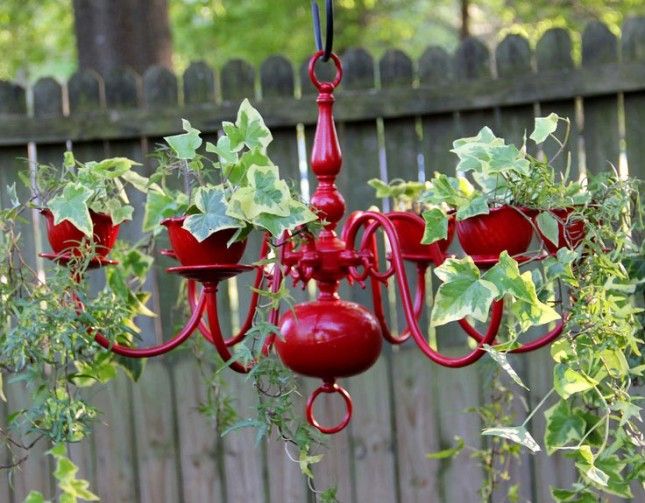 A combination of a recycled chandelier and terracotta pots to make this stunning garden planter. (Tutorial via DIY Show Off; Image via Etsy)
6. DIY Vintage Book Succulent Planters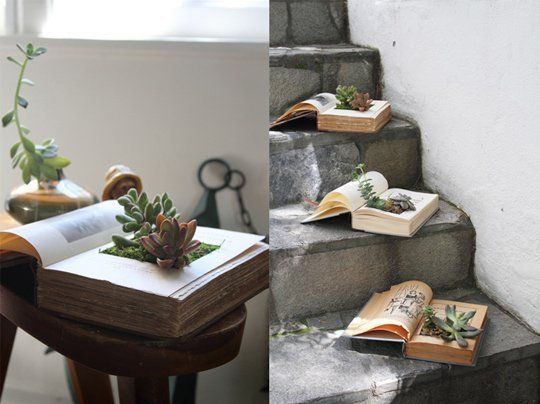 What a creative idea to turn old vintage books into perfect planter for succulents. They will make nice decors for your home and office. (Tutorial via Apartment Therapy)
7. DIY Hollow Log Planter for Flowers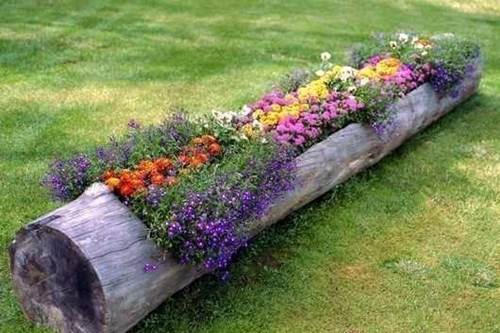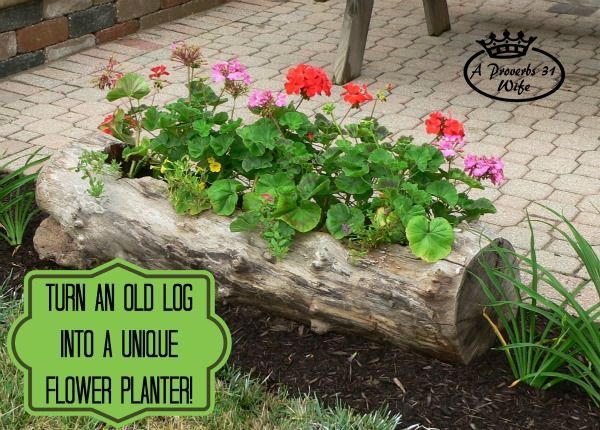 What a fantastic idea to hollow out a log to make a flower planter. These wood log planters look very original and will enhance the overall beauty of your garden. (Tutorial via A Proverbs 31 Wife)
8. Toy Truck Planters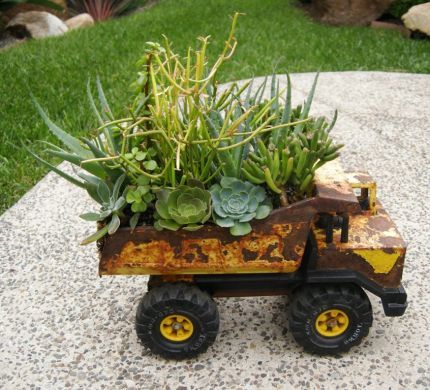 Rusty toy trucks get an makeover into fun planters. (Tutorial via Junk Market Style)
9. DIY Bicycle Planter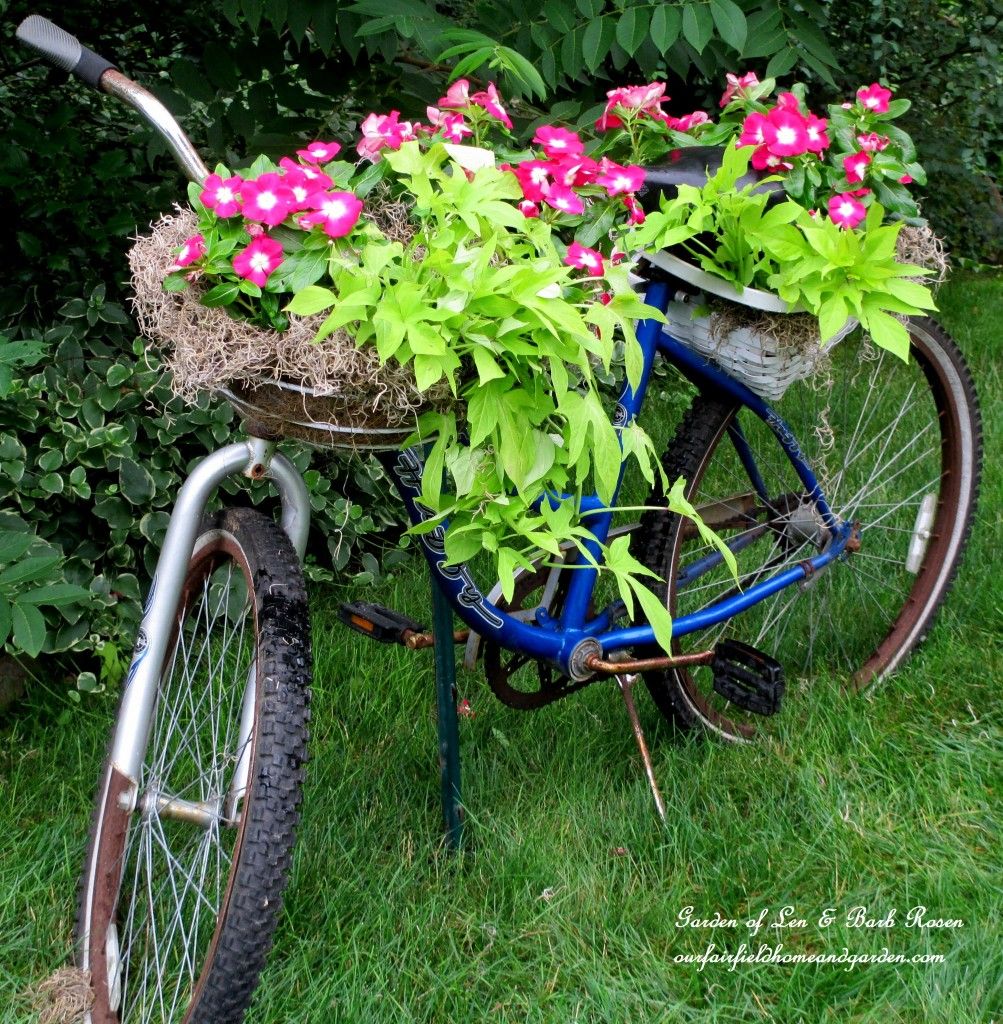 This is such a creative way to recycle an old non-functioning bicycle. This bicycle planter will look great in your garden. (Tutorial via Our Fairfield Home and Garden)
10. Old Chair Garden Pots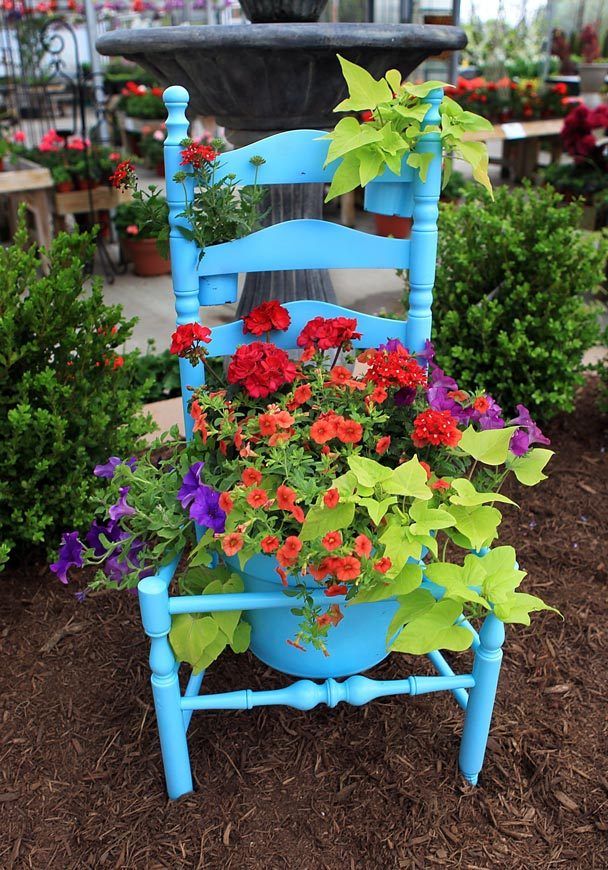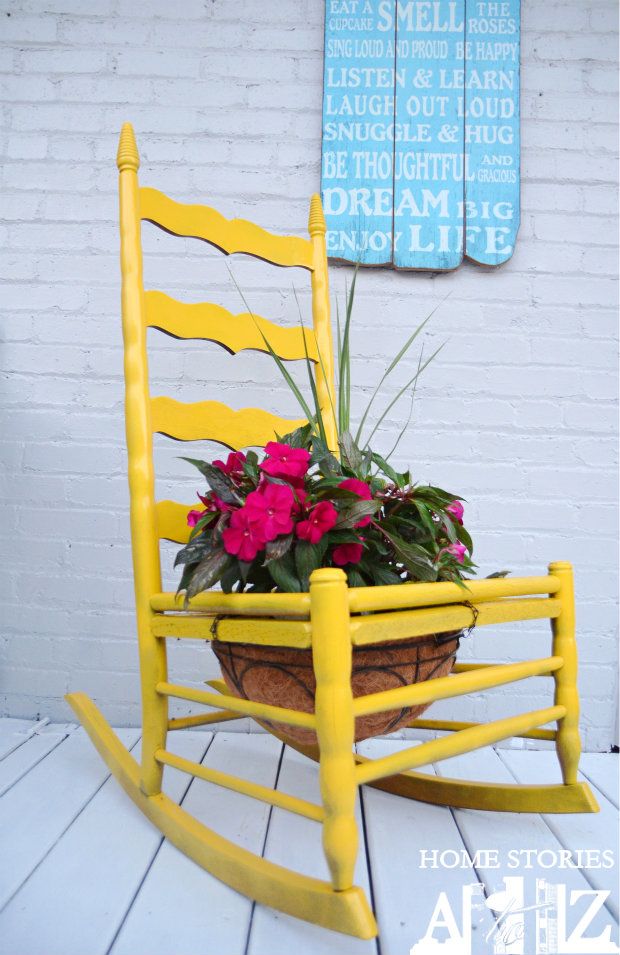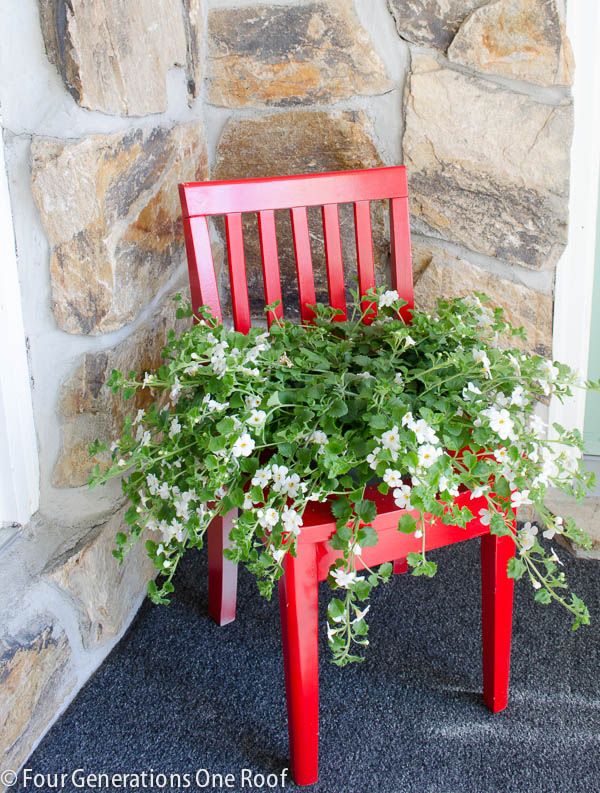 An old wooden chair can be repurposed into an awesome garden pot. You can spray paint it into your favorite colors. (Tutorial via Seattle Times, Home Stories A to Z, Four Generations One Roof)
11. Rain Boots Flower Planters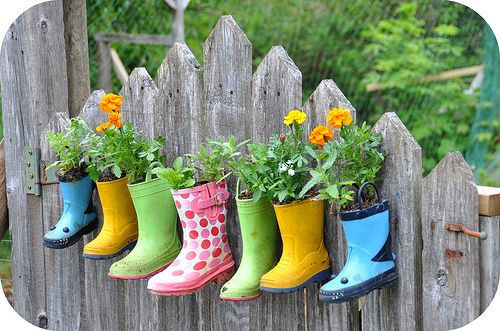 If you have old rain boots that are not good for donation, don't throw them in the recycle bins. You can give them second life by turning them into these colorful flower planters. They look fantastic hung on the fence. (Tutorial via Rosina Huber)
12. DIY Recycled Kettle Planter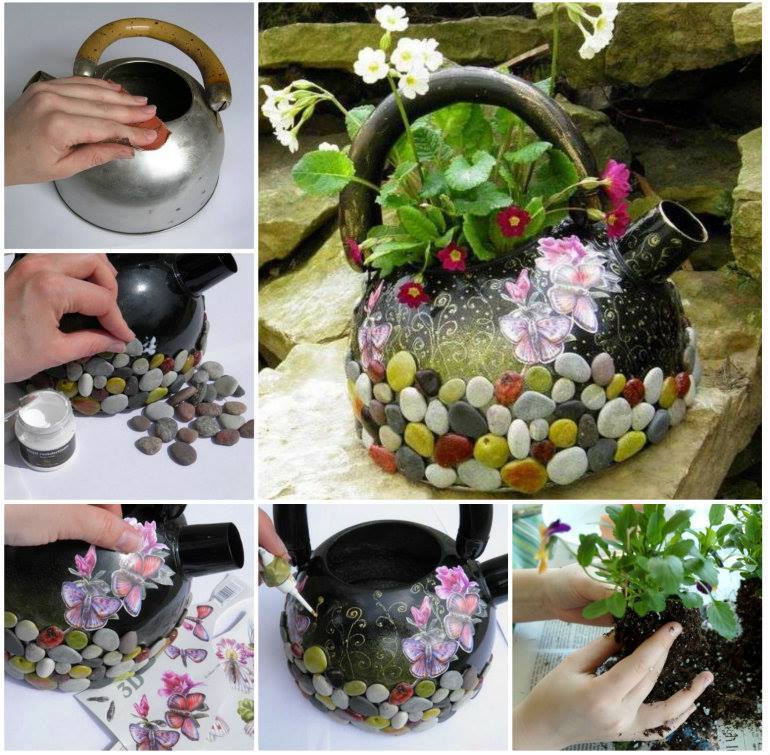 Use old kettles to plant herbs, flowers etc. for indoor or outdoor use. The decoration part is fun. (Tutorial via FabArtDIY)
13. Broken Pots Mini Fairy Garden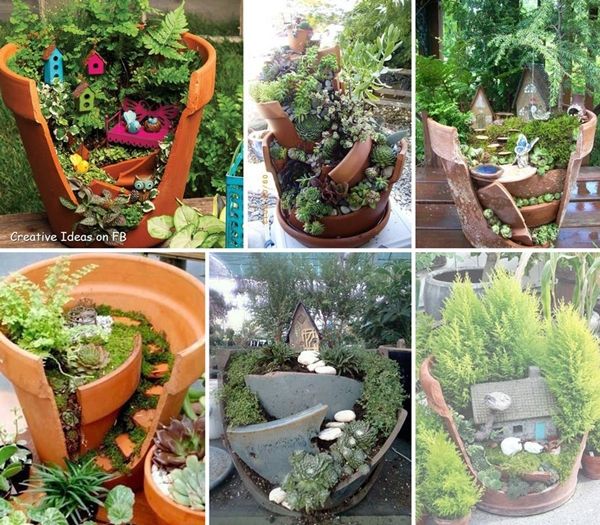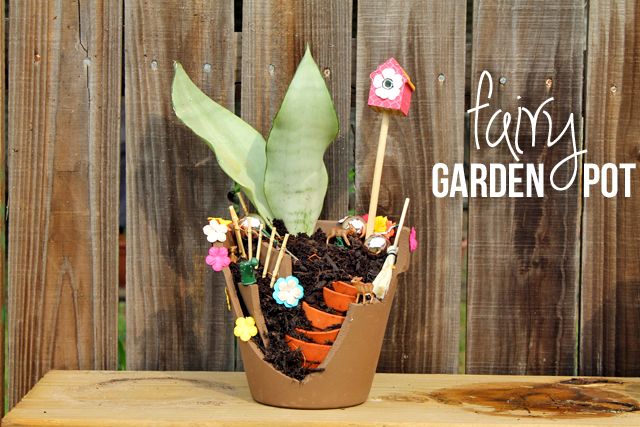 Broken pots deserve a new life. Here's a really fun idea to make mini fairy garden from broken pots. (Tutorial via TopBuy, Punk Projects)
14. Hanging Wine Bottle Garden Pots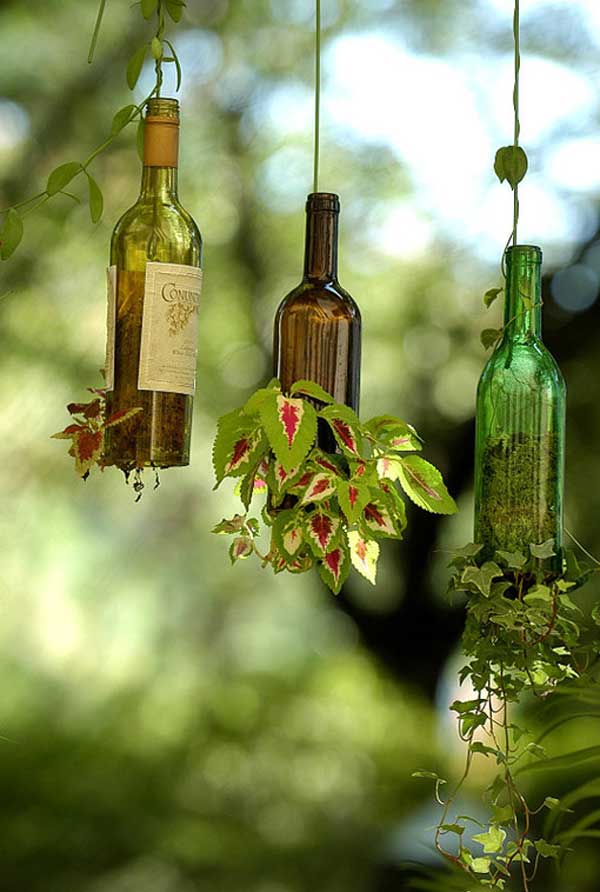 Stunning wine bottle garden pots. (Image via Recyclart)
15. Bird Cage Planter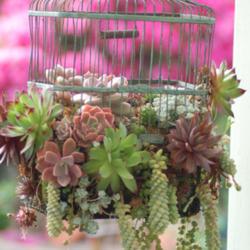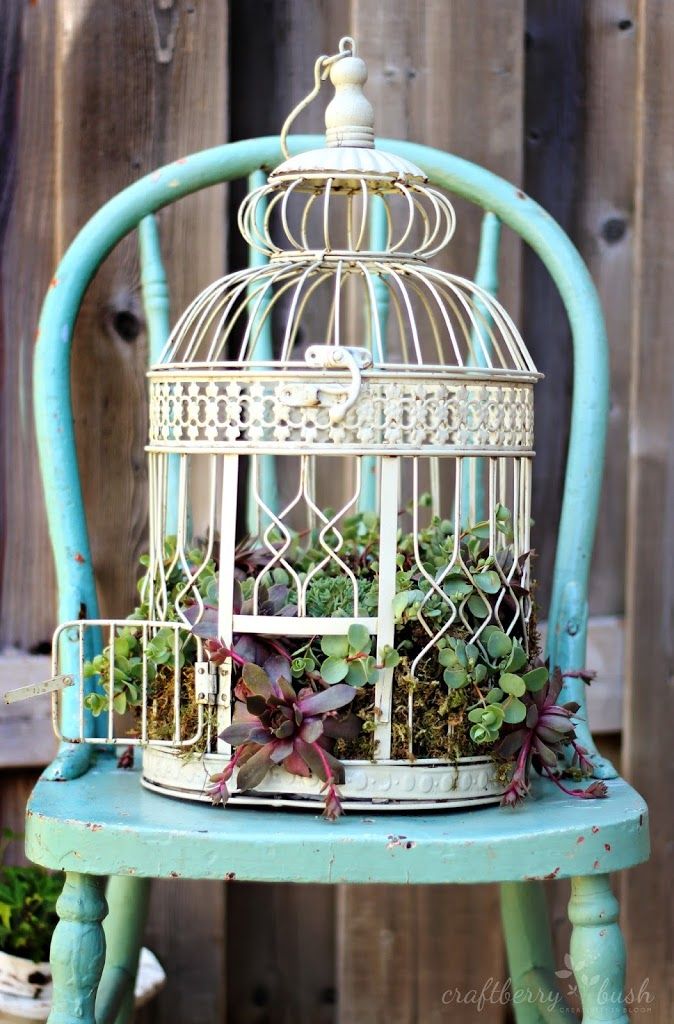 If you have a unused or older bird cage, you can turn it into an awesome succulent planter! (Image via All Things Plants; Tutorial via Craftberry Bush)
16. Repurpose Old Dresser into Garden Planter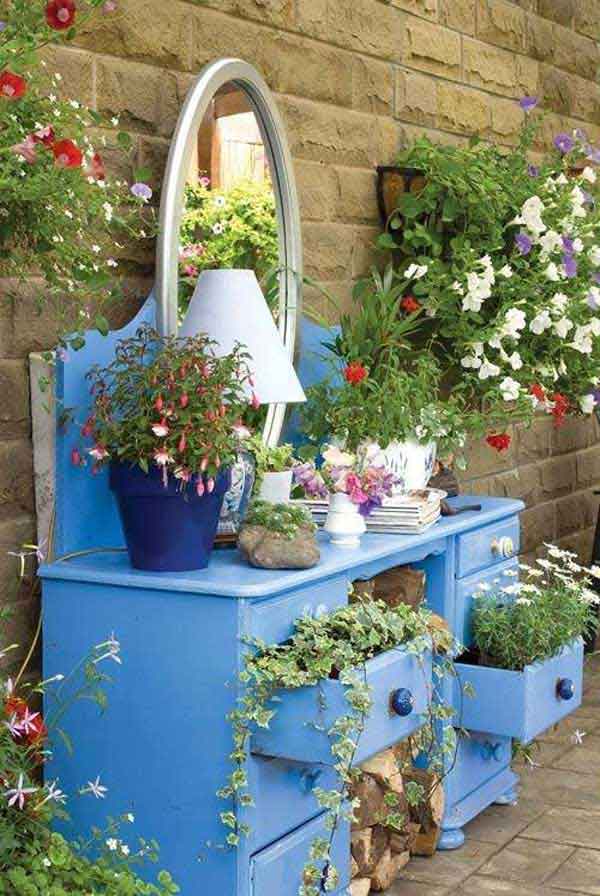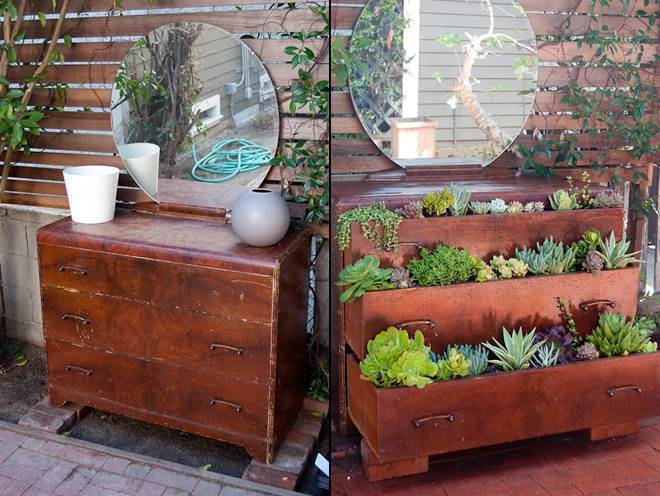 The old dresser planter is not only low-cost planters for gardening, but also beautiful multi-tiered container garden. (Image via Finanza Online; Tutorial via Grizzly Bear Modern)
17. Mini Wine Cork Succulent Planters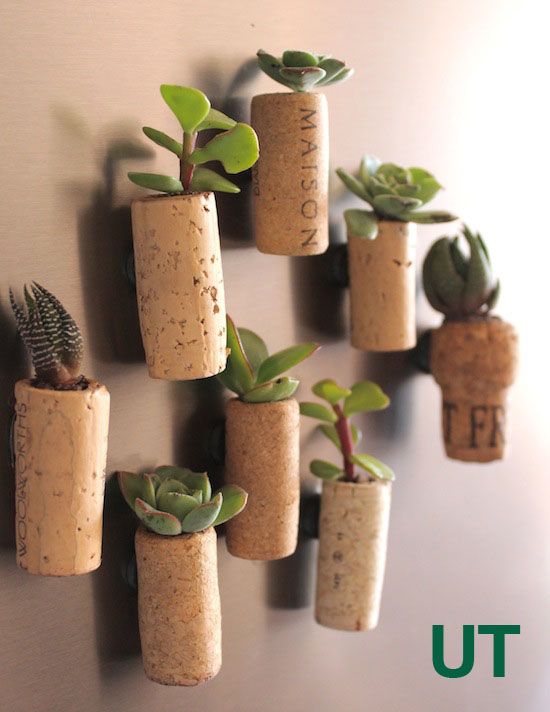 Next time you open a bottle of wine, be sure to save the wine cork for making the mini succulent planters. They are so cute! (Tutorial via Upcycle That)
18. DIY Recycled Wine Barrel Planter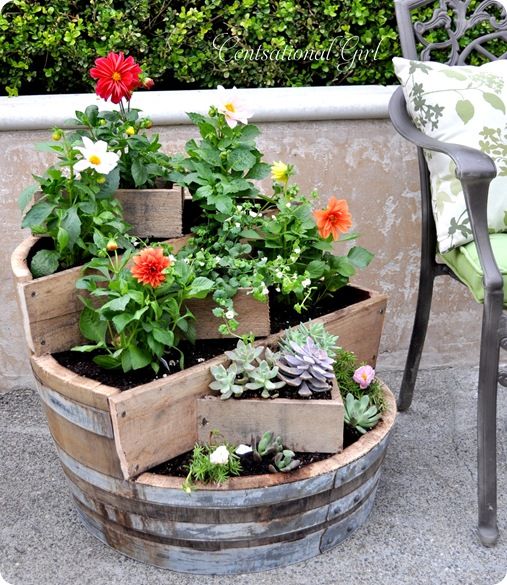 Turn a recycled wine barrel into an awesome multi-tier planter for only $25. (Tutorial via Centsational Girl)
19. Repurpose Pallets into Garden Planters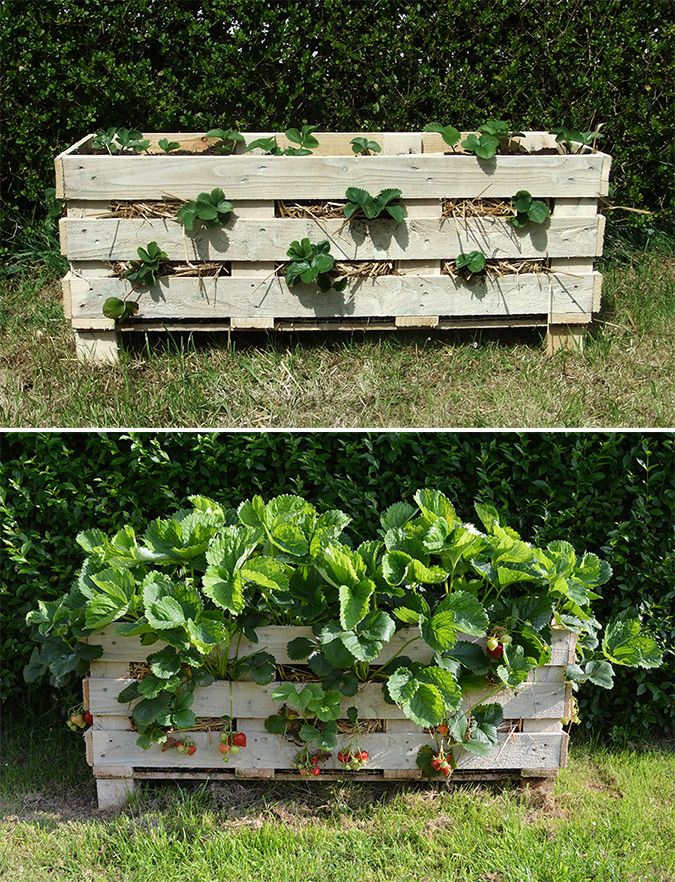 Turn wood pallets into a strawberry planter. (Tutorial via Lovely Greens)
20. DIY Mason Jar Wall Planter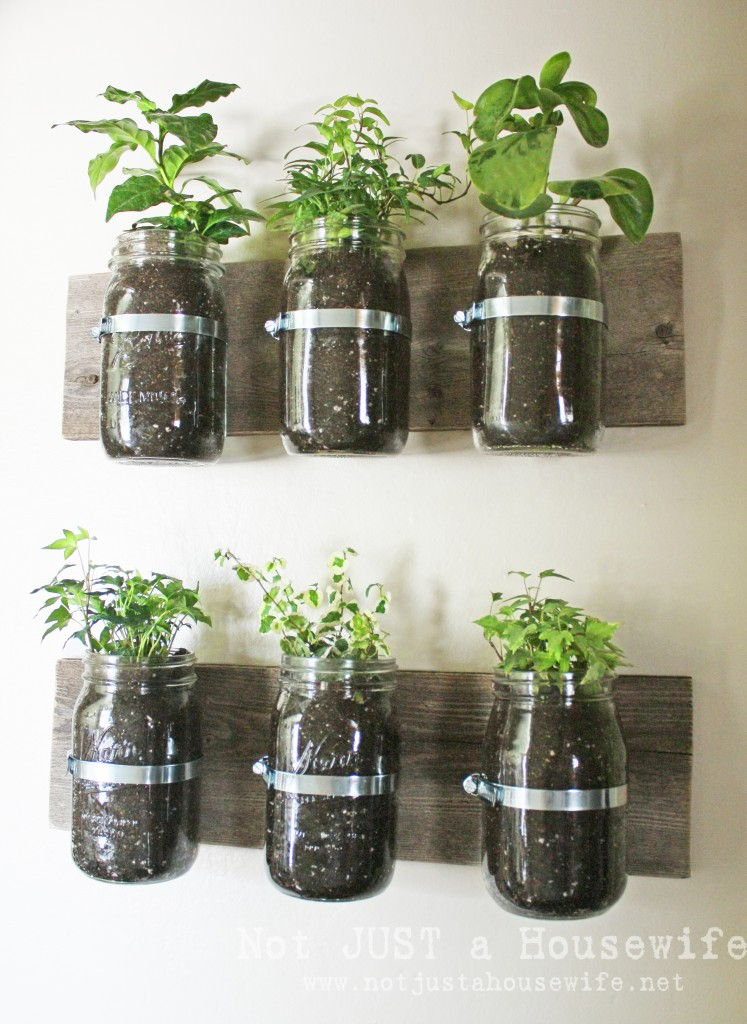 Mason jars are so versatile and there are many wonderful ways to recycle them. Here is one of the creative uses of them. (Tutorial via Not Just A Housewife)
21. Upcycled Shoe Organizer Planter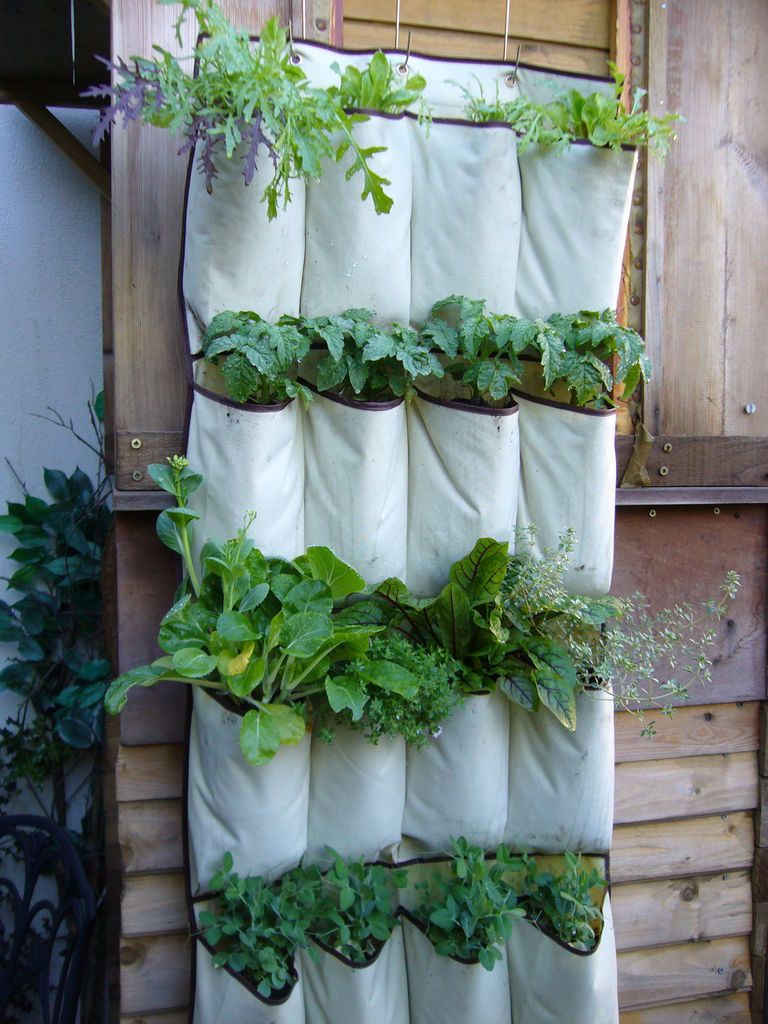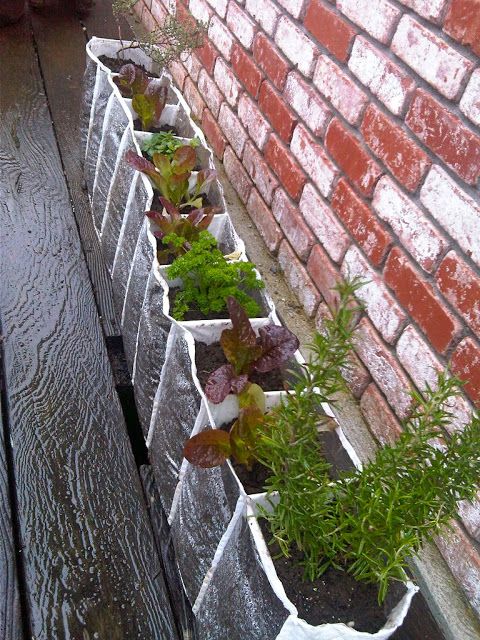 If you have some old over-the-door shoe organizers, you can turn them into these vertical gardens to decorate a wall or fence. (Tutorial via Instructables, Branch Habitat)
22. DIY Recycled Upside Down Planters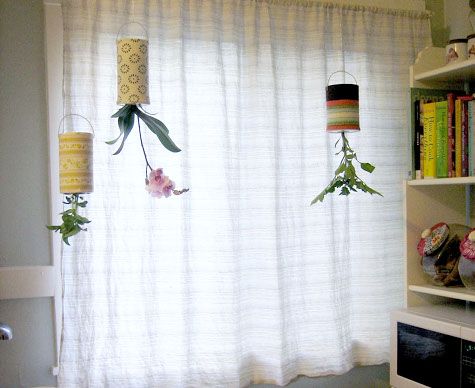 These interesting upside-down planters are made from recycled tin cans or plastic liter soda bottles. (Tutorial via Design Sponge)
23. Tree Stump Planters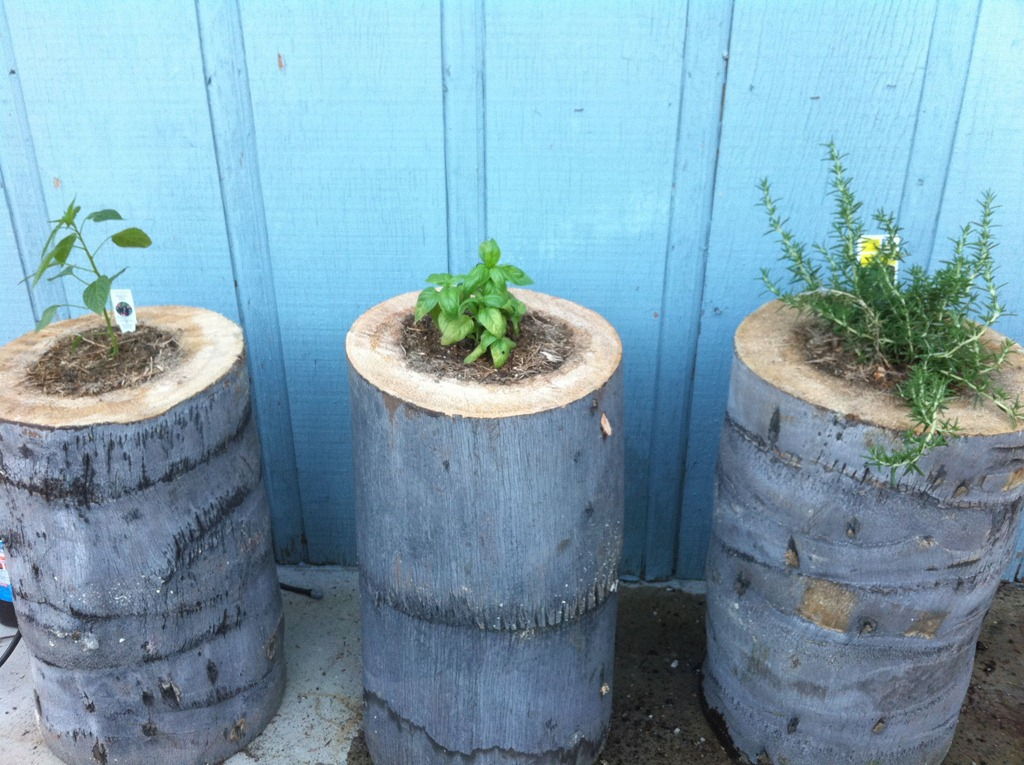 These tree stump planters are truly gifts from the nature. (Tutorial via The Crafty Tulip)
24. DIY Bowling Ball Planter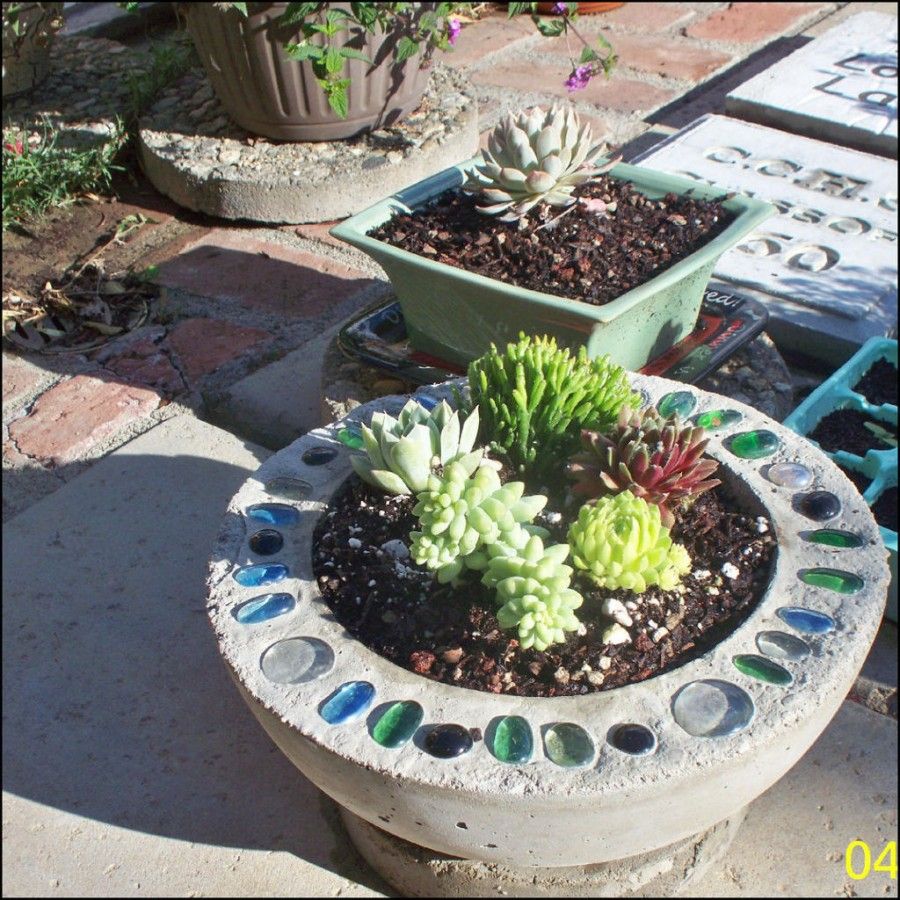 Wondering what to do with those old bowling balls? Check this out! (Tutorial via Instructables)
25. Recycled Wood Chevron Planter Box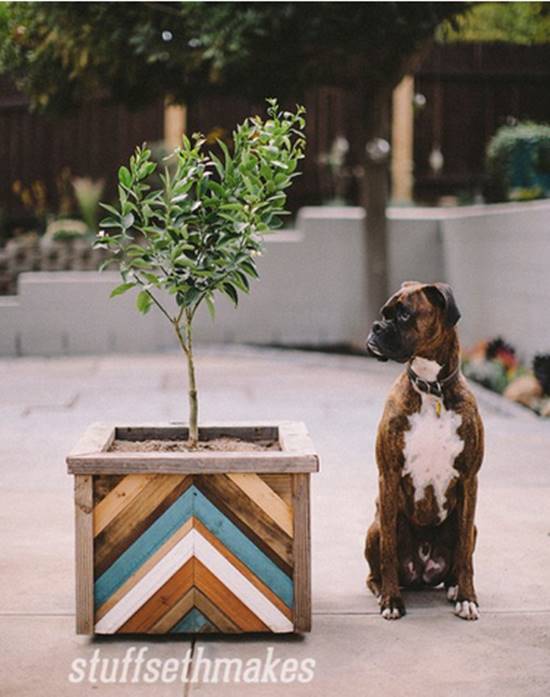 You can make this really cool and fun chevron pattern garden box using recycled wood. (Tutorial via Stuffsethmakes)
26. DIY Menswear-Inspired Vertical Gardens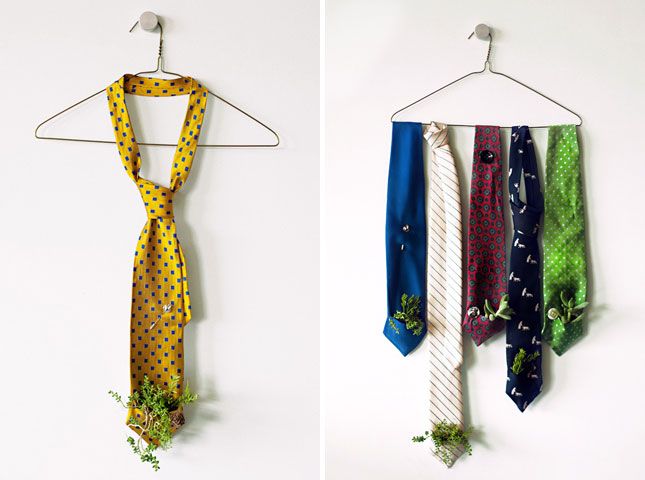 What a fantastic Father's day DIY project to recycle old ties and make these cute vertical tie planters! Great gift idea! (Tutorial via Story by Modcloth)
27. DIY Pretty Hanging Vases From Plastic Bottles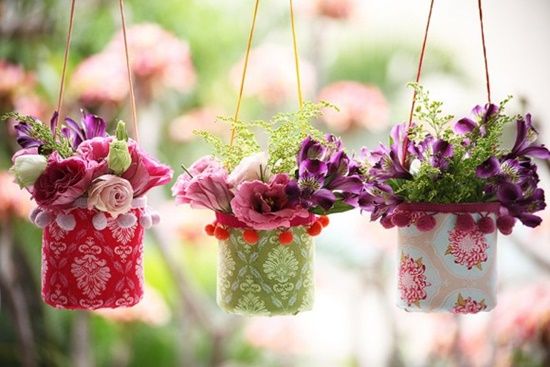 Pretty hanging vase made from recycled plastic bottles. (Tutorial via Solidarium)
28. DIY Wine Bottle Desktop Planters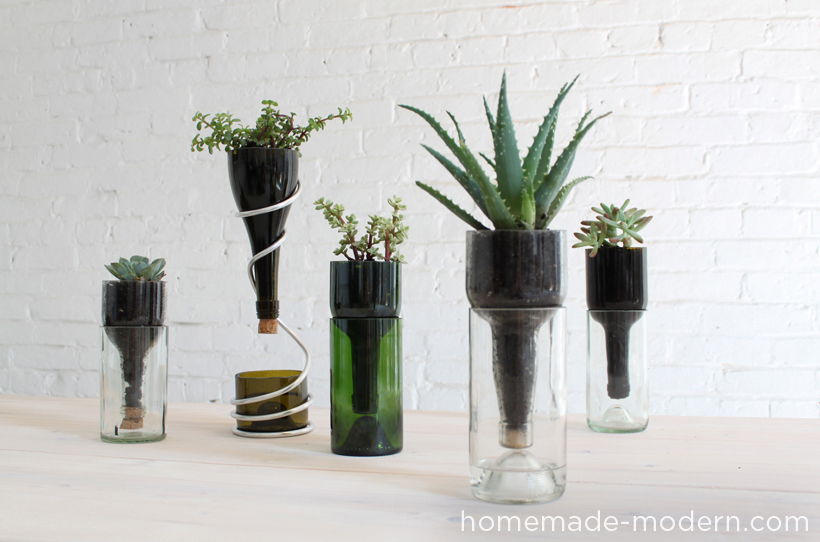 These wine bottle planters are perfect for herbs and would look great on your desk or kitchen windowsill. (Tutorial via Homemade Modern)
29. DIY Easter Egg Planters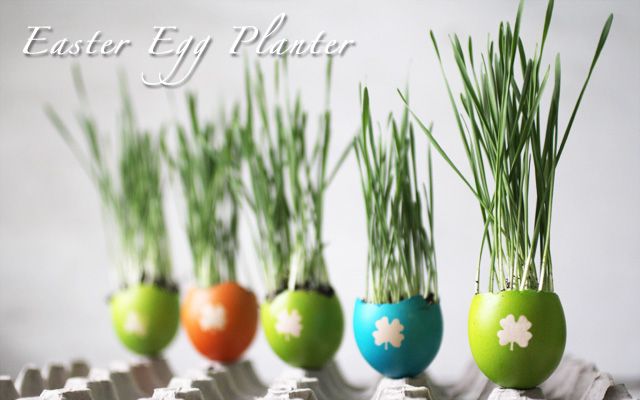 You can even use eggshells to make these cute egg planters. Great Easter project with kids! (Tutorial via Craft Passion)
30. DIY Free Standing Pallet Herb Garden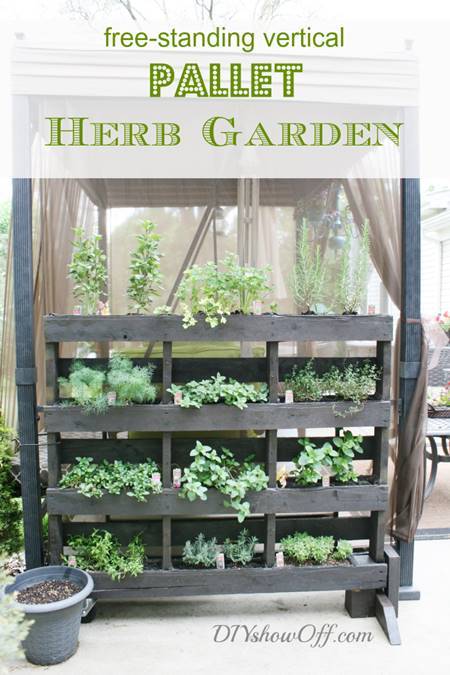 Another great pallet project to make vertical herb garden. (Tutorial via DIY Show Off)
31. Old Drawers Turned into Porch Planters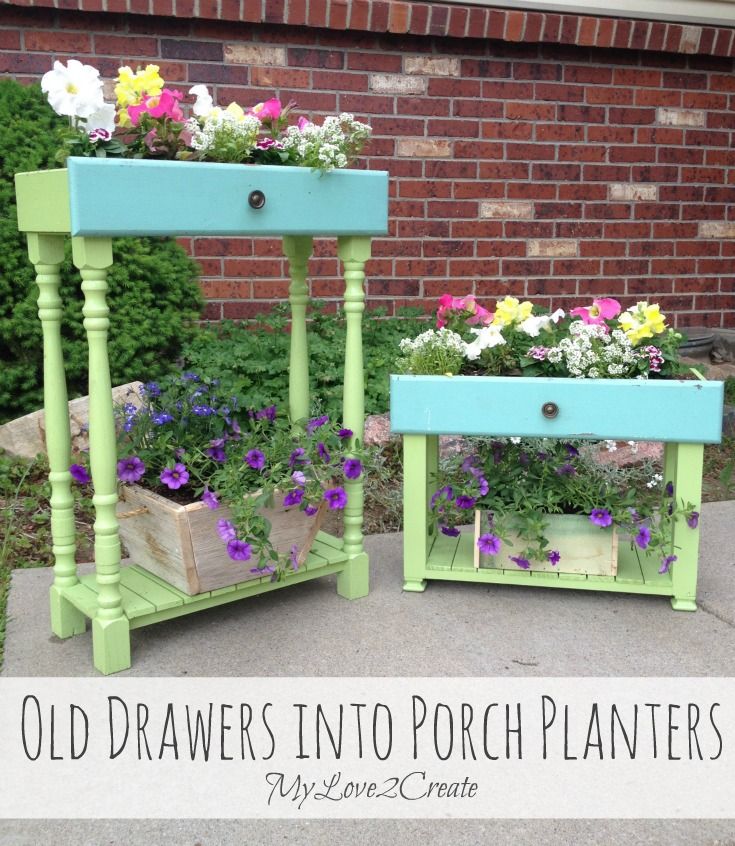 With creativity, you can even turn some old drawers into fantastic porch planters. (Tutorial via My Love 2 Create)
32. Colander Planters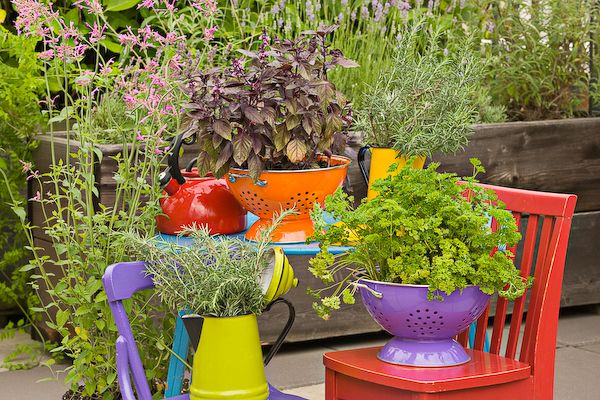 Got some cheap second-hand colanders from local yard sale? They will be the perfect planters! (Image via Bonnie Plants)
33. DIY Floppy Disk Planter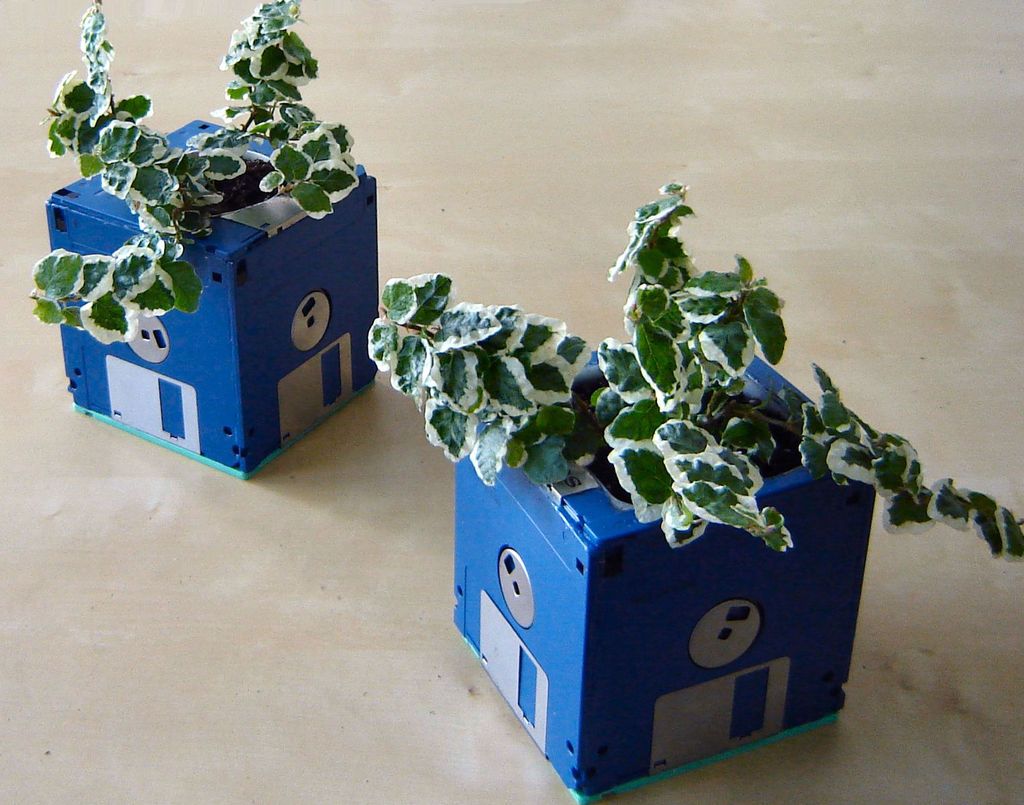 Wondering how to do with old floppy disks? Here is a nice way to turn them into cute planters. (Tutorial via Instructables)
34. DIY 55-Gallon Plastic Barrel Planter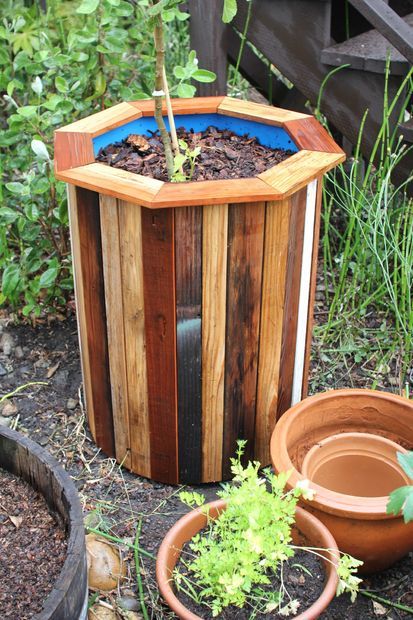 An amazing DIY project to make a giant planter using second-hand plastic barrels and some scrap wood. (Tutorial via Instructables)
35. Old Teapot Planters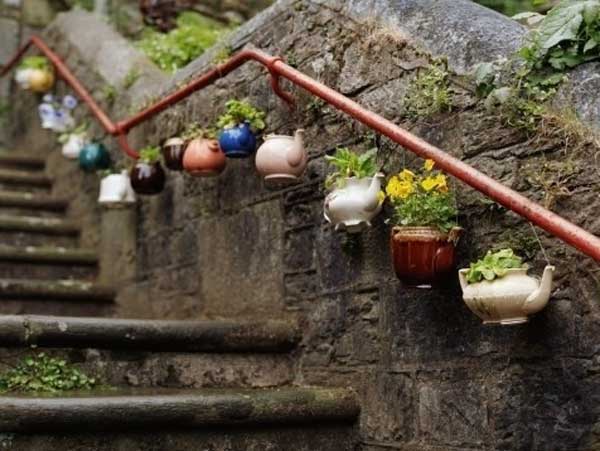 Repurpose old teapots into these cute hanging planters. (Image via The Garden Glove)
36. Milk Carton Planter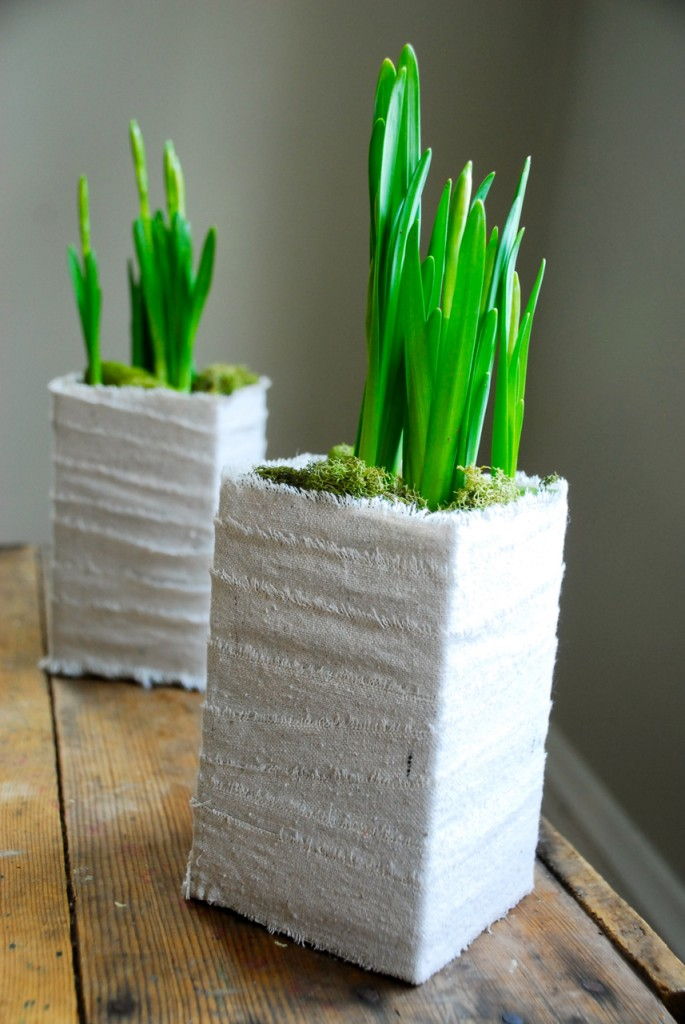 What a cute idea to cut the milk cartons and wrap them with linen to serve as planters. (Tutorial via Family Chic)
37. Colorful Tin Can Planters for Spring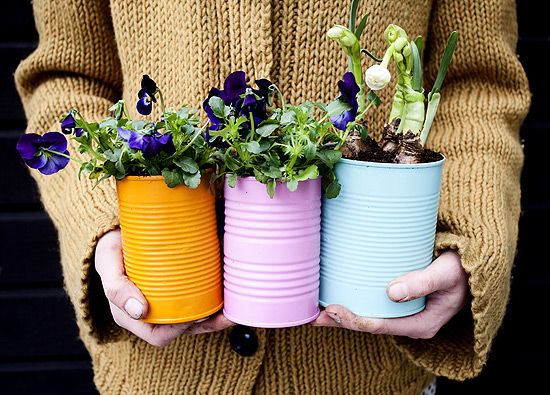 Turn recycled tin cans into these colorful planters for the Spring. All you need to do is drain holes at the bottom and spray paint them in bright colors. (Tutorial via DOSFAMILY)
38. DIY Hedgehog Planter from Plastic Bottle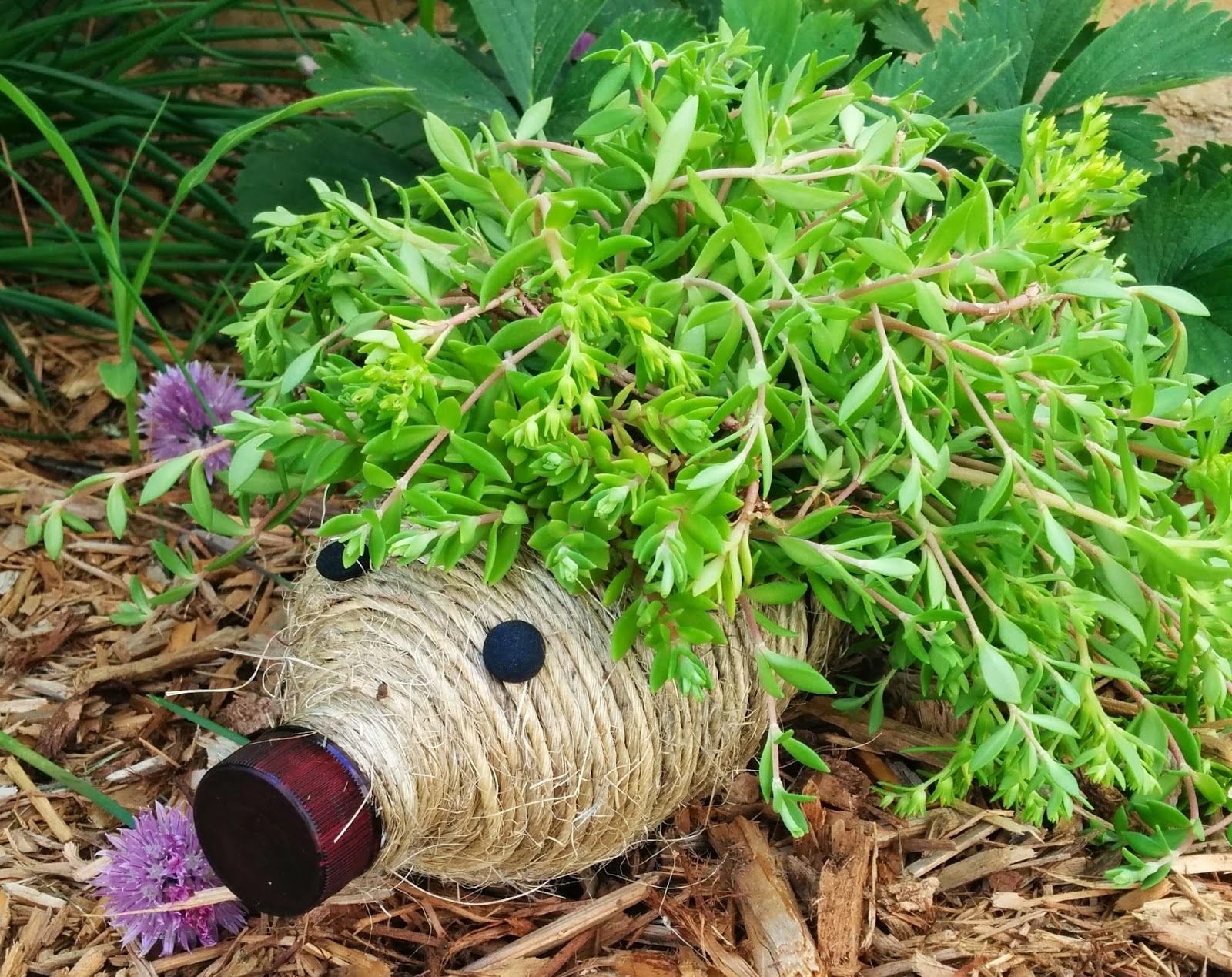 A fun project to make this cute hedgehog planter from recycled plastic bottle. (Tutorial via Susie Qute)
39. DIY Old Boots Flower Planter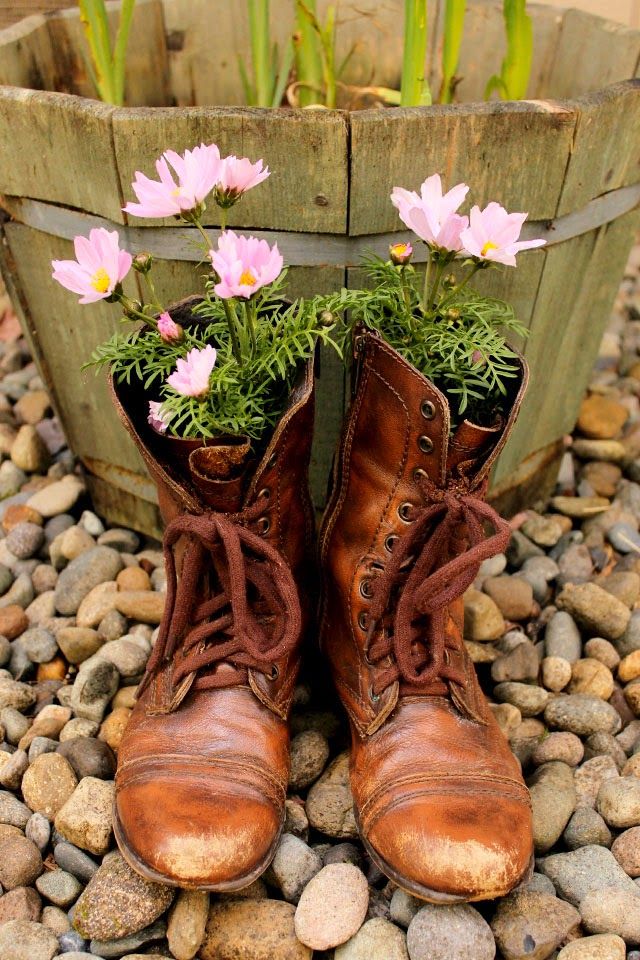 A great way to repurpose old shoes! (Tutorial via Wear The Canvas)
40. DIY Strawberry Tower from PVC Pipe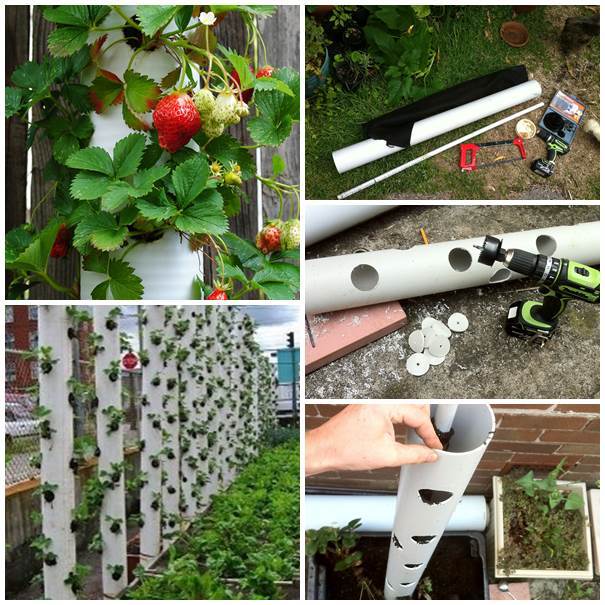 Got some left-over PVC pipes from your plumbing project? You can recycle them to build an awesome strawberry tower. (Tutorial via Urban Green Space)
41. Basketball Hanging Planter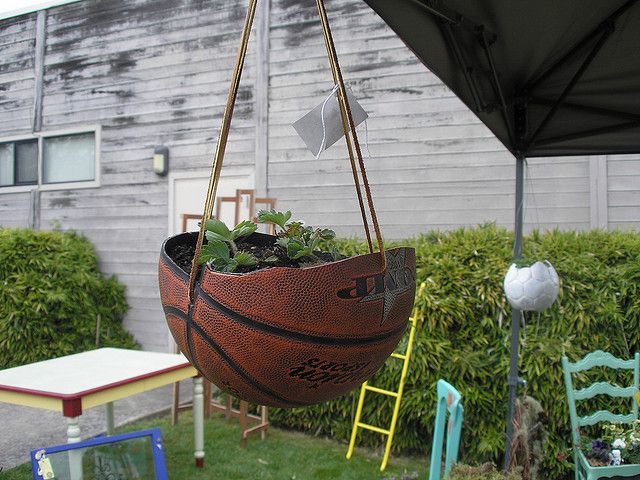 Repurpose old basketball into a hanging planter. Cool! (Image via Flickr)