30+ Creative Uses of PVC Pipes in Your Home and Garden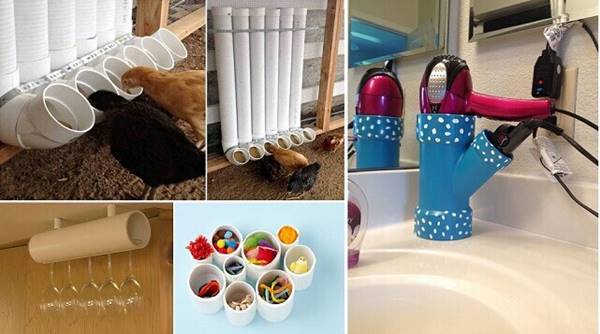 Greetings from i Creative Ideas! PVC pipe is one of those ordinary construction materials that is cheap to buy, readily available and easy to work with. You can cut it, paint it, drill it and glue it easily. Therefore, it is the perfect material for many DIY projects. With creativity and imagination, you can create functional and useful pieces out of PVC pipes around your home and garden. Here at i Creative Ideas, we have come up with a roundup of more than 30 creative uses of PVC pipes in our home and garden. You will be surprised when you see all the fantastic stuffs you can create with PVC pipes. From a smart storage solution for your hair dryer, a modern wine rack, organizers, home decors to kids' toys and garden planters, we hope that you will enjoy these creative ideas and be inspired to think about your next PVC projects. Let's check out all these creative ideas!
1. DIY PVC Chicken Feeder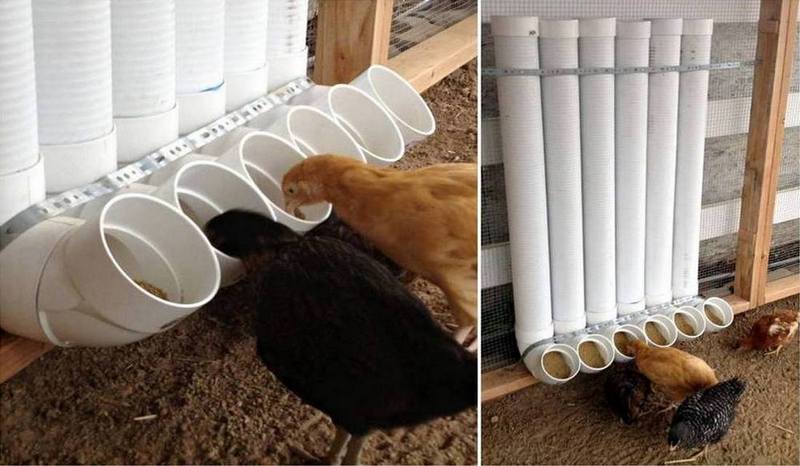 Do you want to raise your own chickens in your backyard so that you will have the organic eggs every day? Then this PVC chicken feeder is an easy DIY to get started. It's practical, useful,  easy-to-make and inexpensive. (Tutorial: Preparing For Shtf)
2. Make Desk Organizing Cups with PVC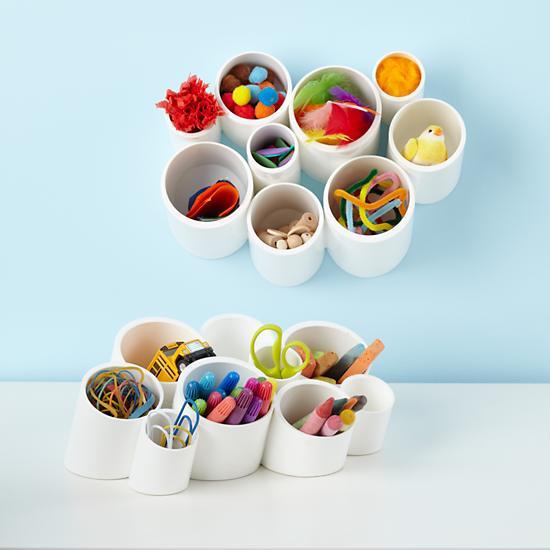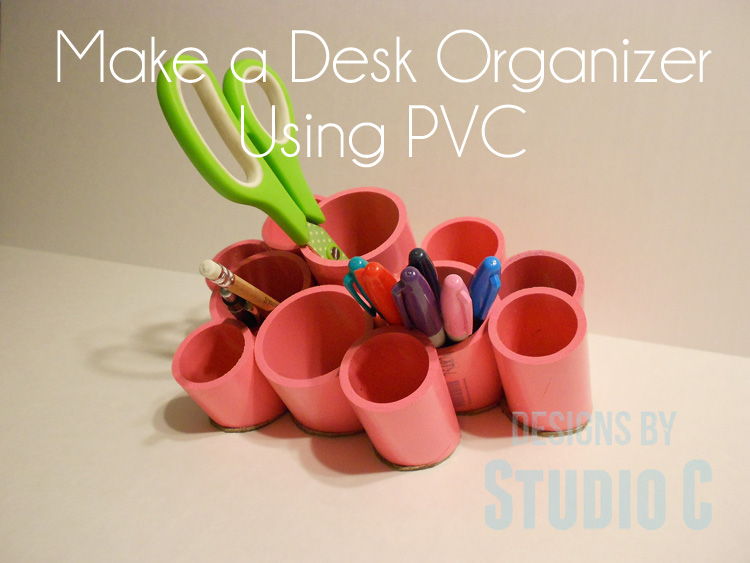 These cubby cups are perfect ways to store your office supplies or makeup accessories on your desk and in your bathroom. You can buy them for $24.95 from Land of Nod. But if you don't want to spend the money or if you want to make a customized one, you can check out the DIY tutorial on how to make these cute organizing cups with PVC. (Tutorial: Designs by Studio C)
3. PVC Wine Glass Holder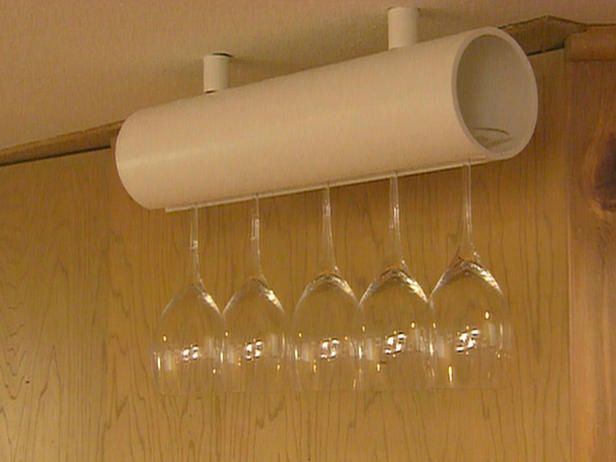 Do you always store your wine glasses on a shelf in your kitchen cabinets? Here is another option for you. You can create this PVC wine glass holder by cutting a channel in the pipe and hanging it upside down. Great idea! (Tutorial: HGTV)
4. Hair Dryer and Flat Iron Storage Stand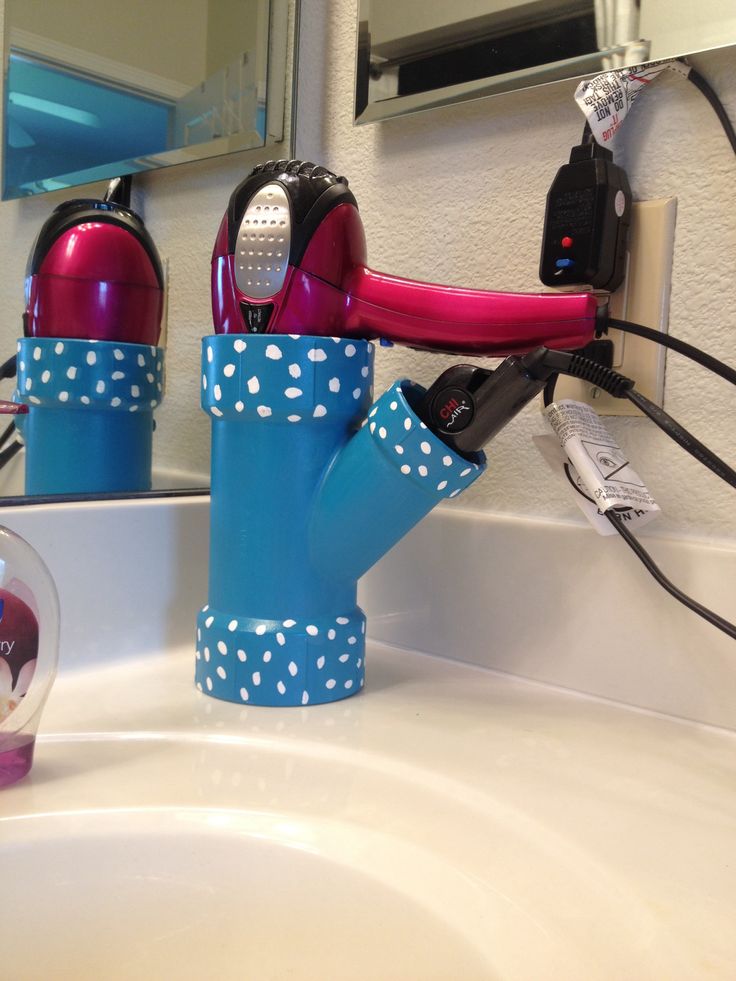 How do you usually store your hair dryer? Is it just lying flat in your drawer or on the counter? The shape of this PVC pipe connector makes it the perfect spot to store your hair dryer and flat iron. It's so easy to make and the picture is pretty self-explanatory. Simply paint it in your favorite color and use it to hold your hair dryer and flat iron. (Photo credit: Pinterest)
5. DIY Vertical PVC Strawberry Tower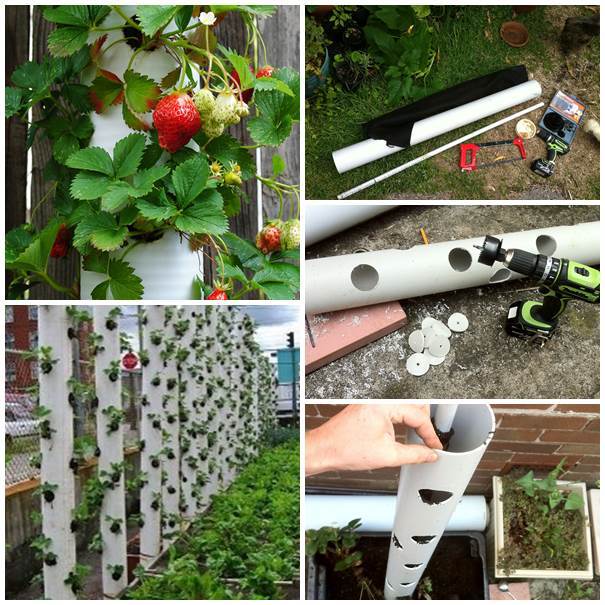 A PVC strawberry tower is an innovative and fun way to grow lots of strawberries on limited yard spaces. It also works on a patio or deck where can you grow it on a plant pot. The strawberries are grown vertically, keeping them away from harmful insects on the ground, and collecting less dirt. (Tutorial: Urban Green Space)
6. DIY Toddler Chairs Made out of PVC Pipe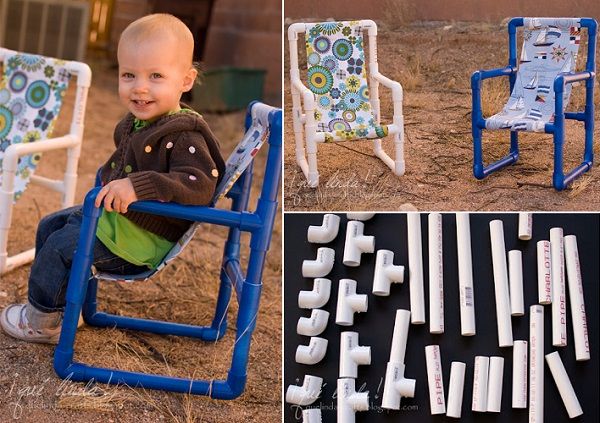 These little PVC pipe toddler chairs would come in handy when the little ones want to take a break. They are cute, light-weight, durable, easy to take apart and assemble, and simple to make. All you need is some PVC pipes and a piece of durable fabric. You kids will love their own personalized chairs. (Tutorial: Instructables, Que Linda)
7. DIY PVC Pipe Drying Rack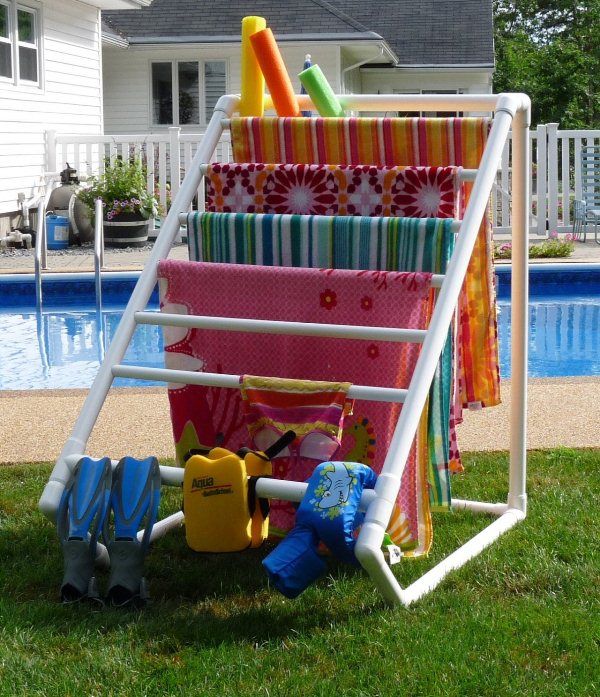 This PVC pipe drying rack is the perfect place to hang and dry the towels at the poolside and to store pool toys. You can also make a small version to hang the towels in the bathroom. It's very useful and functional. (Tutorial: Etsy)
8. DIY Vase from a PVC Pipe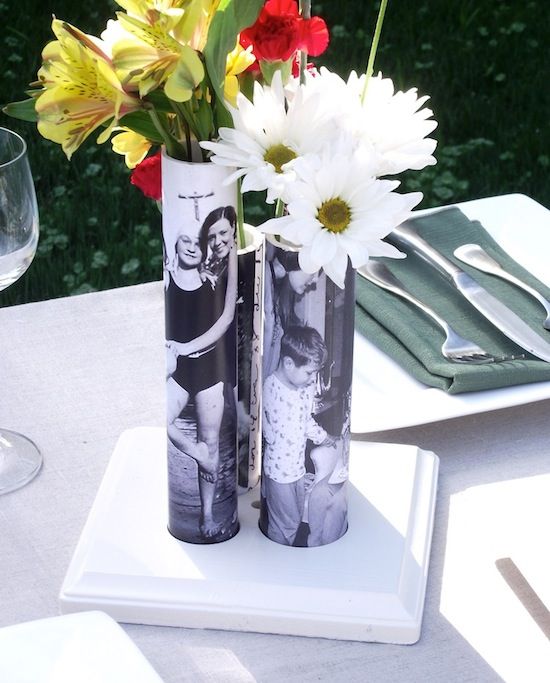 What a creative idea to decoupage PVC pipes in old photos and make a memorable centerpiece. It costs only $12. Cool? (Tutorial: Mod Podge Rocks)
9. PVC Succulent Planters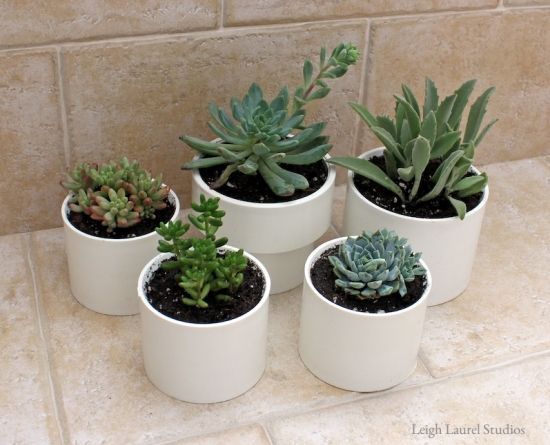 Learn how to make PVC pots for your succulent plants. They will look great in your garden. (Tutorial: Leigh Laurel Studios)
10. PVC Pipe Toothbrush Holders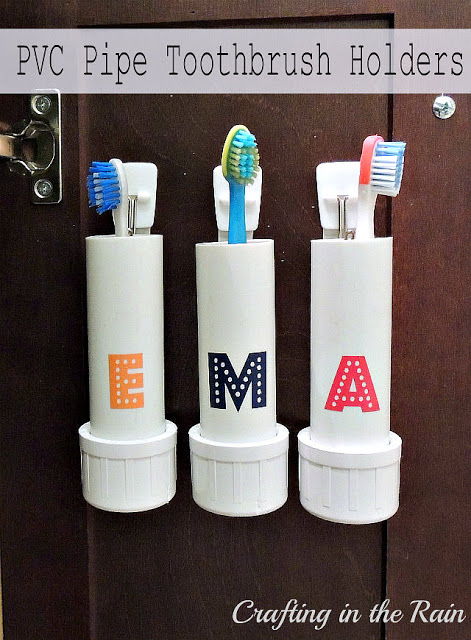 Hidden away inside the cabinet door, these PVC pipe toothbrush holders are a great organizing trick and space saving tip when you have a small bathroom. (Tutorial: Crafting in the Rain)
11. PVC Pipes Hair Tools Organizer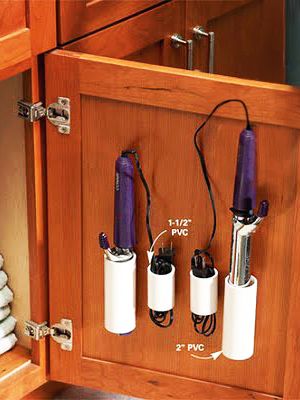 Another organizing trick and space saving tip to store your hair tools. (Tutorial: Beauty Riot)
12. PVC Pipe Frame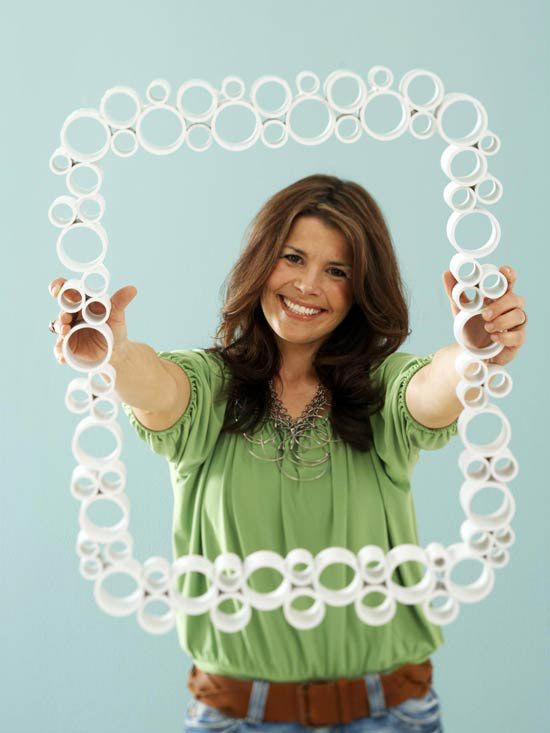 This is an easy, three-step PVC pipe project to make a fantastic frame. (Tutorial: Better Homes and Gardens)
13. DIY Coat Rack Using PVC Pipes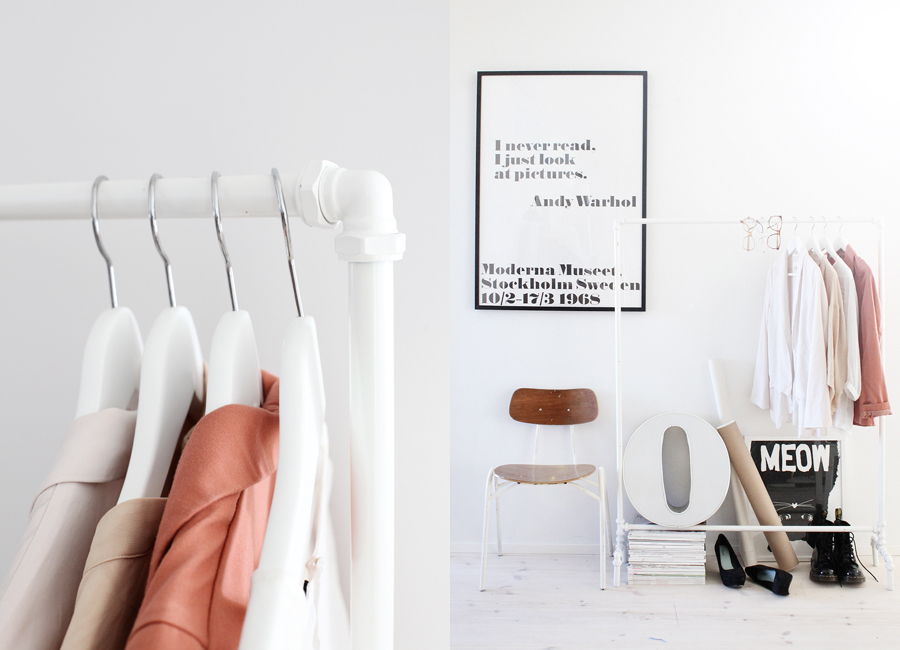 I love this kind of project because it is very practical, original, inexpensive and beautiful. Although it doesn't come with the detailed DIY instructions, you can easily see the supplies you will need and build one with basic skills such as assembling, polishing and painting. (Tutorial: Weekdaycarnival)
14. Simple Storage for Less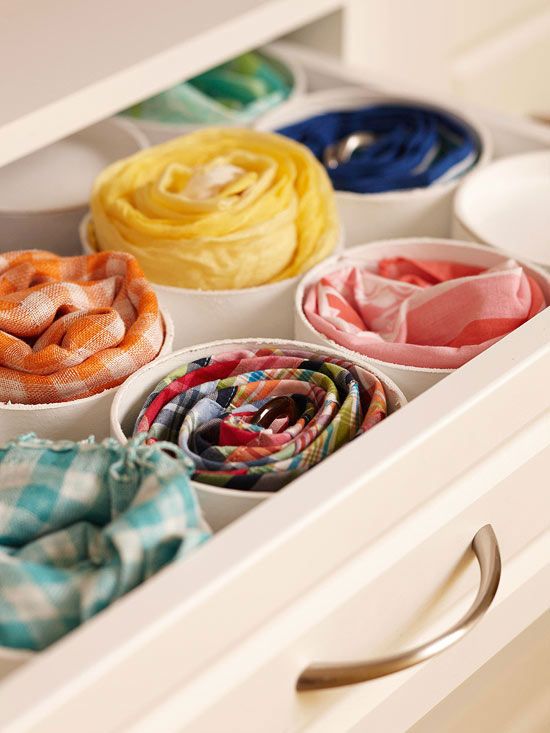 Cut PVC pipes in pieces that match the height of your drawer to make a nice drawer organizer. Be sure to sand the rough edges to make them smooth. It is great for storing stockings, leggings, socks, scarves and other accessories. (Tutorial: Better Homes and Gardens)
15. DIY PVC Pipe Soccer Goal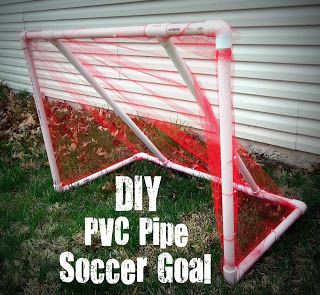 This is an easy and cheap way to make a practical soccer goal for your little soccer players. (Tutorial: Six Sister Stuff)
16. DIY Chalkboard and Wine Rack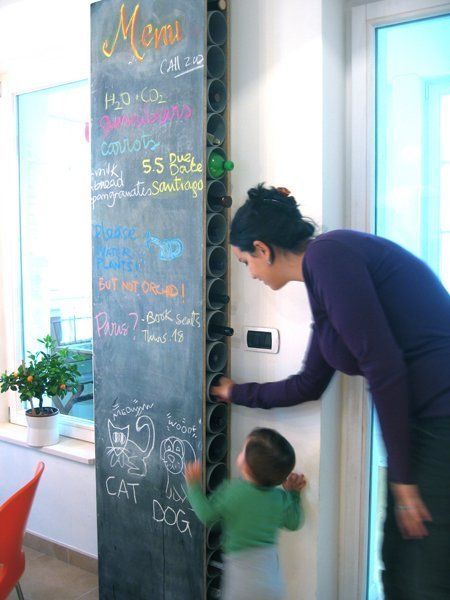 With two pieces of fiberboard and PVC pipes in the middle, you can make this awesome chalkboard wine rack. Great project. (Photo credit: Apartment Therapy)
17. The Washi Tape holder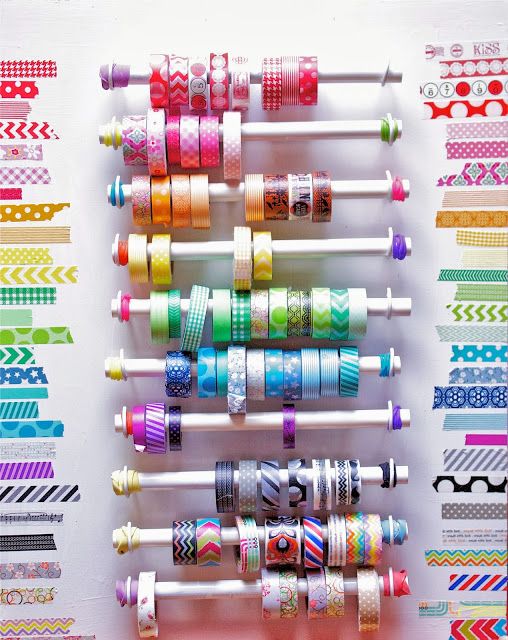 If you like scrapbooking and other crafting activities, you might have all kinds of colorful washi tape. Wondering a good place to store all your washi tape? If you happen to have scraps of PVC pipes around the house, this is an easy DIY project for you to make a washi tape holder. It is so colorful and useful! (Tutorial: Sowdering About in Seattle)
18. PVC Tomato Cages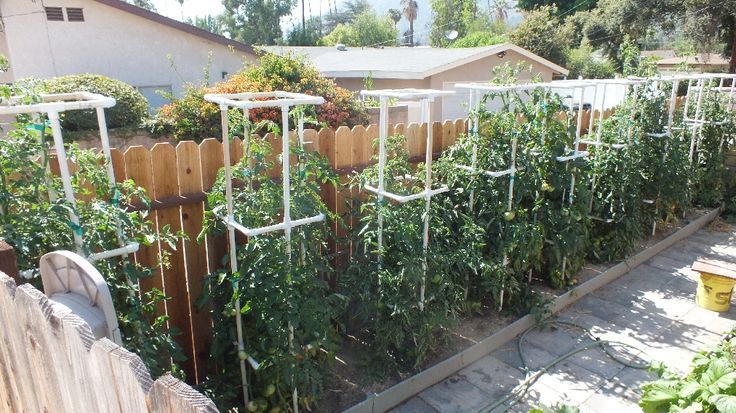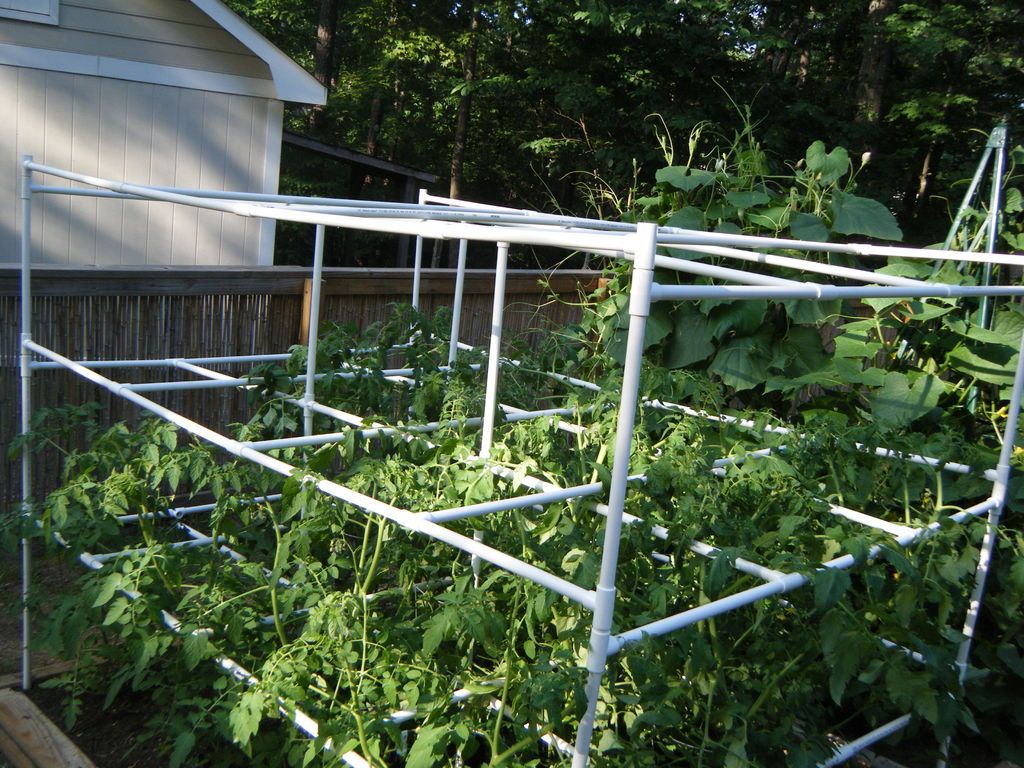 Instead of buying the wire tomato cages in the store, you can make your own with PVC pipes. (Tutorial: Instructables, Garden Web)
19. DIY PVC Pipe Fort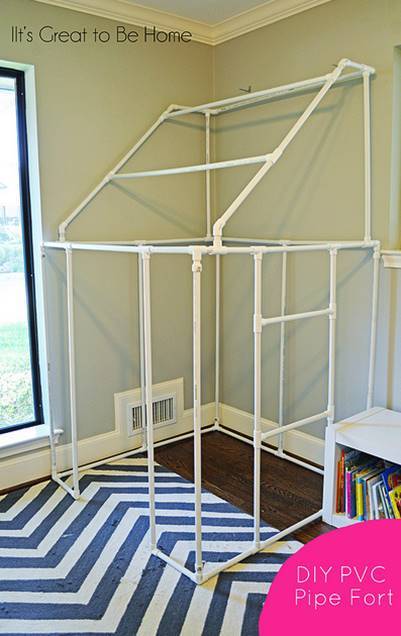 Make a fort or playhouse for your little one to enjoy at home. (Tutorial: It's Great to Be Home)
20. PVC Two-Faced Clock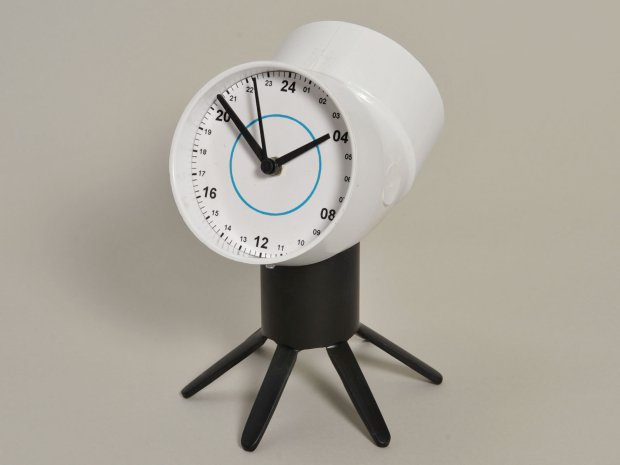 What a creative idea to make a two-faced clock. If you and your friend or relative live in different time zones, this little device will help to keep track of the time difference in another time zone. I think it will make a unique piece of decor for your bedroom, study or living room, and a nice gift for friends and family. (Tutorial: Makezine)
21. Turn PVC Pipes into a Modern Wine Rack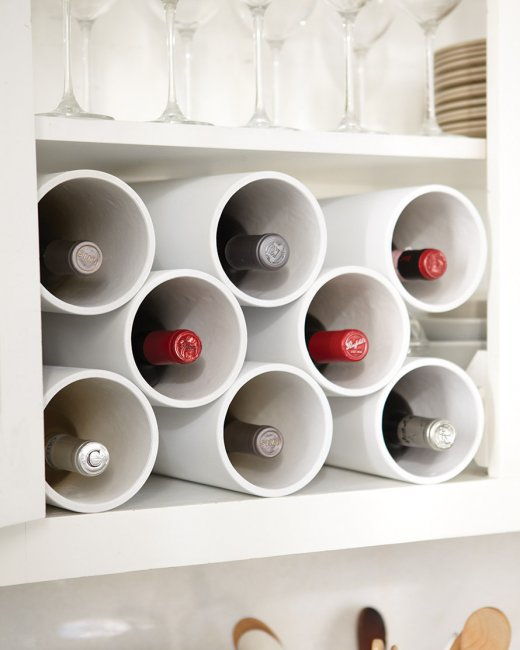 Can you believe that this modern wine rack is made of PVC pipes? The best part of it is that you can customize its size and color to fit in any existing shelf or cabinet. (Tutorial: Martha Stewart)
22. PVC Floating Accent Lamp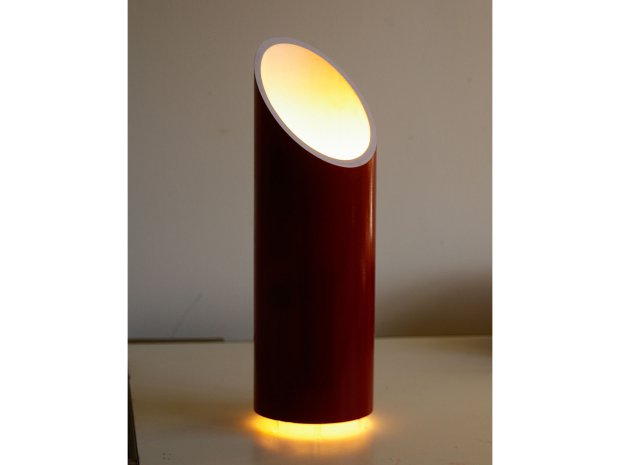 I can't believe this unique lamp can be DIY using simple materials like PVC pipes. When the light is on, this lamp will add a romantic glow to any room. (Tutorial: Makezine)
23. PVC Kids' Table and Stool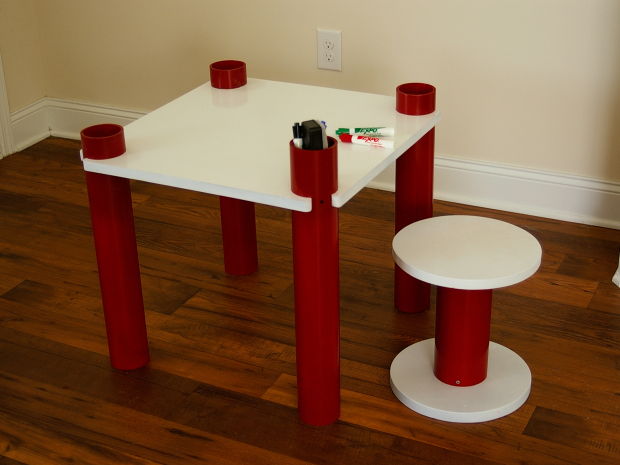 This is a great idea to make extra seating for the kids. (Tutorial: Makezine)
24. PVC Table Lamp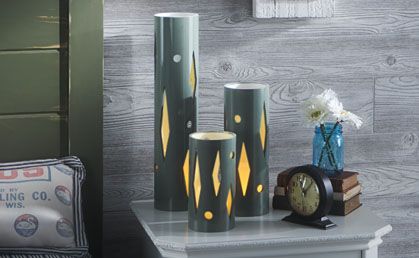 These PVC table lamps look like lanterns and so unique. They will be a wonderful addition to your home decoration. (Tutorial: Dremel Weekends)
25. Fold-Down Greenhouse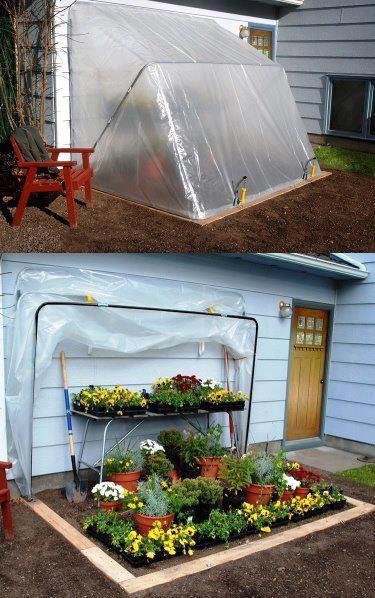 Want to protect your plants from frosts and cold weather? You can make this fold-down greenhouse with PVC pipes. It's lightweight yet sturdy, inexpensive yet practical. (Tutorial: Bonnie Plants)
26. Repurpose PVC Pipe Elbows into Colorful Wall Hooks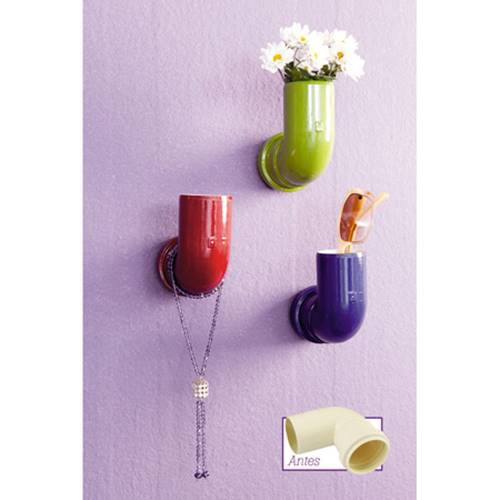 Add a colorful touch to your wall with these wall hooks that are made from PVC pipe elbows. You can hang bags and hold other accessories. You can also turn them into wall planters. (Tutorial in translated version: Portal de Artesanato)
27. DIY PVC Bath Toys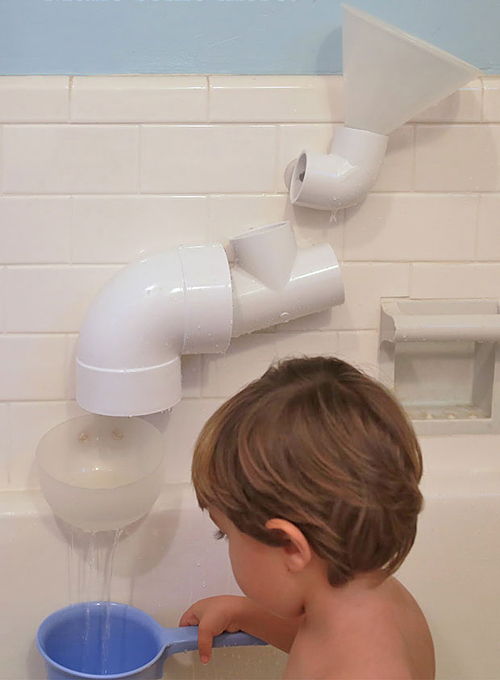 Your kids will have lots of fun with these creative bath toys that are made from PVC pipes and suction cups. (Tutorial: Ellis Benus)
28. PVC Pipe Shoe Organizer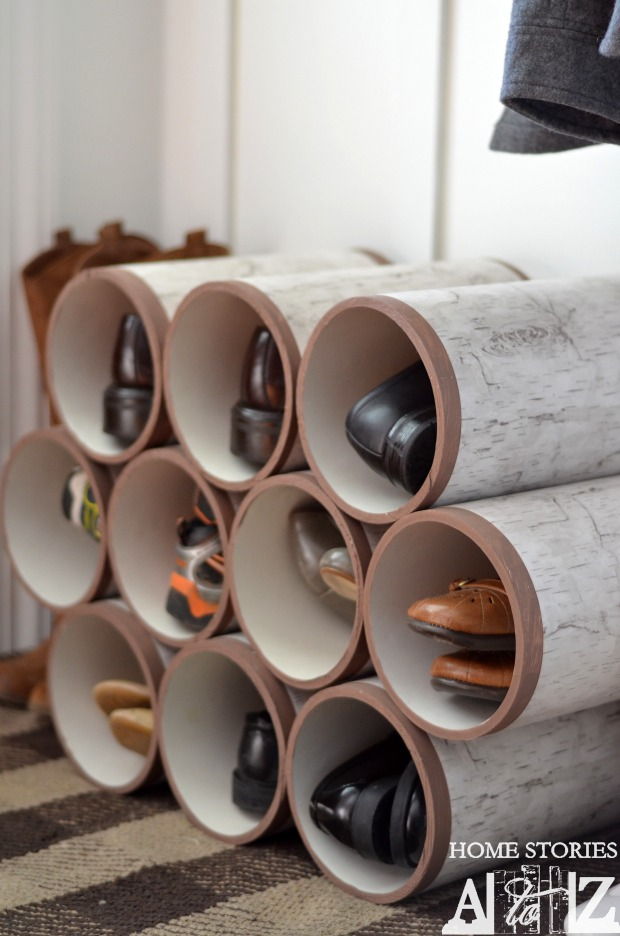 Need extra space to store your shoes? This cute PVC pipe shoe organizer is an easy DIY and will look fantastic in your hallway. (Tutorial: Home Stories A to Z)
29. Craft Paint Storage with PVC Pipe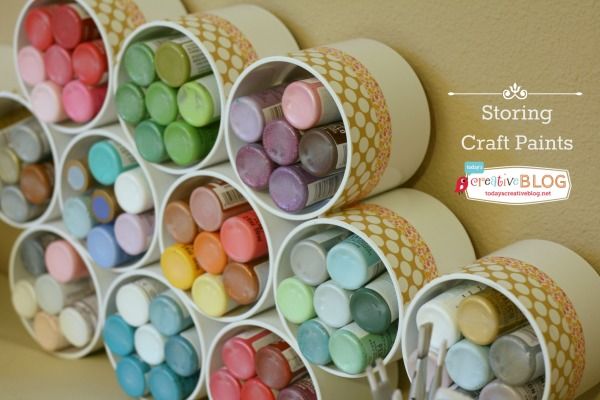 Here is another smart storage idea with PVC pipes. If you like crafting and wondering how to store your craft paint in an organized way, this will be the perfect solution for you. (Tutorial: Today's Creative Blog)
30. PVC Pipe Curtain Rods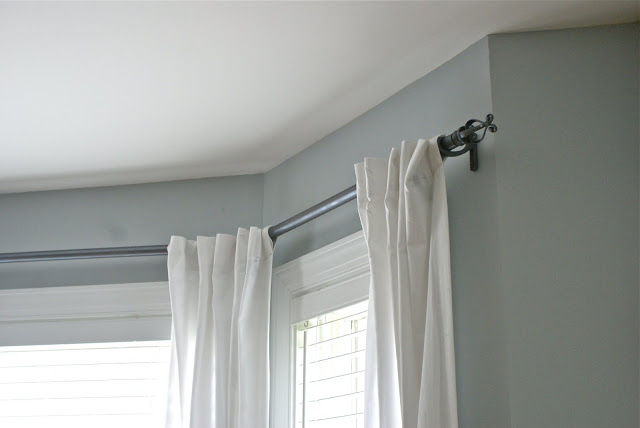 Curtain rods can be expensive, but you can make some with PVC pipes. Cool! (Tutorial: Hello Newmans)
31. PVC Vase and Centerpiece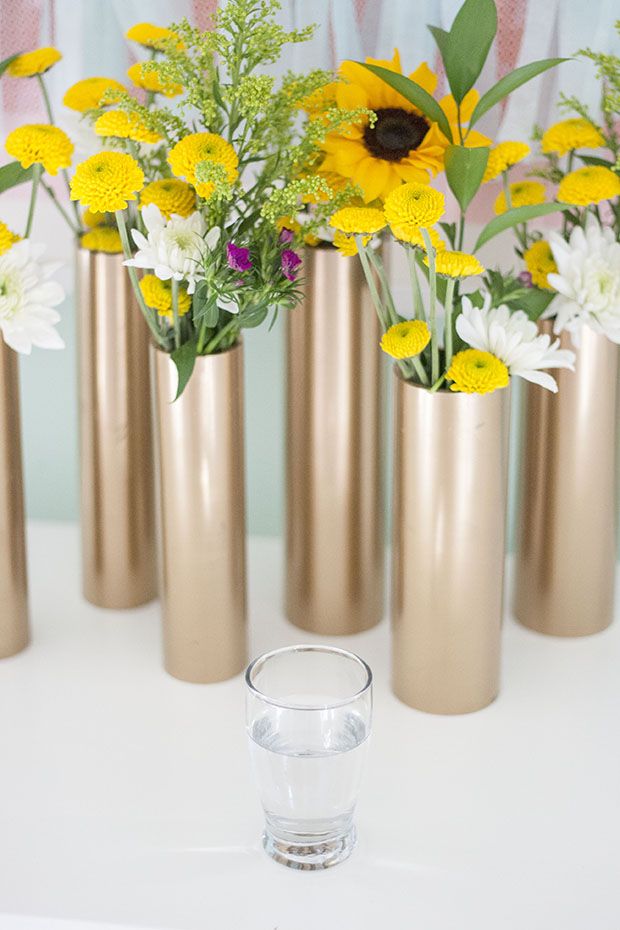 You can make a modern spring centerpiece using PVC pipe and gold spray paint. (Tutorial: eHow)
32. PVC Pipe Dresser Overhaul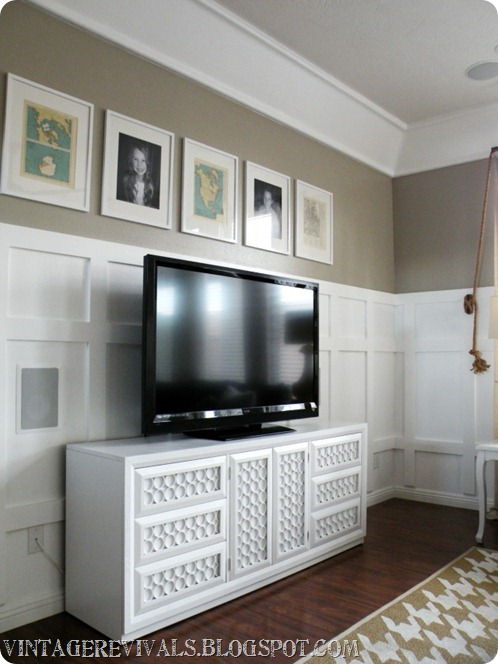 Upcycling old furniture is very popular nowadays. Have you thought about using PVC pipe to decorate an old dresser? It looks so unique and awesome! (Tutorial: Vintage Revivals)
33. Craft A Festive Holiday Wreath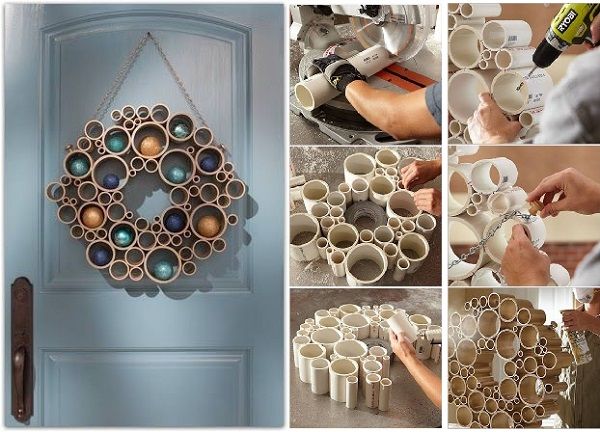 Create a festive holiday wreath to decorate your door using PVC pipes. Love the little compartments that give you extra space for ornaments. (Tutorial: Home Depot)
34. PVC Garage Tool Organizer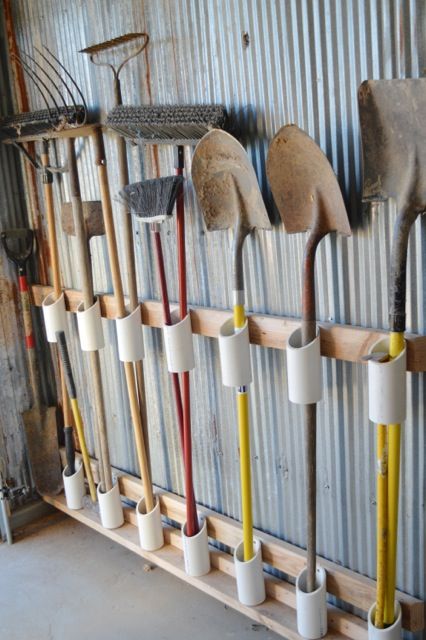 Got some pieces of PVC? Make this garage organizer for all your garden tools. (Tutorial: Newly Woodwards)
35. PVC Kids Car Garage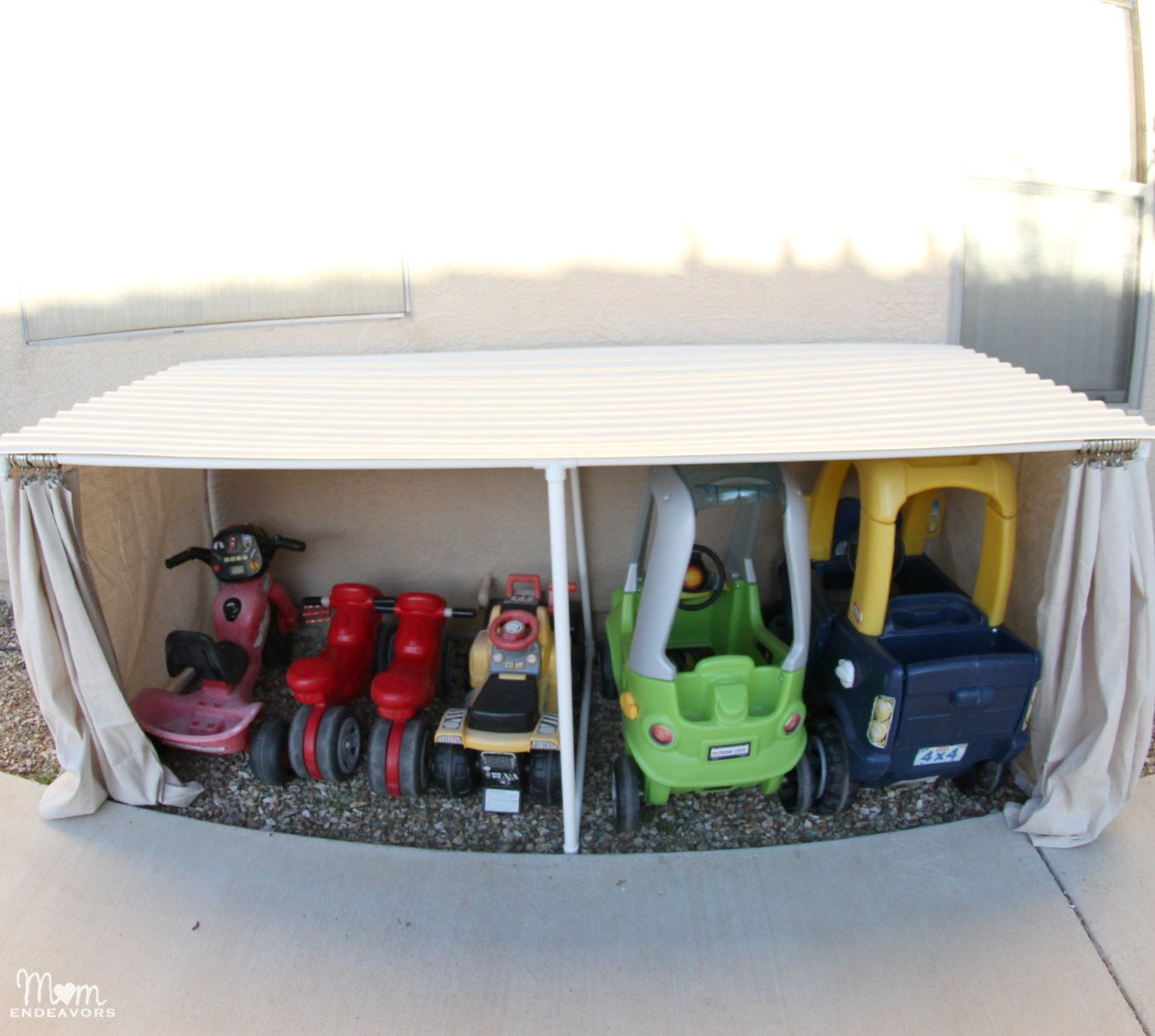 Build a little covered parking garage out of PVC pipes to store and organize all your kids' outdoor toys or vehicles. (Tutorial: Mom Endeavors)
36. DIY PVC Sprinkler Water Toy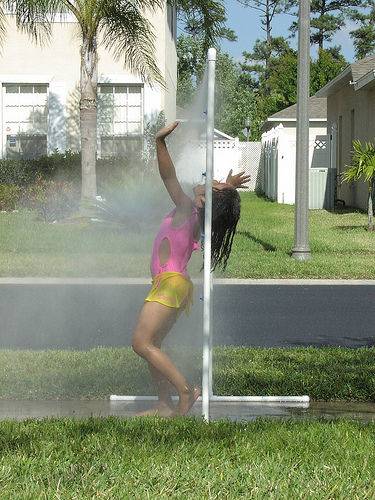 Cool off the summer and enjoy endless water fun with this DIY PVC sprinkler water toy. (Tutorial: Instructables)
Which one is you favorite? If you've got other creative ideas, please share with us!