40+ Creative Pallet Furniture DIY Ideas and Projects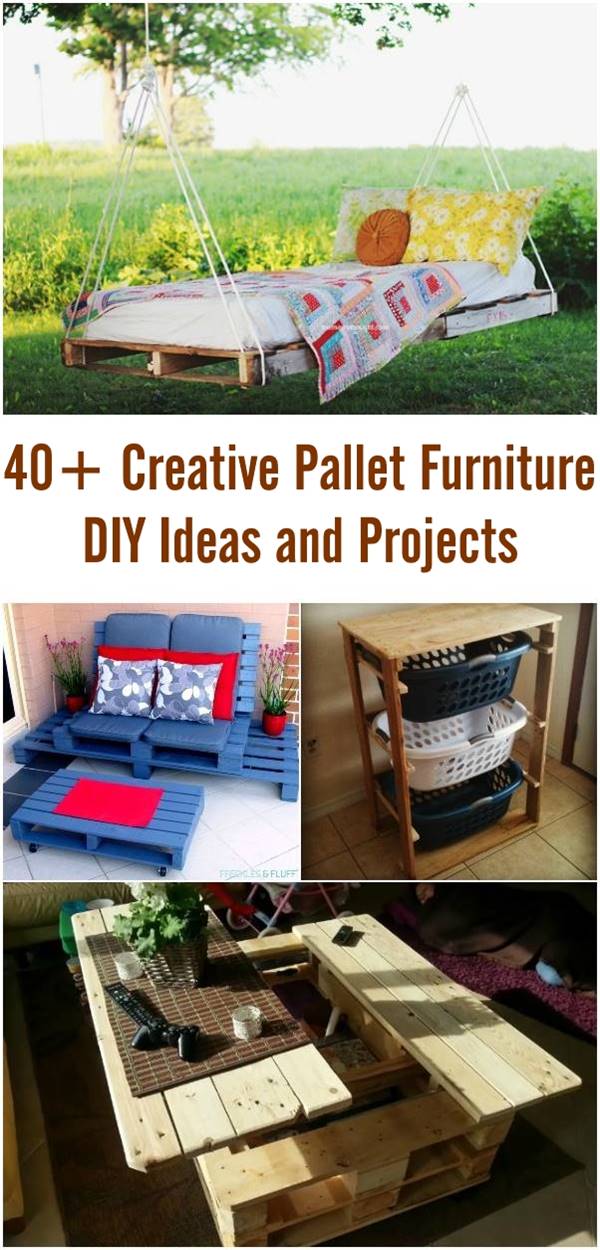 Greetings from i Creative Ideas! Repurposed pallet ideas are one of my favorite DIY projects. Wood pallets are commonly use as a mechanism for shipping and storing larger items. But recently, they have become so popular as a useful resource in making impressive furniture and decors for your home and garden. Wood pallets are readily available, often for free, and easy to work with. They can be disassembled into wood planks that can be used for any size of furniture projects. Here at i Creative Ideas, we have come up with a fabulous collection of more than 30 creative DIY ideas and projects to repurpose pallets into unique piece of furniture. It is really amazing that people can create so many things with pallets, from outdoor lounges, beds, tables, shelves to garden pieces. The list just goes on. Hopefully you will get inspired and see what you can make from wood pallets. Let's check out these creative pallet furniture projects!
1. DIY Amazing Outdoor Pallet Lounge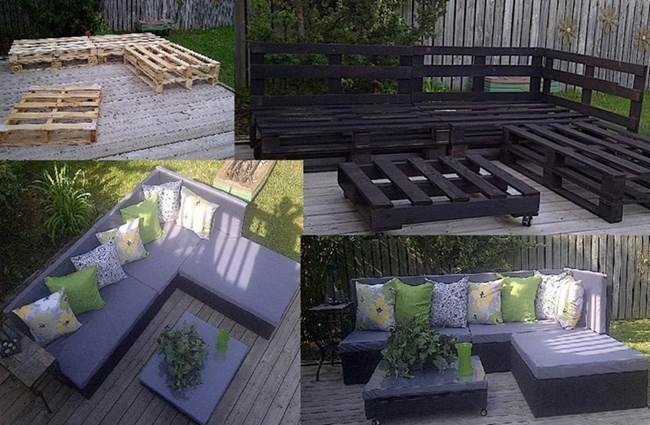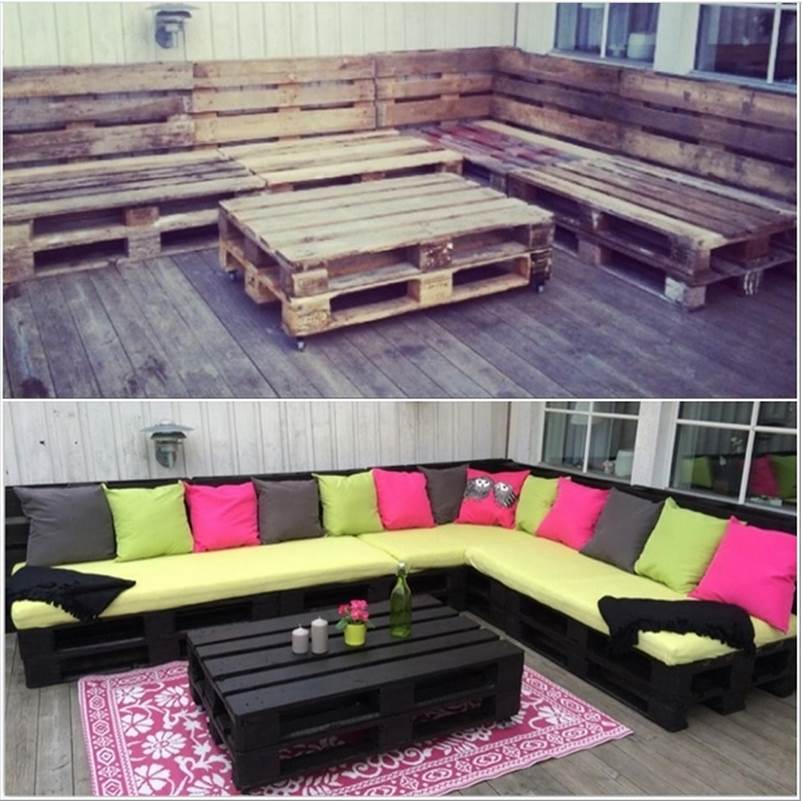 These outdoor pallet lounges the perfect spots for you to rest and relax with your family and friends, especially during the summer time! They are also nice features to add to your garden or porch. Simple design, functional, practical and recycling all in one! (Tutorial via DIY Pallet Furniture, Sassy Sparrow)
2. DIY Toddler Pallet Bed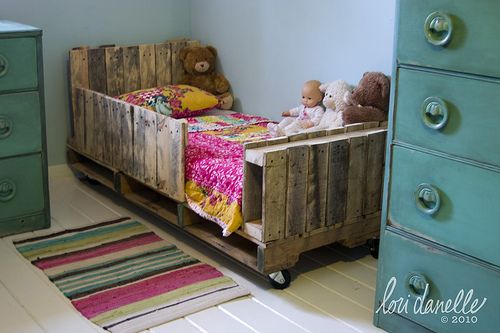 If your little one outgrows his/her baby crib and needs a new bed, you can build a toddler sized pallet bed like this one. (Tutorial via Lori Danelle)
3. DIY Pallet Furniture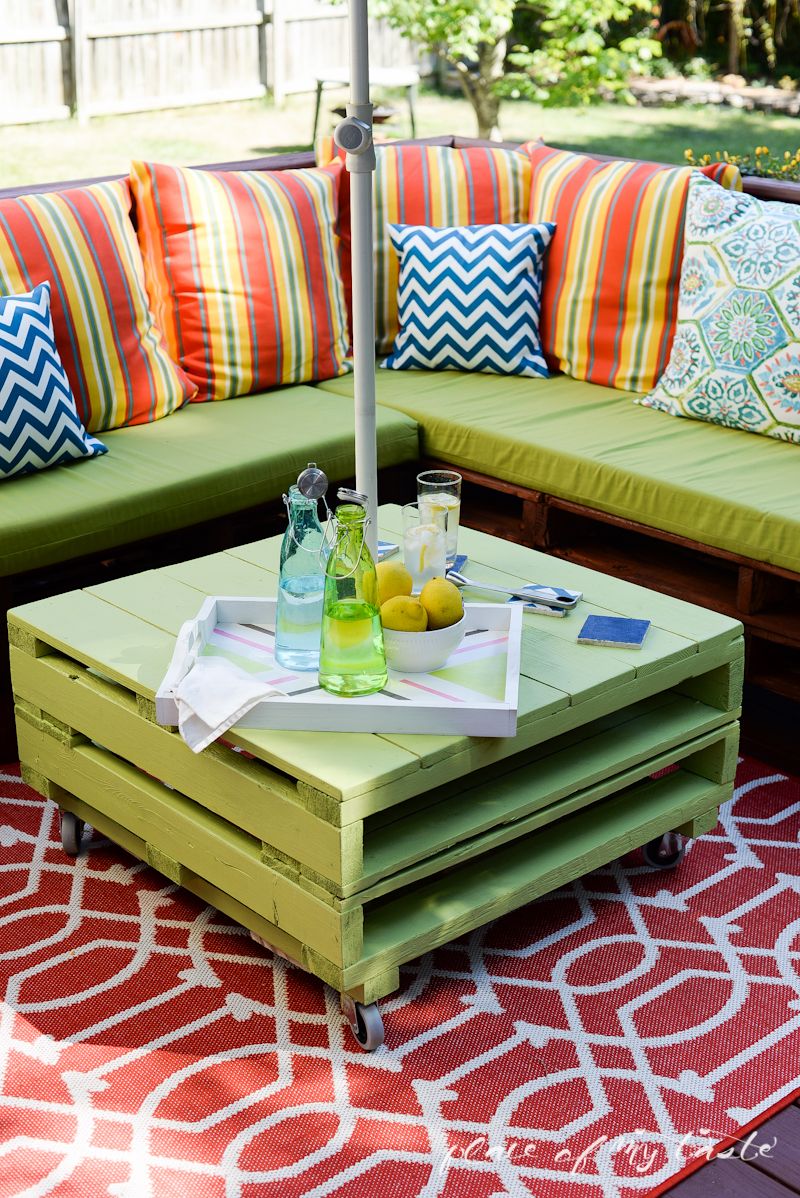 Here is a nice outdoor furniture set made from wood pallets. The table also serves as an umbrella stand. (Tutorial via Place of My Taste)
4. DIY Pallet Shoe Storage Bench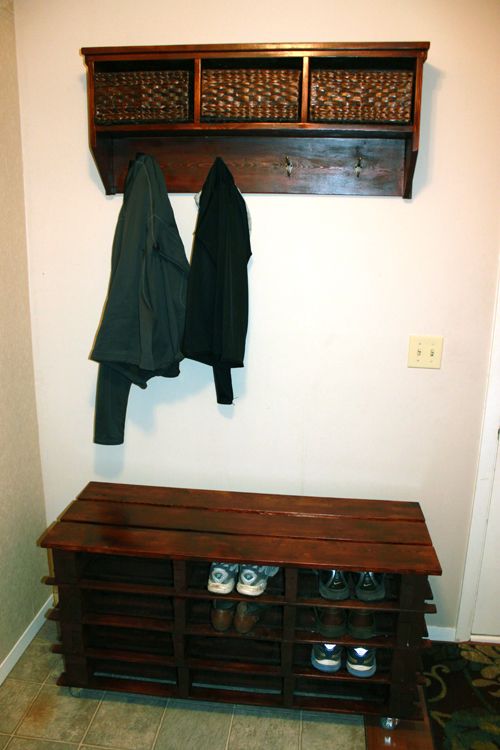 This set of pallet shoe storage bench and coat rack is perfect for your door entry and mud room. It's an easy, fun and inexpensive DIY project that's worth to trying! (Tutorial via Between 3 Sisters)
5. DIY: How to Make a Pallet Bed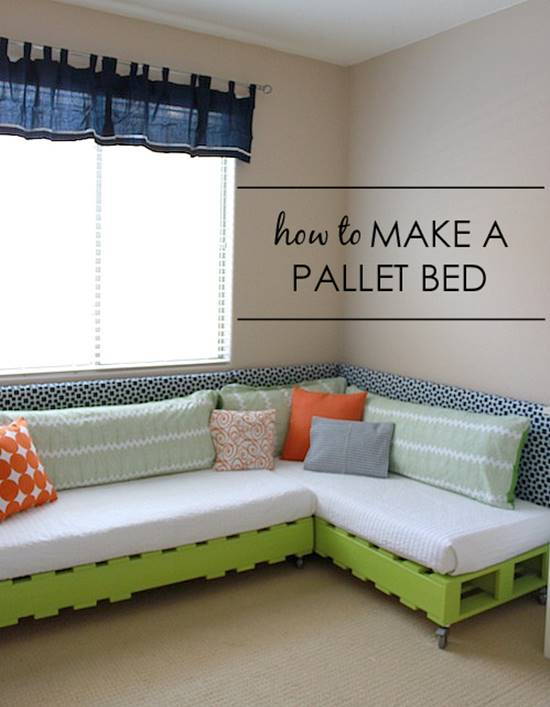 Here is a fun DIY project to make an indoor pallet bed. Love the green color of the pallets and the matching cushions! (Tutorial via Project Nursery)
6. DIY Pallet Playhouse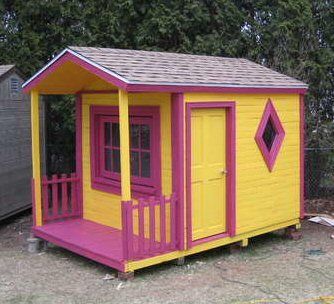 Every kid will love this beautiful playhouse that is made from wood pallets. (Tutorial via Instructables)
7. DIY Pallet End Table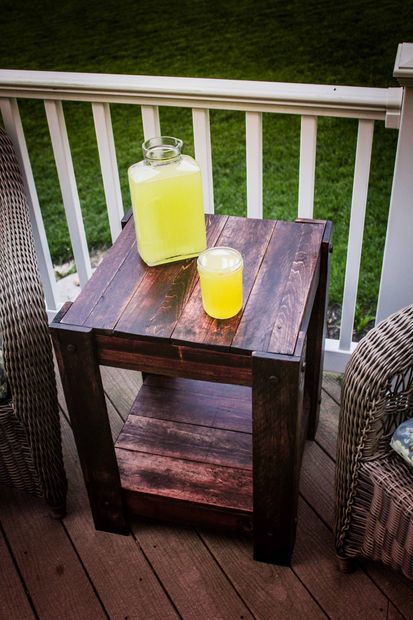 This pallet end table looks simple but practical. It's great for both indoor and outdoor use. (Tutorial via Instructables)
8. Multifunction Pallet Coffee Table With Storage, Slide Out And Lift Top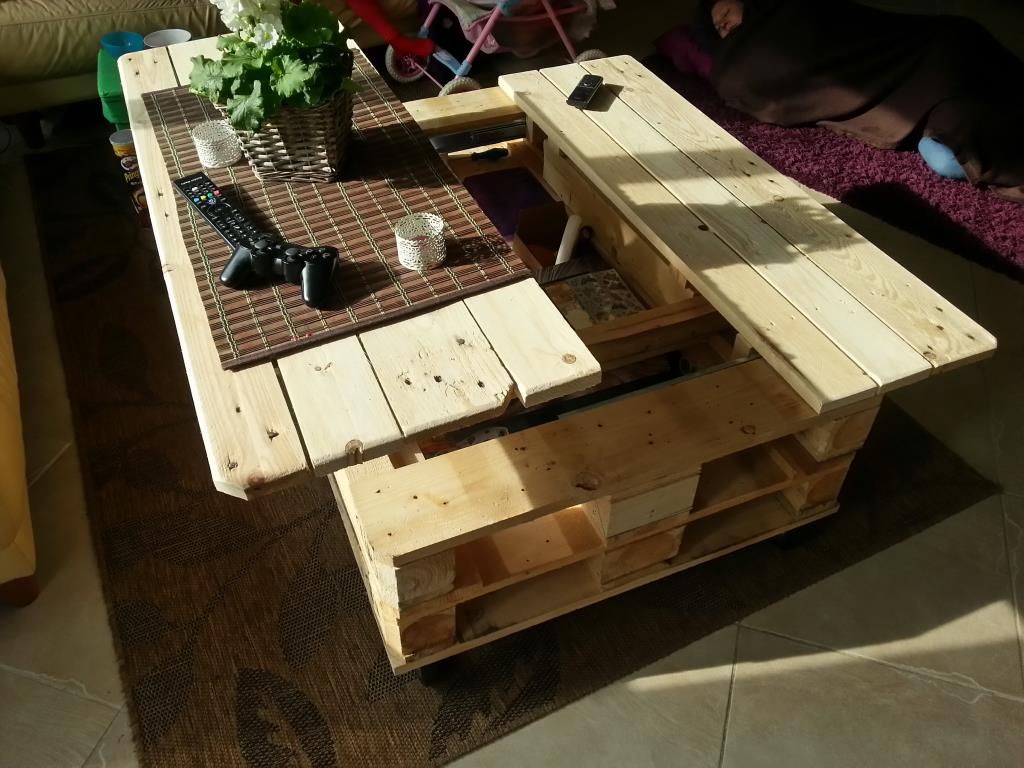 This multifunctional pallet coffee table looks great in your living room. It has the convenient slide out and lift top functions. When you open up the table, you will be surprised at how huge the inside storage space is. (Tutorial via Instructables)
9. How to Make a Pallet Reading Nook for Kids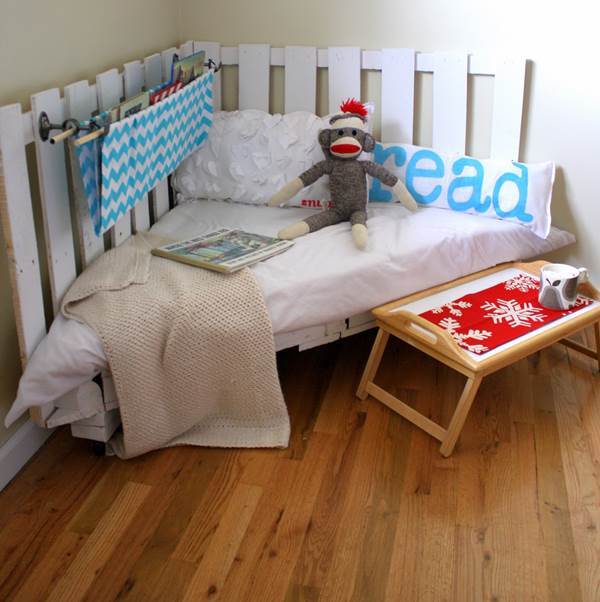 This pallet reading nook is the perfect little corner for your kids to sit comfortably and read books. (Tutorial via Kojodesigns)
10. Pallet Project: Patio Day Bed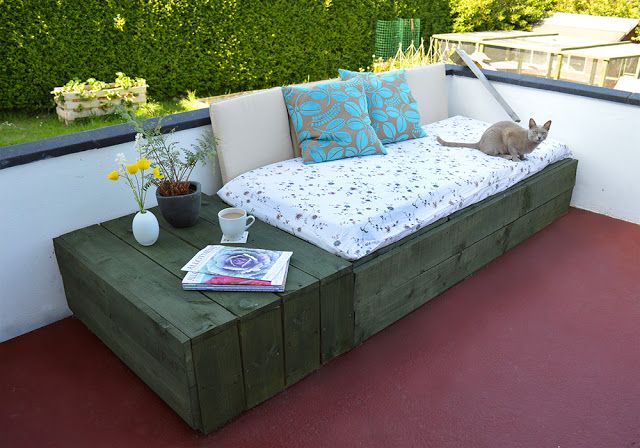 This patio day bed is the perfect spot for you to rest and relax in your patio, especially during the summer time! It's also a nice feature to add to your porch or patio. Simple design, functional, practical and recycling all in one! (Tutorial via Lovely Greens)
11. DIY Pallet Laundry Basket Dresser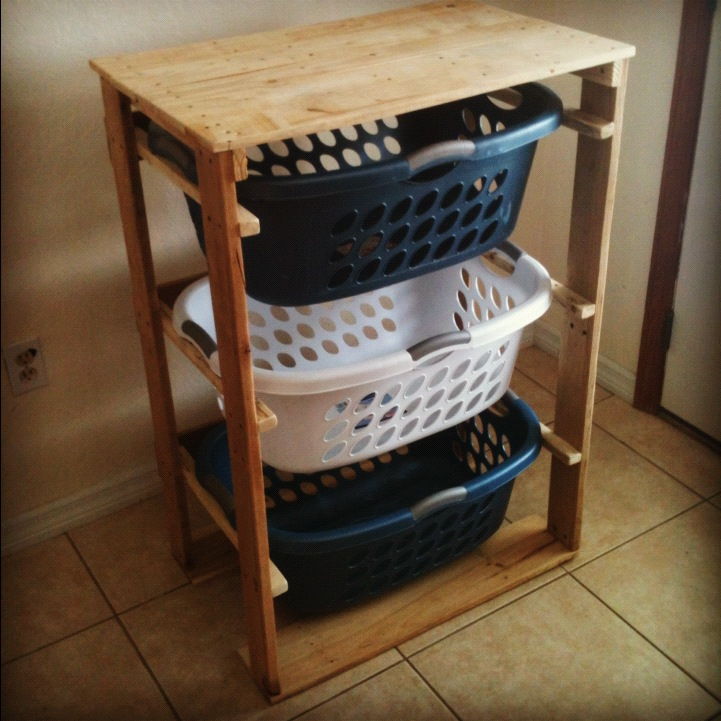 This pallet laundry basket dresser is such a great space saving idea to keep all your laundry organized and get your clothes sorted. (Tutorial via Ana White)
12. DIY Pallet Table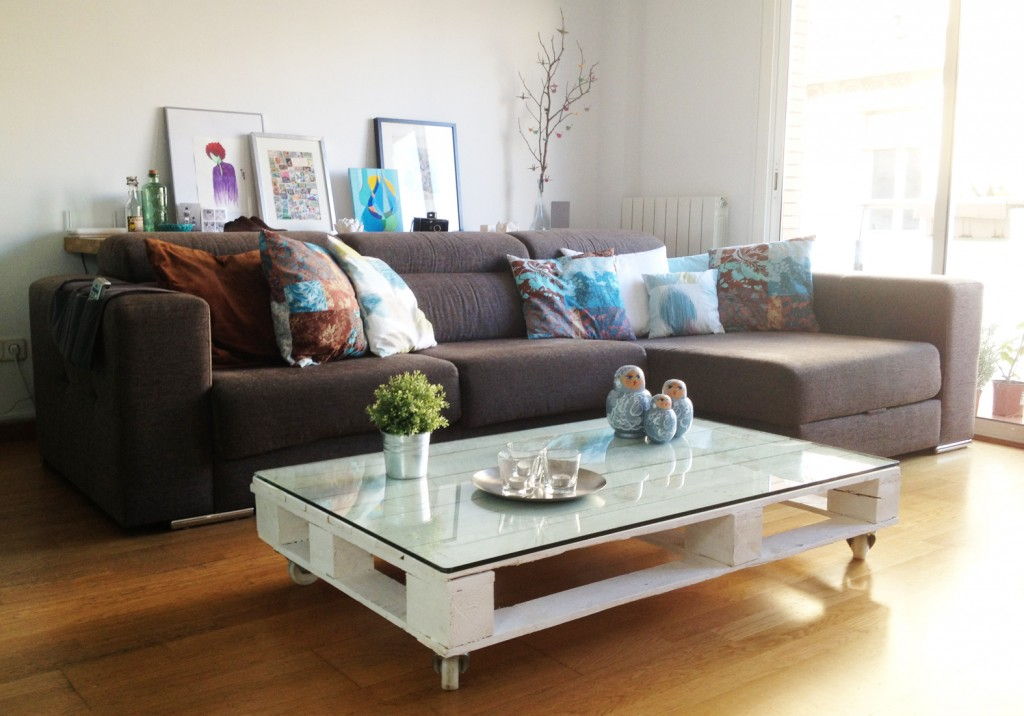 Here is a fun and easy DIY project to make a sofa table from wood pallets. It looks fantastic in the living room. You can paint it in colors that match your other furniture. (Tutorial via Plan B Anna Evers)
13. DIY Outdoor Pallet Sofa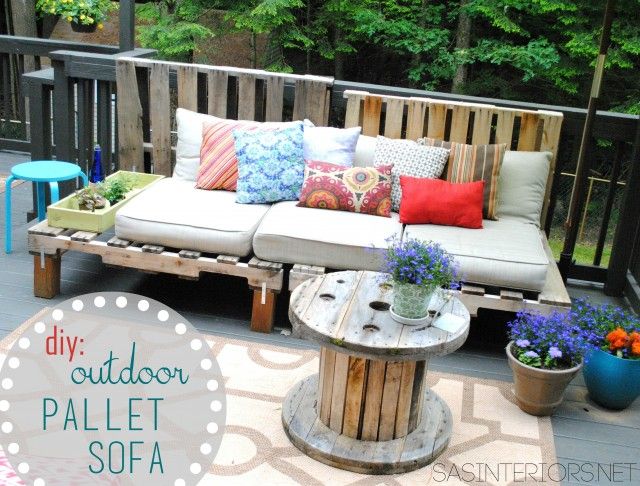 This gorgeous outdoor pallet sofa costs less than $5. Unbelievable! (Tutorial via Jenna Burger)
14. DIY Glowing Bed from Wooden Pallets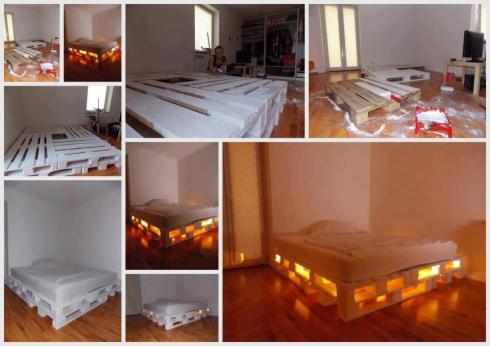 Try something different and make this glowing bed from wooden pallets. This is one of the most unique bed frames I have seen. Love the idea of installing the lighting under the bed, which creates kind of a romantic effect. (Tutorial via Renaissance Ronin)
15. DIY Pallet Sofa with Storage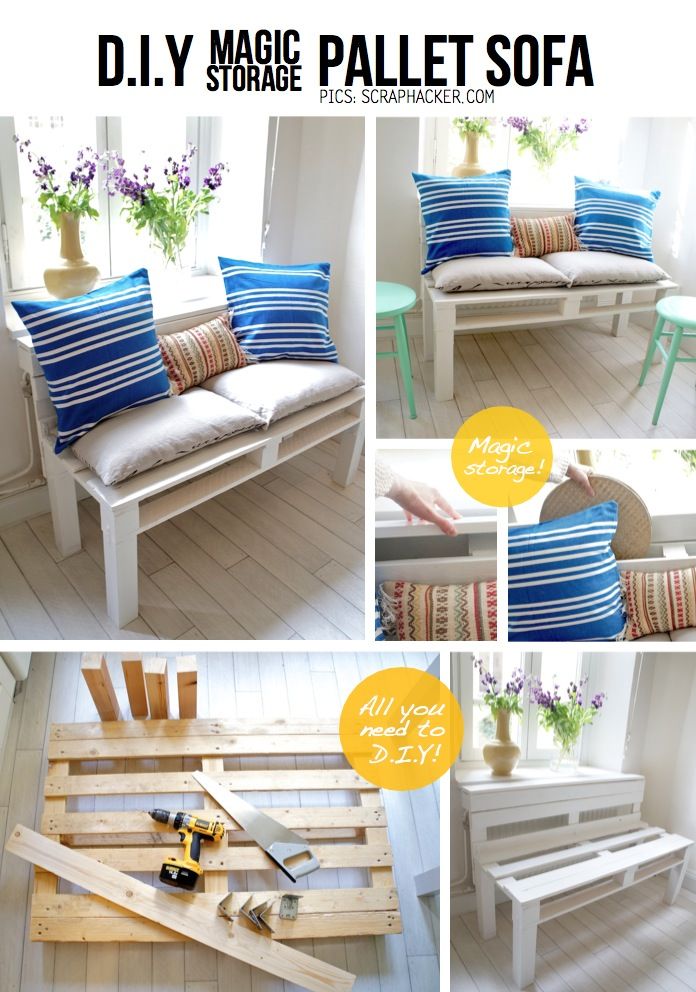 Here is an easy DIY project to build a little sofa with nice storage feature. (Tutorial via ScrapHacker.com)
16. DIY Pallet Swing Bed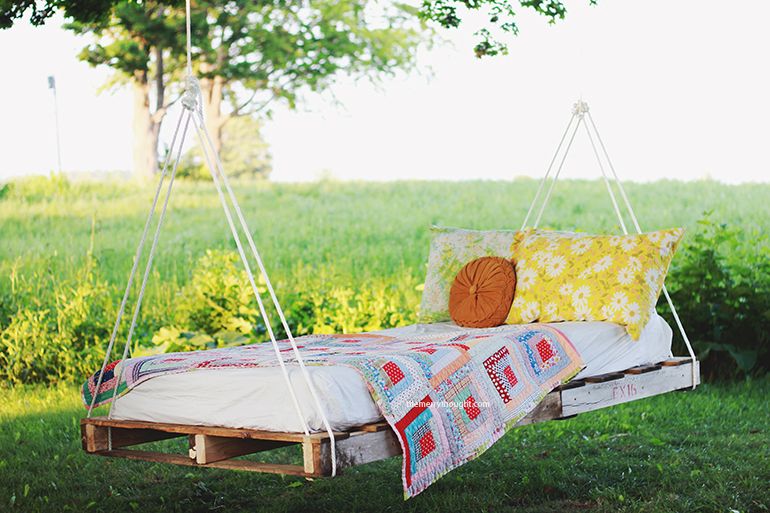 Love the feeling of riding on a swing? You can build one in your back yard with some wood pallets and lumber. (Tutorial via The Merrythought)
17. Wood Pallet Bookshelf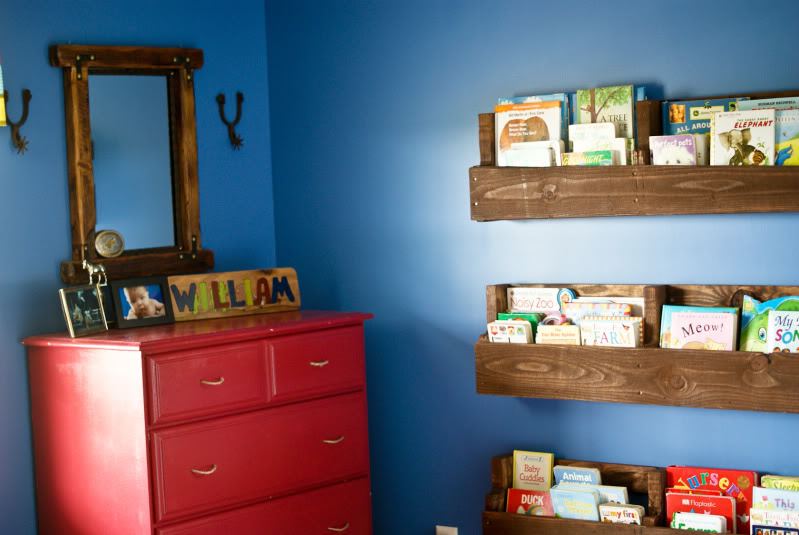 What a creative idea to make these pallet wall shelves to hold books and also decorate the walls. (Tutorial via Me and Madeline)
18. DIY Pallet Gardening Table

If you love gardening and potting, this pallet gardening table is the perfect spot for you to do your gardening work. You can build it in less than $10. Awesome! (Tutorial via Jenna Burger)
19. DIY Pallet Popcorn Stand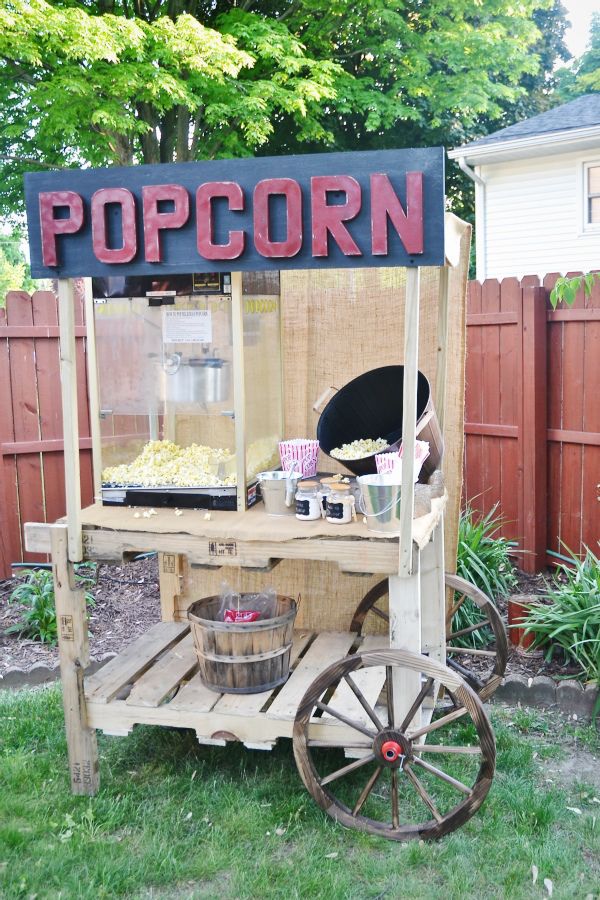 This pallet popcorn stand is perfect for any outdoor parties. (Tutorial via Liz Marie Blog)
20. DIY Pallet Reading Bed For The Nursery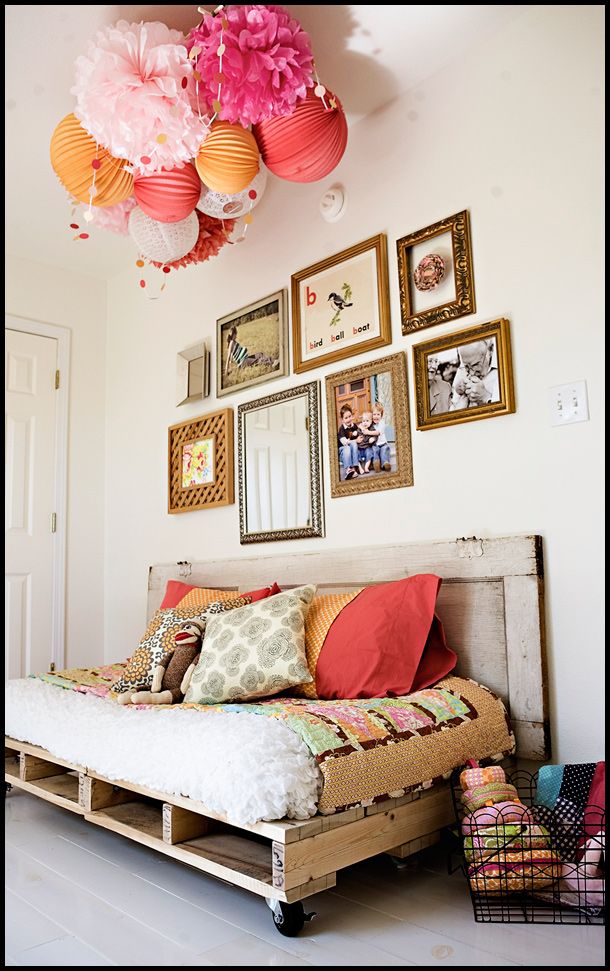 This comfy pallet reading bed is the perfect spot in the nursery where you can read books with your kids. (Tutorial via Under The Sycamore)
21. DIY Pallet Wine Bar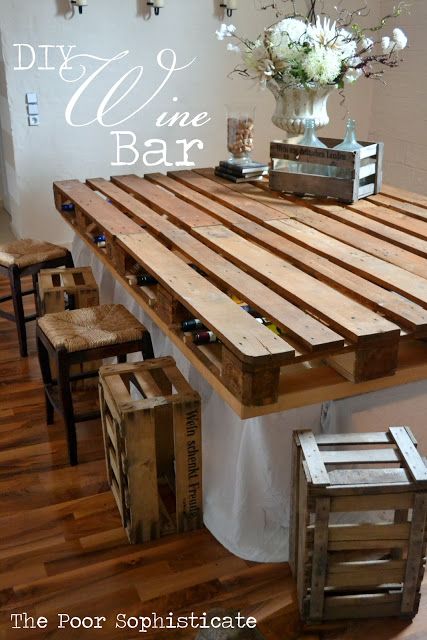 This gorgeous pallet wine bar looks great and it's completely free! (Tutorial via The Poor Sophisticate)
22. DIY Tufted Ikat Ottoman from Upcycled Pallet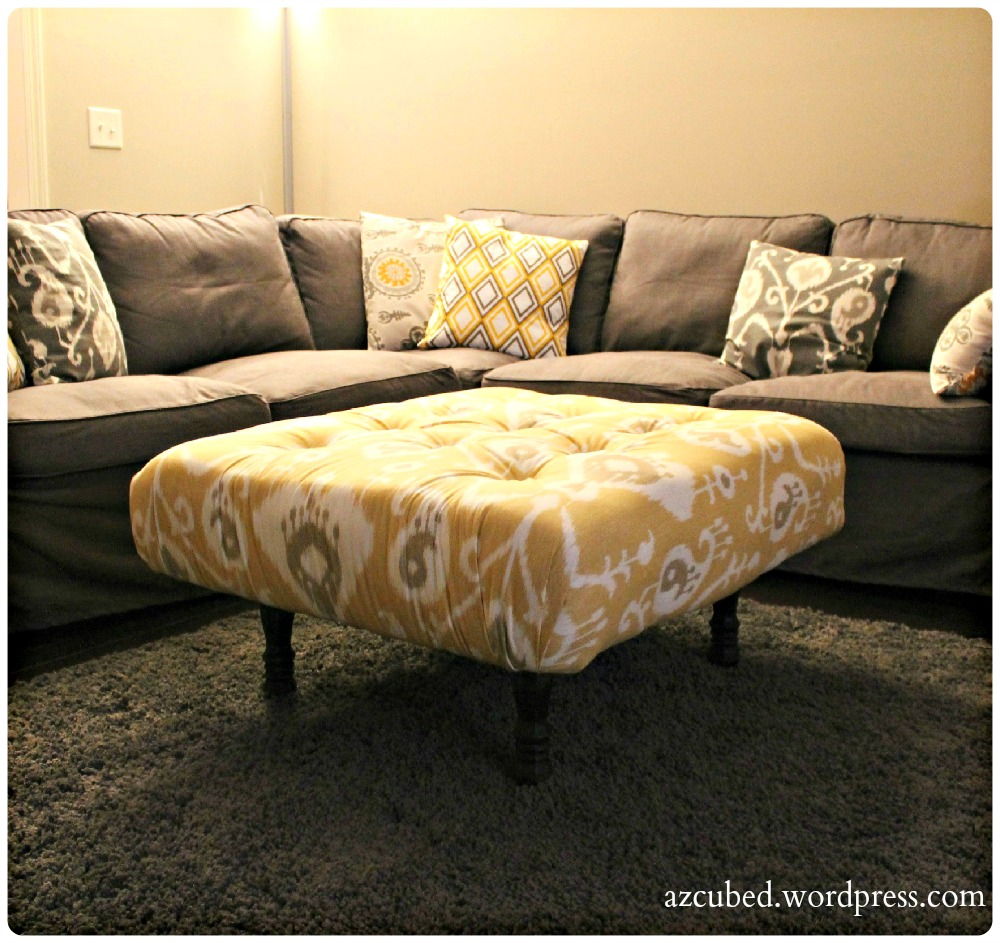 Can you see that this ottoman is made from a wooden pallet? What a nice way to create extra seating for the living room! (Tutorial via Domestic Superhero)
23. Pallet Outdoor Bar and Stools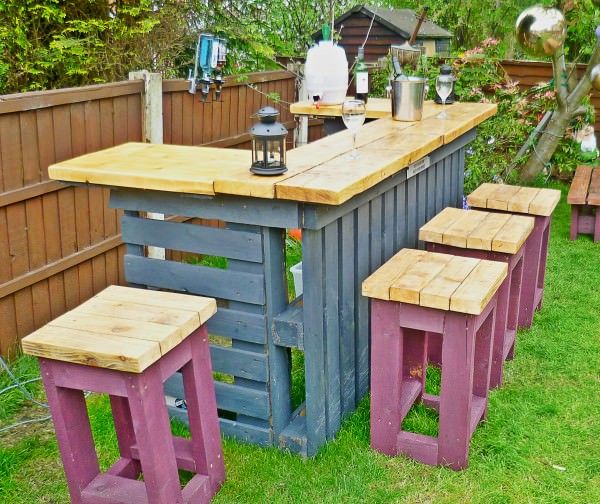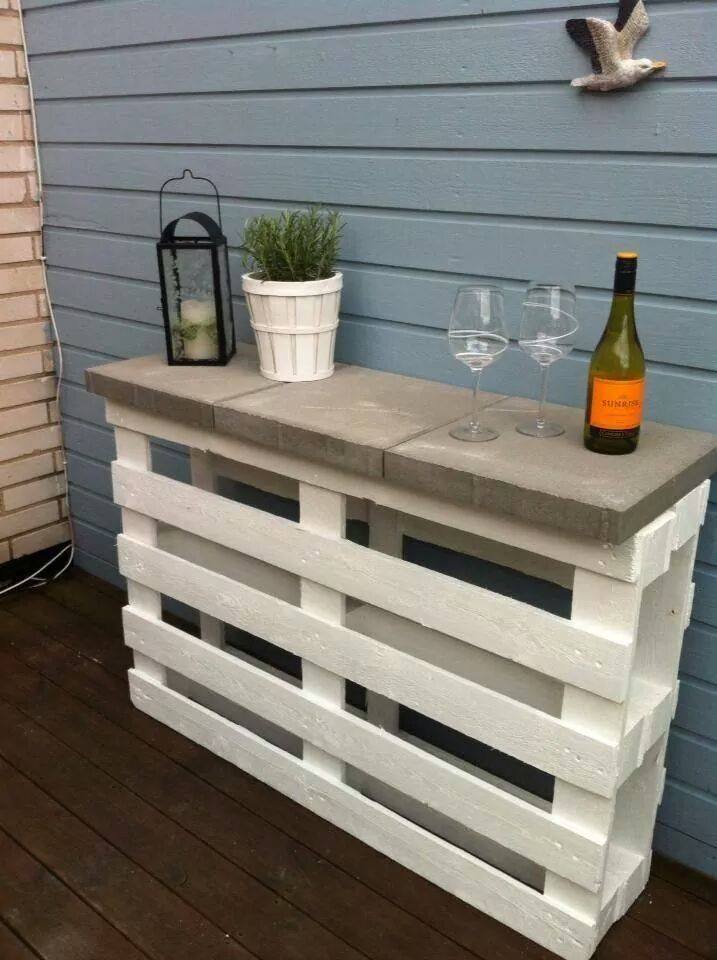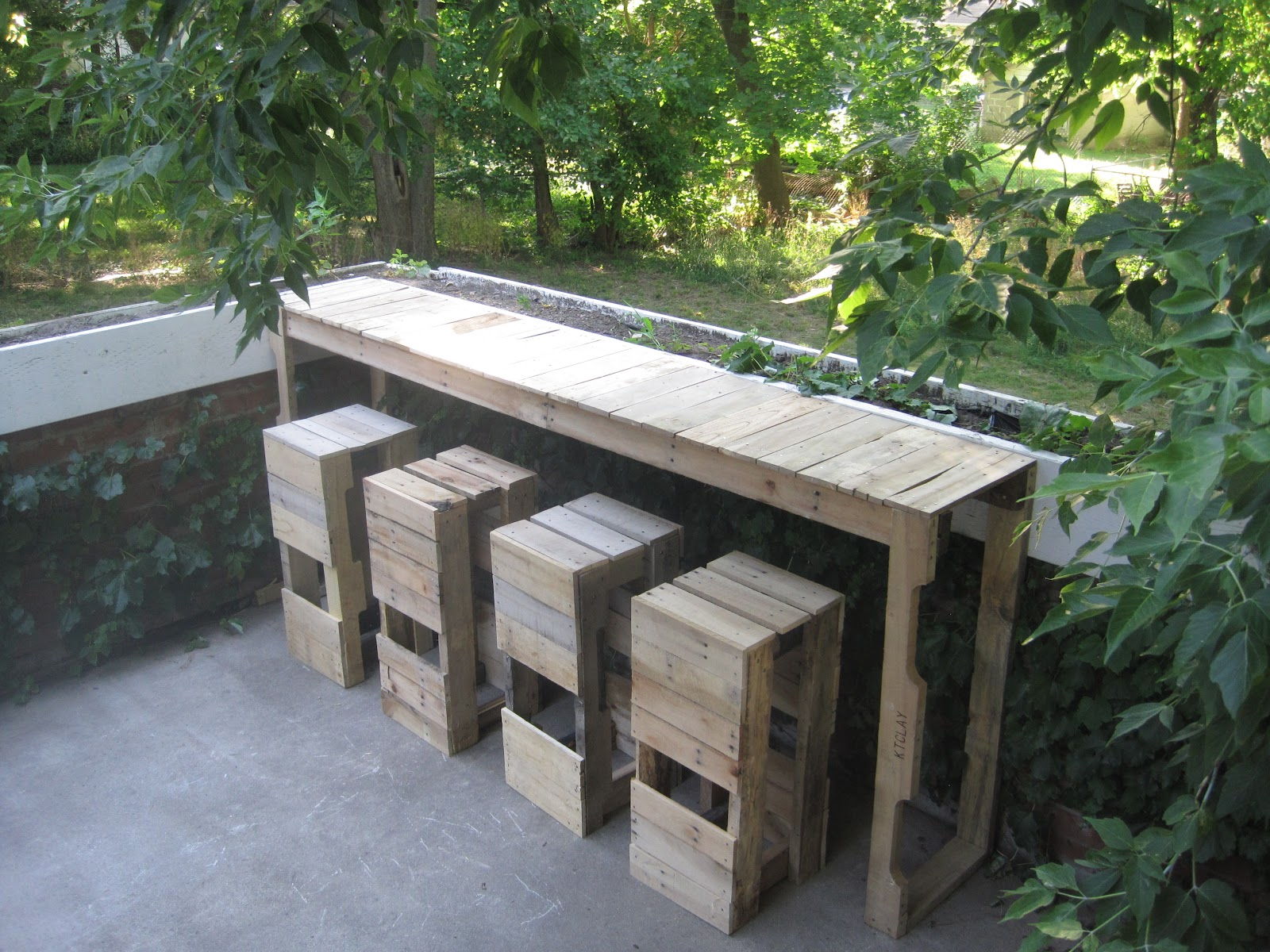 These pallet outdoor bar and stools are great for summer outdoor parties. (Image via Recyclart; Tutorial via Stacked Design)
24. DIY Pallet Dining Table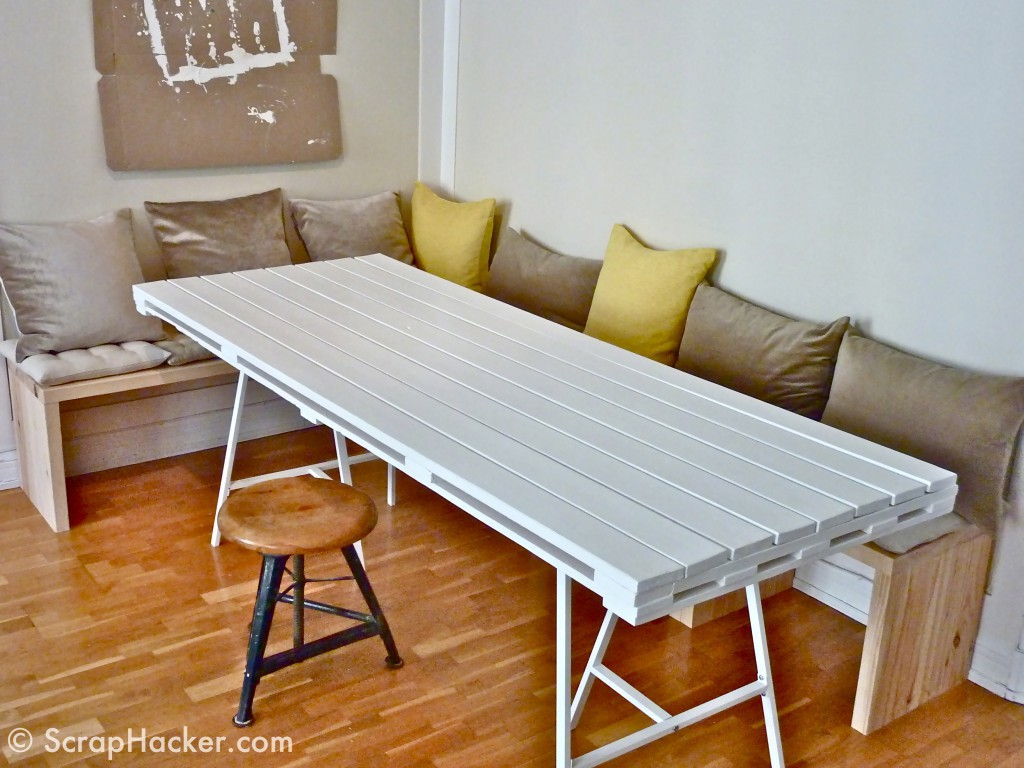 This pallet dining table looks great in your dining room. It's an inexpensive and easy DIY project that's a must-try! (Tutorial via Scraphacker.com)
25. DIY Pallet Coffee Cup Holder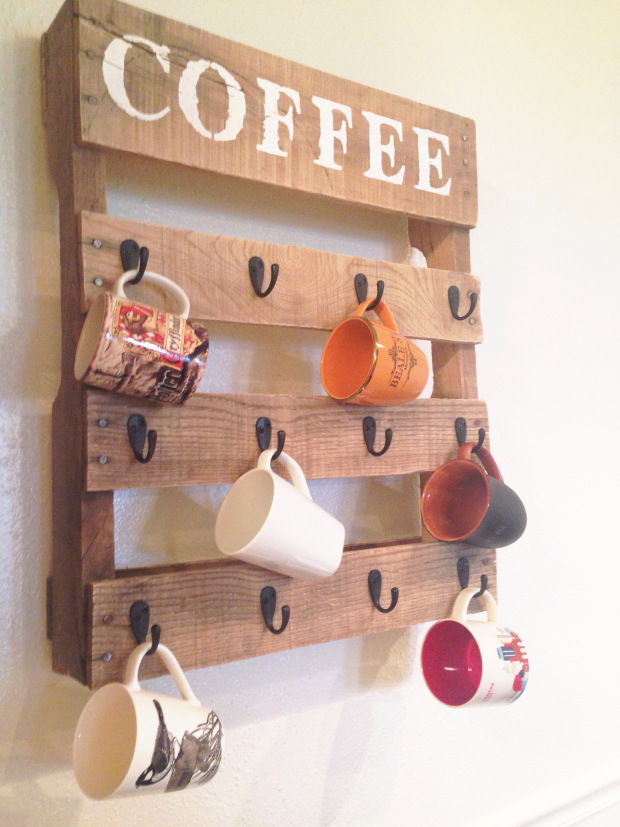 This pallet coffee cup holder is a nice way to store your coffee cups and a great space saving solution. (Tutorial via One Little Bird)
26. DIY Pallet Gardening Tool Organizer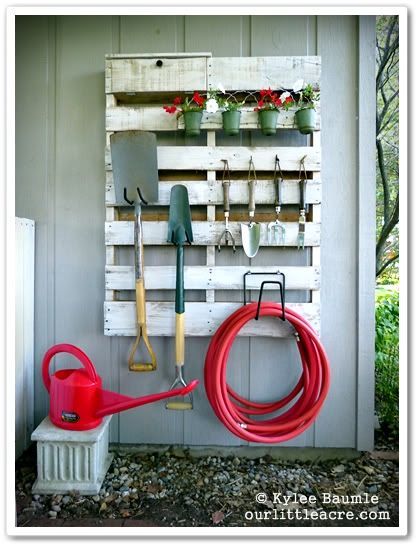 This pallet organizer will keep all your gardening tools organized and easily accessible. It can be conveniently hung on the wall to save space. (Tutorial via Our Little Acre)
27. DIY Pallet Bookshelf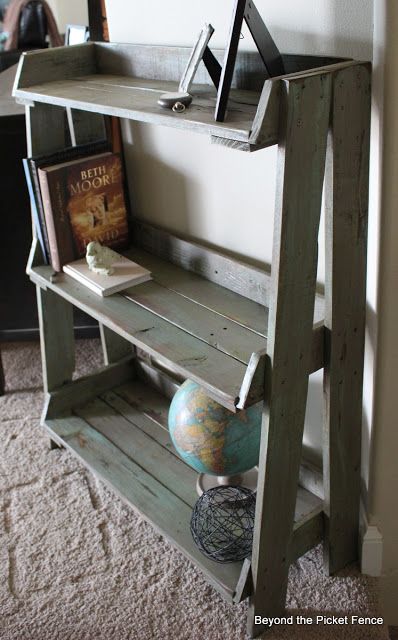 This is a rustic style bookshelf you can make from wood pallets. (Tutorial via Beyond the Picket Fence)
28. Canning Pantry Cupboard Built from Pallets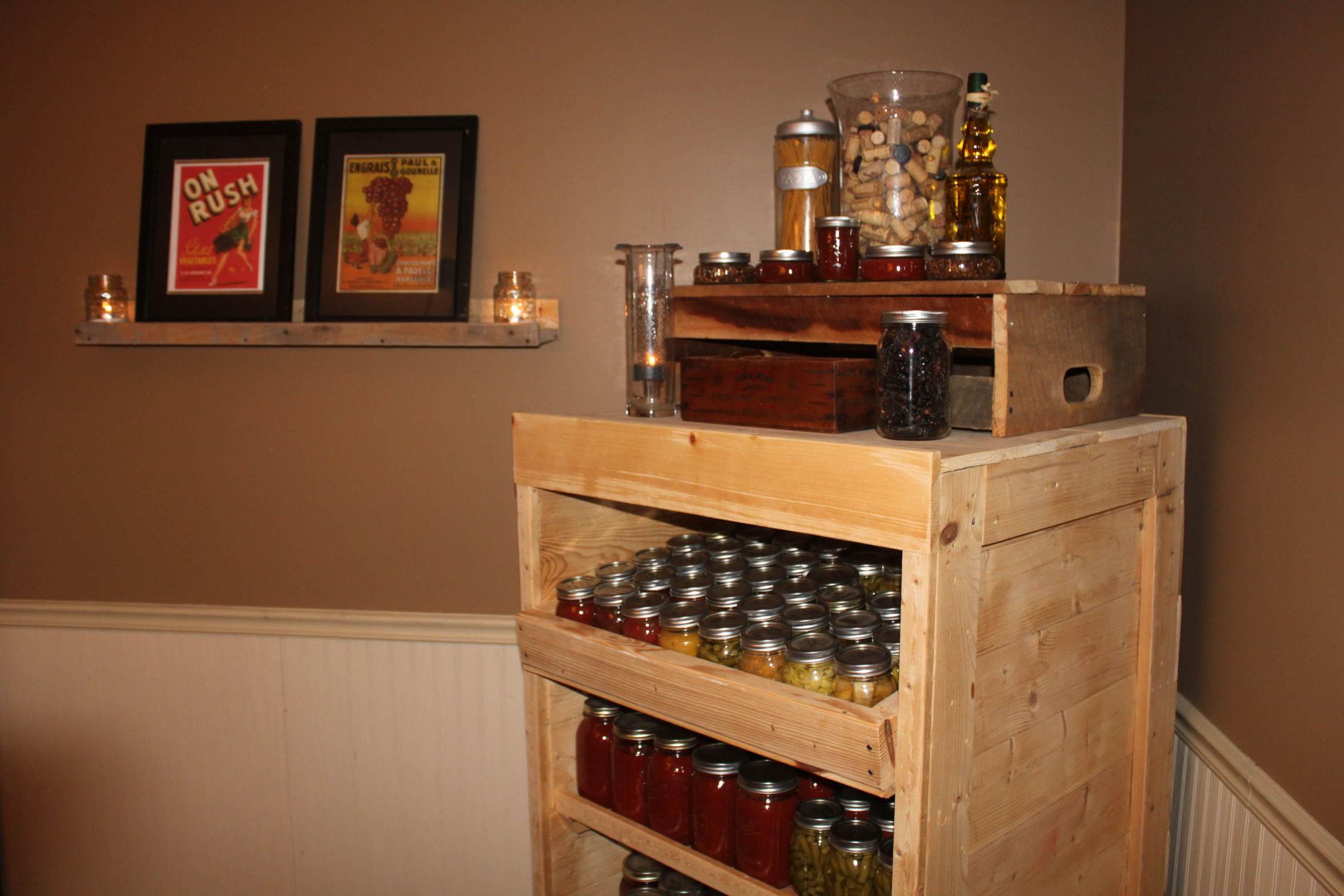 This canning pantry cupboard is perfect for organizing all your canned goods and other non-perishable items. (Tutorial via Old World Garden Farms)
29. DIY Rustic Wine Rack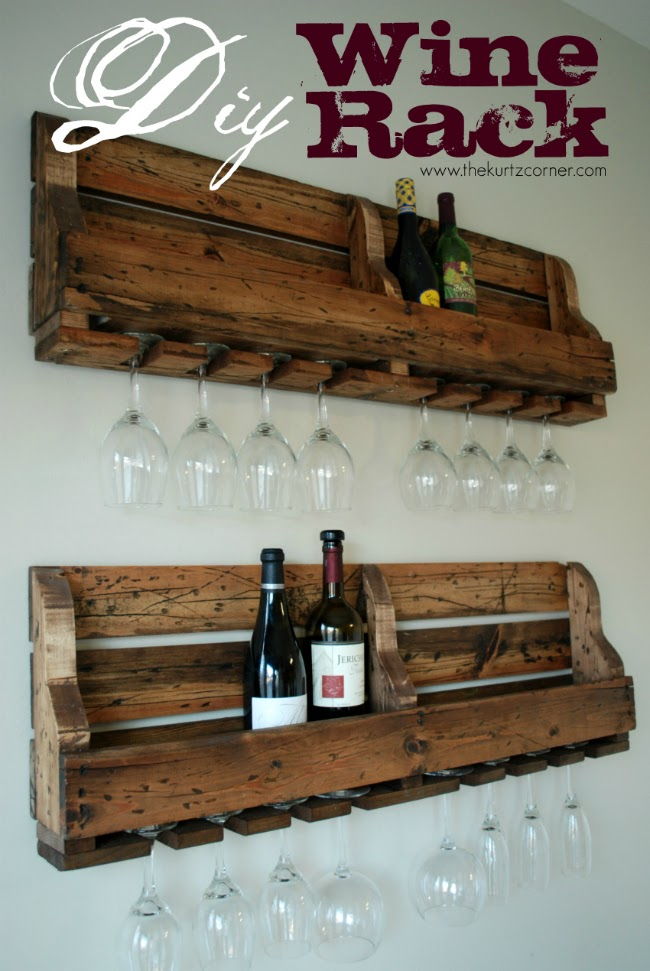 What a great way to use pallets! This pallet wine rack looks rustic and elegant. (Tutorial via The Kurtz Corner)
30. How to make an Adriondack chair (out of pallets)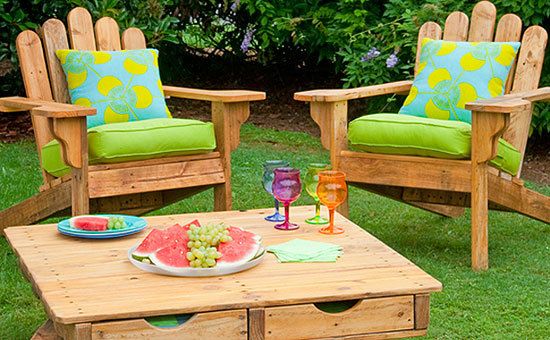 Make seating for your next outdoor party with these Adriondack chairs from recycled wooden pallets. (Tutorial via Better Homes and Gardens)
31. DIY Pallet Pot Rack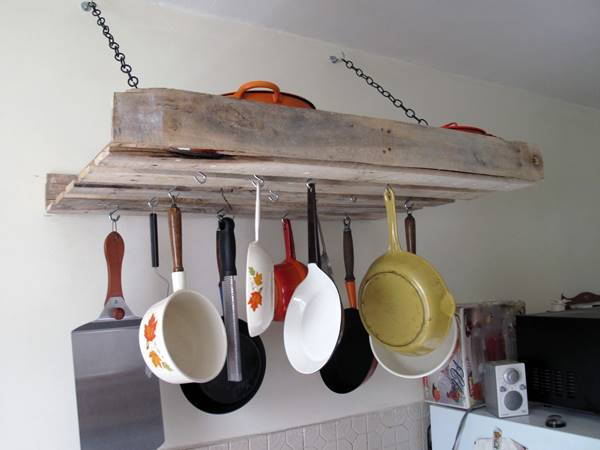 This pallet pot rack is perfect for storing all your pots in an organized way. (Tutorial via A Greenpoint Kitchen)
32. DIY Outdoor Pallet Table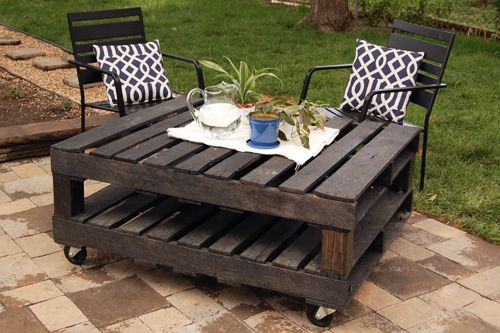 Turn two wood pallets into one fabulous rolling table. (Tutorial via Joy Ever After)
33. DIY Pallet Farm Table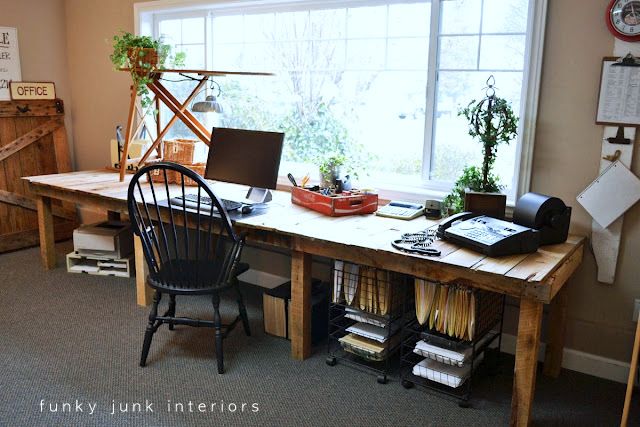 This pallet farm table is large enough for you to work on different tasks. (Tutorial via Funky Junk Interiors)
34. DIY Pallet Fence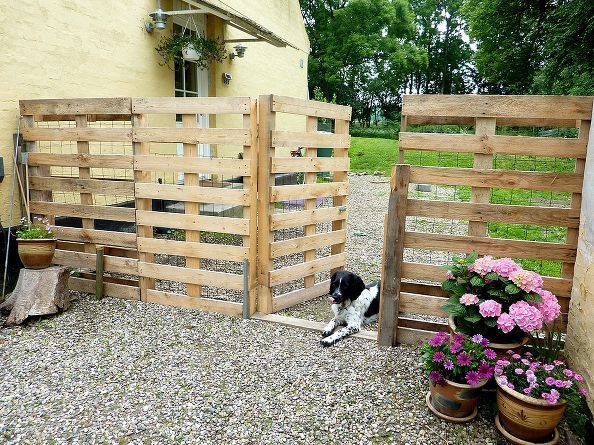 An easy DIY project to build an inexpensive and sturdy fence from wood pallets. (Tutorial via HomeTalk)
35. DIY Wooden Pallet Chillout Lounge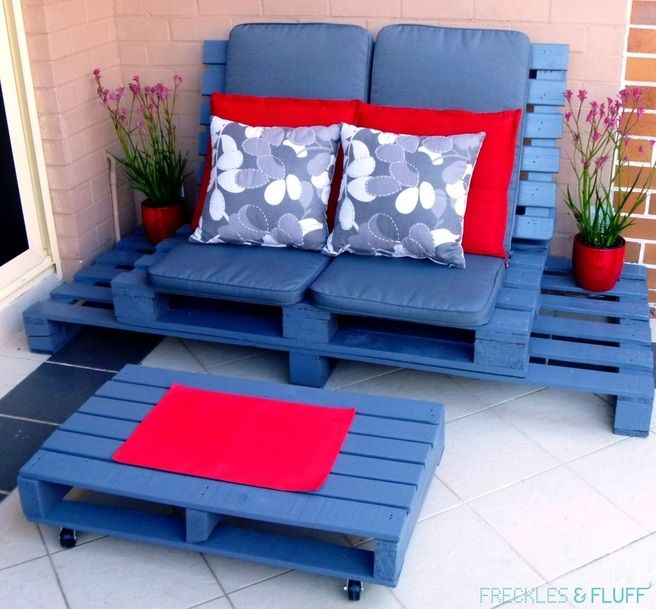 This is another pallet outdoor/garden lounge. Great design and nice refreshing colors. (Tutorial via Freckles & Fluff)
36. DIY Pallet Wood Bench and Gabion Table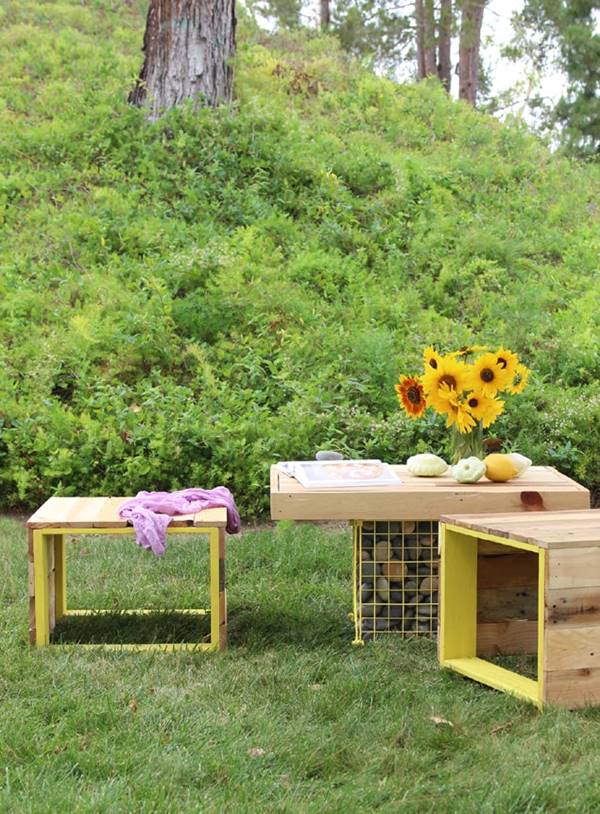 Nice pallet wood bench and gabion table for your garden. (Tutorial via A Piece of Rainbow)
37. DIY Pallet Swing Chair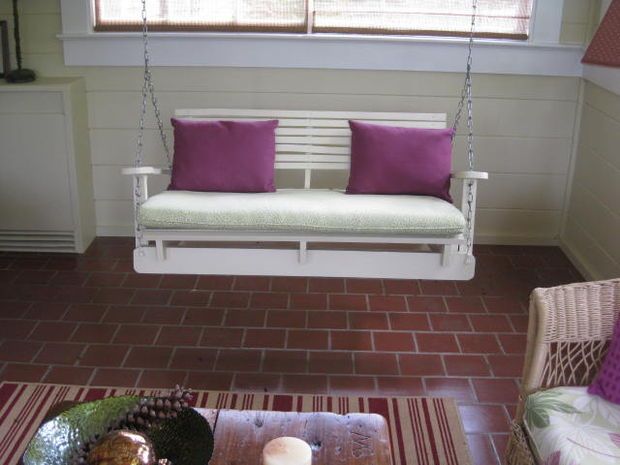 Hang a pallet swing chair from the ceiling and enjoy the ride on it. It can be installed outdoor or indoor. (Tutorial via Instructables)
38. DIY Pallet Wood Patio Chair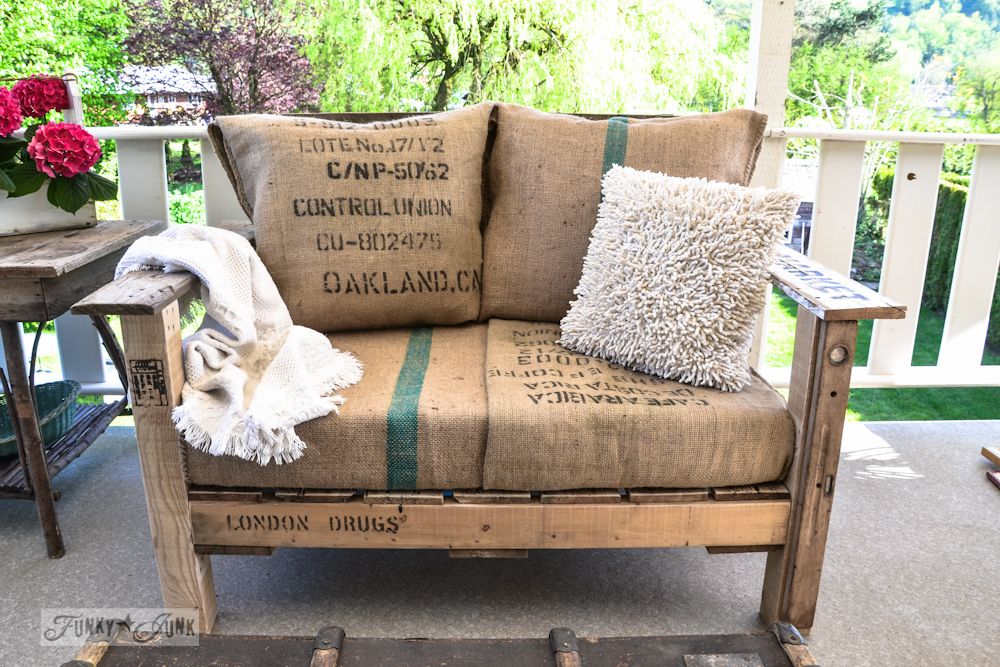 A rustic style patio chair that's made from pallet wood. (Tutorial via Funky Junk Interiors)
39. DIY Outdoor Pallet Sofa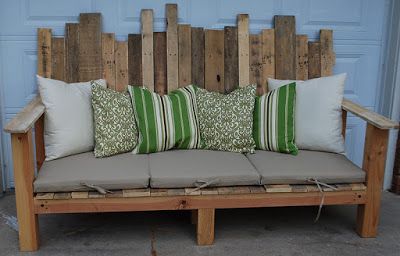 DIY outdoor pallet sofa. (Tutorial via The Ironstone Nest)
40. DIY Succulent Pallet Table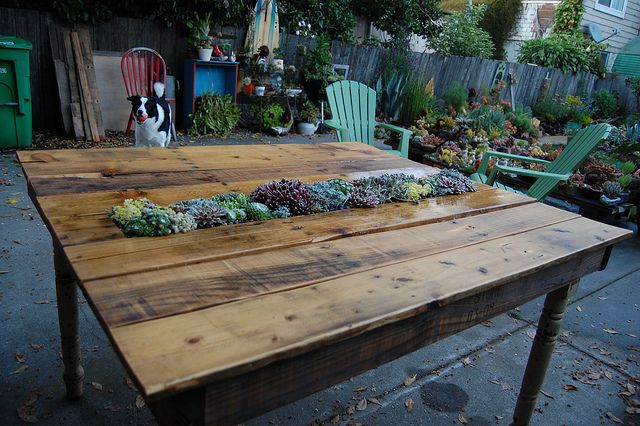 Amazing pallet table where you can also plant succulents. I love the idea. (Tutorial via Far Out Flora)
41. DIY Pallet Day Bed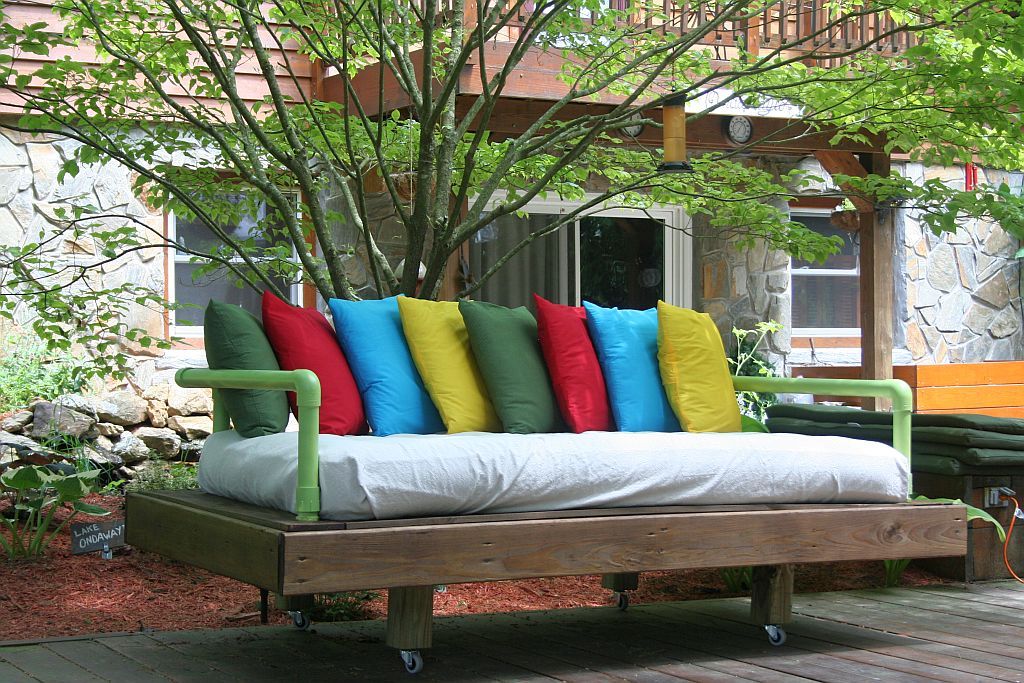 DIY pallet day bed for your garden. I love the idea of adding the wheels for easy moving. (Tutorial via Ondawayto Somewhere)
42. DIY Pallet Picnic Table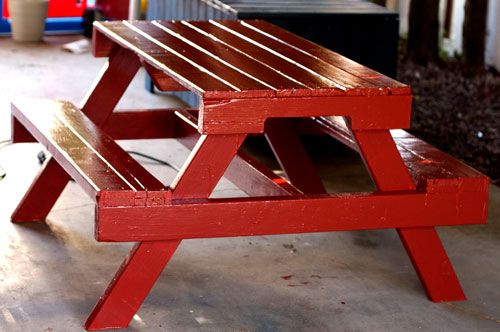 Make a kid's picnic table from pallets. (Tutorial via Ana White)
43. DIY Headboard from Wooden Pallets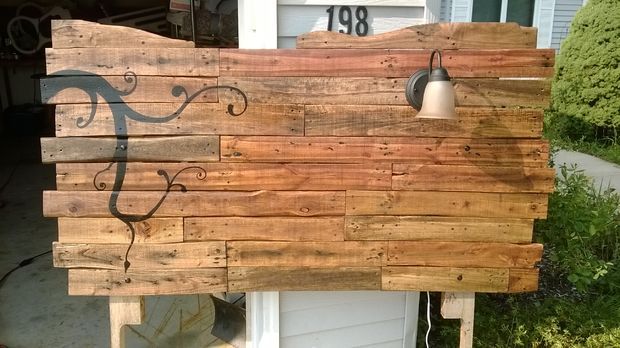 Unique headboard made from wooden pallets. (Tutorial via Instructables)
So what's your favorite pallet furniture project so far? If you get inspired to make anything with pallets, please share your work with us on our Facebook page. Thank you!
Please bookmark this post because we will keep adding more pallet furniture projects to the list. Stay tuned!