DIY Beautiful Butterflies from Plastic Bottles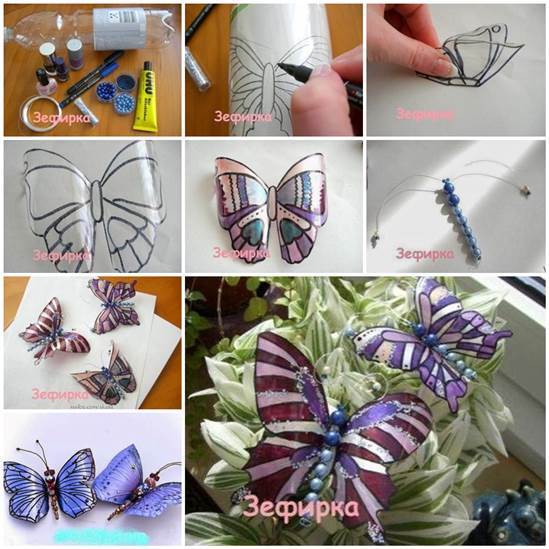 Nature is one of the best places to look for crafts inspirations. Butterflies are among the most popular because they are beautiful, delicate, brightly colored, and intricately patterned, so they are perfect for any interior decorations. Here is a creative DIY project to make pretty butterflies with plastic bottles and beads. Plastic bottle craft is a nice way to recycle plastic bottles. These plastic butterflies look so gorgeous with their colorful and translucent wings, and sparkling beaded body. They are very simple to make and your kids can help with the drawing and decoration parts. In this way, you can teach them the concept of recycling and reusing plastic bottles. Happy crafting!
Here are the things you may need:
Plastic bottles;

Butterfly templates.
Nail polish or acrylic paint.
Markers;
Nylon thread;
Beads;
Glue;
Scissors;
Ornaments: lace, sequins, etc.

Instructions:
Cut off the top and bottom parts of the plastic bottle.
Make a butterfly template either by drawing it yourself or printing from the Internet.
Stack the middle part of the plastic bottle over the template and secure with clips.
Use markers to outline the butterfly.
Cut out the plastic butterfly.
Paint the butterfly. You can use glitter paint to make it shiny.
Thread the beads to make the body of the butterfly.
Glue the beaded body to the middle of the plastic butterfly.
You may add other ornaments if you like, such as lace, sequins and so on. Enjoy!
The following is a similar DIY project to make a beautiful butterfly from plastic bottles.