Creative Ideas – DIY Transform Kid's Bedroom Into a Treehouse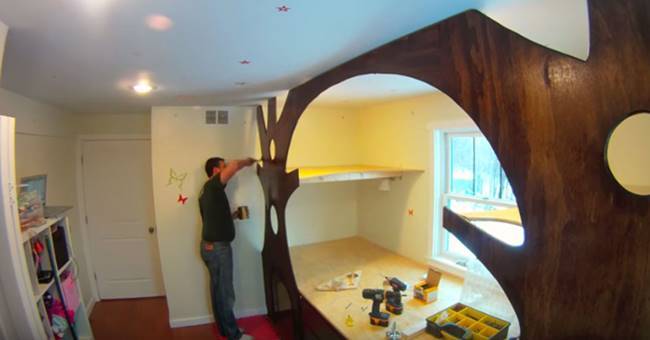 Have you ever dreamed of having a tree house when you were a child? Are you looking for unique gift ideas for you kids this coming Christmas? If so, you may consider building an indoor tree house for your kids. Today, we are excited to share with you an awesome DIY project by a creative and talented dad, who transformed his kids' ordinary bedroom into a tree house!
After growing tired of how his kids' bedroom looked and hoping to give the kids an unforgettable Christmas gift, the dad came up with this brilliant bedroom makeover plan. It only took him a few days to complete the project. Yet the results looked so cool with so many feature and details, such as the wooden tree branches, the hammock, the underbed tunnel, the extra storage space and so on. This amazing indoor tree house can serve as a sleeping area, a playground or a reading nook for the kids and they will have lots of fun. Follow the video and check out how he built this indoor tree house. Hopefully this will get you inspired to build one for your kids. Enjoy!
(source: GNDxero)
Do you like this awesome project? Please share it with your friends and pass the love on!