Creative Ideas – DIY Easy No-Sew Sock Snowman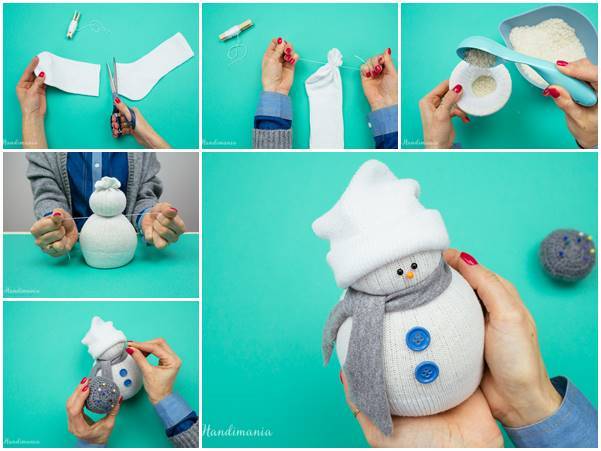 The lady in the above images started by cutting an old white sock in half. When I see the end result, I can't wait to try it! Yes, it's another wonderful sock craft. Making sock dolls are so much fun, no matter what season it is. What is better than these adorable sock snowmen for your holiday decors or toys? I've found another simple, inexpensive project to make a cute sock snowman. It's very easy to make and no sewing is required. All you need is a white sock, some rice, thread, a pair of scissors, and a few ornaments to dress up your little snowman! You can work with your kids on it and enjoy the time doing some interesting crafts together.
So don't throw your old socks away! Instead, follow the video tutorial and turn them into an easy and cute no-sew sock snowman.
Check out the step by step tutorial at Handimania.
The followings are other creative ways to make a cute sock snowman. Enjoy!