Creative Ideas – DIY Delicious Potato Bacon Cheddar Tart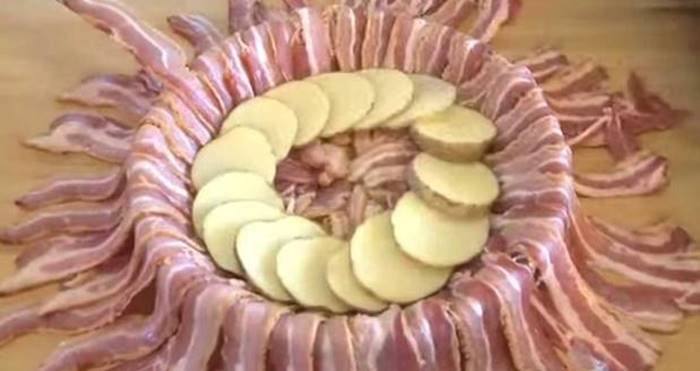 He lines bacon around the entire pan and then fills it with potatoes and cheese…When I see the end result, I am drooling! Cooking is one of my favorite hobbies and I'd like to cook delicious and nutritious food for my family. That's why I am always on the look out for easy and delicious recipes and try them myself. Bacon, potato and cheese seem to be the perfect match for many delicious recipes, such as the Cheesy Bacon Potato Bites and Egg-Stuffed Baked Potatoes. But have you ever tried making a tart with those ingredients?
In the video below, chef Michael Smith shows us step by step on how to make a potato bacon cheddar tart. It looks and tastes totally amazing. At first glance, it might look complicated to prepare, but it is actually very easy. Start with lining the pan with bacon. Then fill it with layers of potatoes and cheddar cheese. Fold the bacon onto the top to wrap up. Then it's ready for baking. Follow the simple instructions in the video below and you will be well on your way to making this absolutely delicious dish that will impress your family and friends!
Would this be something you are going to try? Please share this brilliant recipe with your family and friends!