How to DIY Yarn Woven Heart Shaped Basket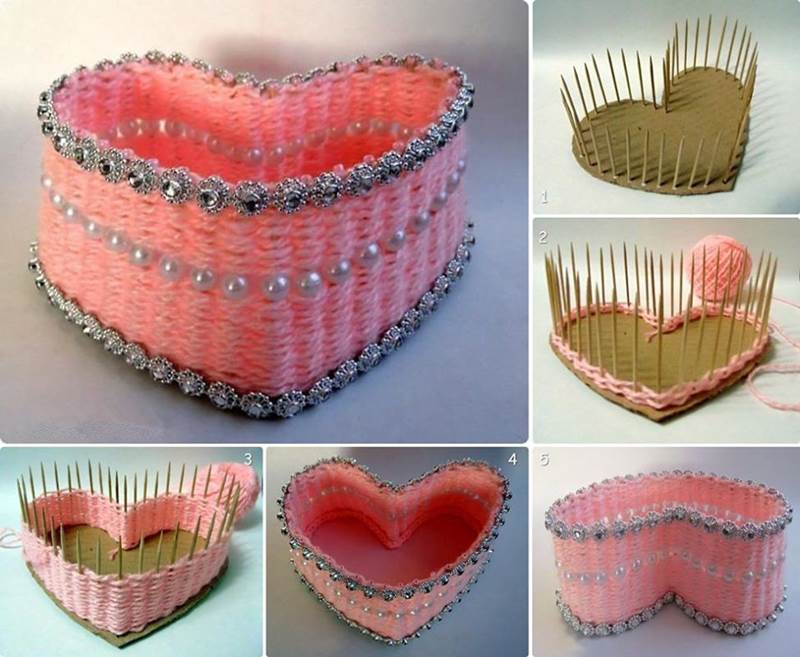 Here is a nice DIY project to weave a heart shaped basket with yarn and toothpicks. Isn't that pretty? It's very easy to make and no sophisticated skills or materials are needed. Once you finish weaving the basket, decorate it with shining beads and other ornaments to make it look gorgeous. You can use it as a jewelry box or pack your gifts in it for Valentine's day and Mother's day. Take this idea further and maybe we can make a matching lid. Happy crafting!
What you need:
Heart shaped cardboard;
Yarn;
Toothpicks or wood skewers;
Felt: to be put inside the basket;
Yarn needle;
Scissors;
Glue;
Beads and other ornaments.

How to do:
Cut out the cardboard heart shaped template.
Place the toothpicks or wooden skewers all around the edge of the template.
Tie the beginning of the yarn on one toothpick and start weaving.
Once you finish weaving, glue beads and other ornaments on it for decoration.
Place a piece of heart shaped felt inside the basket and this pretty basket is ready.
You may also like this easy and pretty felt basket.