DIY Pretty Vintage Box from Pringles Can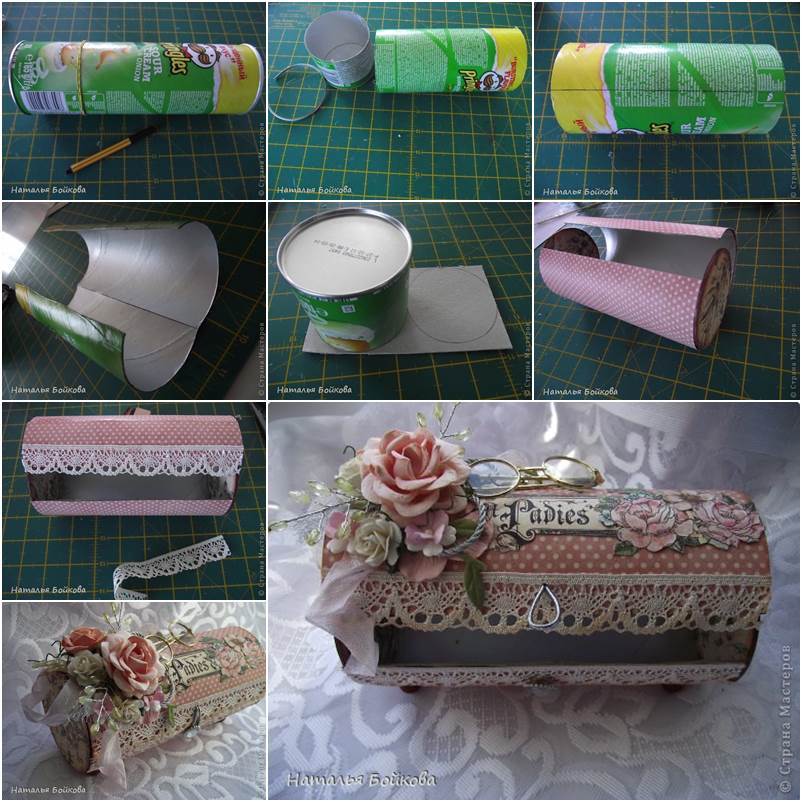 Can you believe that this pretty vintage box is made from a Pringles can? This is one of my favorite DIY projects, to turn something that we are going to discard (such as an empty Pringles can) into something useful and beautiful. This pretty vintage style box is great for keeping your glasses, accessories, jewelry inside. Let's try it!
Here are the things you will need:
Large Pringles can;
Cardboard;
Patterned paper;
Scissors;
Cutter;
Ruler;
Beads;
Marker;
Needle and thread;
Glue;
Ornaments: lace, button, elastic, paper flowers, etc.

Instructions:
Remove the top ring from the can.
Place the glasses or a ruler to measure how long you want your box to be and mark it down using a pen or a rubber band.
Cut off the excess.
Take the tube and cut a horizontal opening.
Draw two circles on the cardboard using the other part of the Pringles can and cut them out.
Cover the circles and the exterior of the box with patterned paper.
Glue the circles to the both edges of the box while keeping the box open.
Glue beads on the bottom of the box as the "legs".
Make a small hole on the top side of the box and insert the elastic.
Sew a button to the bottom part.
Decorate the box with ornaments using your creativity. Enjoy!
source: stranamasterov.ru
You may also like this Vintage Cardboard Cosmetic Case.