Creative Ideas – DIY Beautiful Melted Crayon Art Using Hot Glue Gun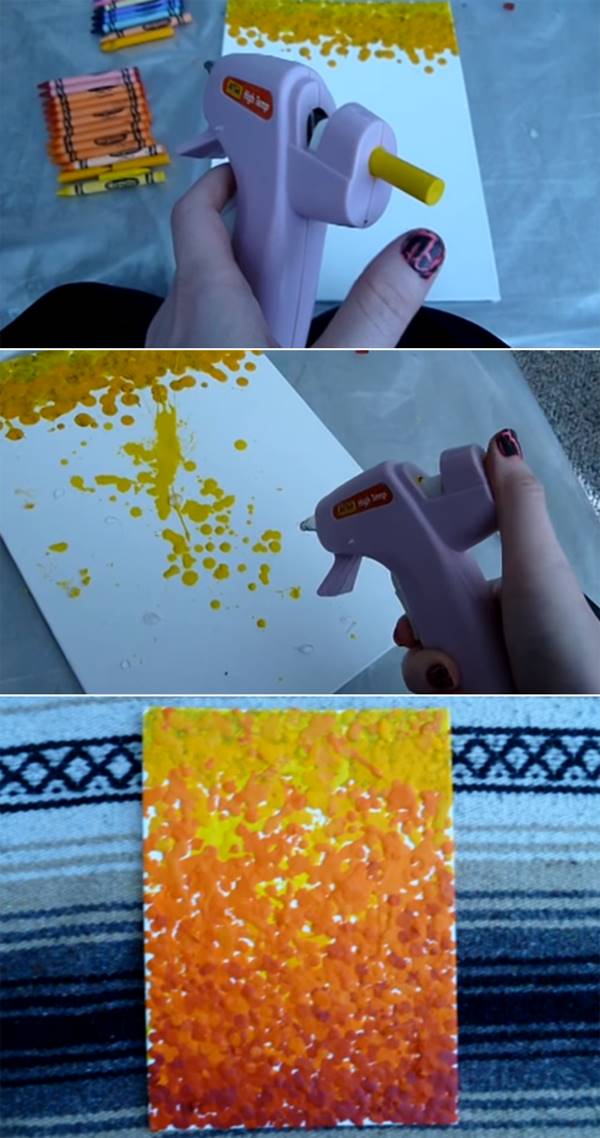 Kids love to draw and color with crayons. But crayons are much more versatile than you might expect. Actually you can melt them down and create beautiful art pieces. Melted crayon craft is getting very popular these days. It's a cheap, easy and really fun activity for anyone who wants to create something that's bright, vibrant and colorful. There are many kinds of melted crayon crafts. The easiest one would be using a hairdryer or lighter to melt the crayons and create an art canvas. Today I am going to feature a creative melted crayon project that involves using a hot glue gun.
This tutorial will show you how to make beautiful melted crayon art using a hot glue gun. All you need is a cheap glue gun, crayons and a piece of canvas. Who would have thought of putting a crayon instead of a hot glue stick into a hot glue gun? In fact, crayons can fit perfectly into a hot glue gun and get melted. Then you can use the hot glue gun to squirt, drip, spray the melted wax onto the canvas and paint. It doesn't have to be perfect. Just let your imagination go. If you have some left-over crayons hanging around, definitely try this to make something stunning and original!
Please share this creative melted crayon craft with your friends!
source: Hannah Tuten